Looking Back and Learning from Nepal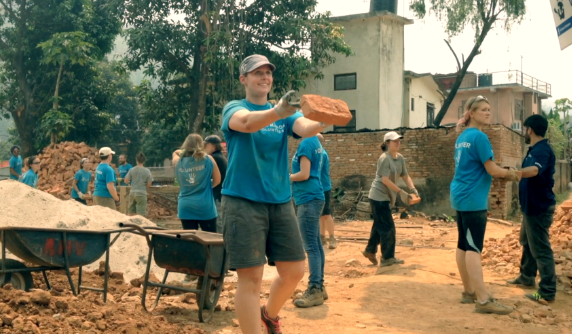 For a long time, the Nepal earthquake was one of the worst and largest natural disasters that I had been tapped to work through. A year later, when I visited Nepal, I remember wandering the streets of Kathmandu, amazed that here and there were still large piles from rubble from collapsed buildings. Still very much present and very much undealt with, even in the Nepal's capital.
The CDP Nepal Earthquake Recovery Fund awarded four cross-sectoral grants focused on child protection through direct research and advocacy, safe education spaces, and nutrition to Plan International, All Hands and Hearts, Project Hope, and Shakti Samuha. Those grants collectively have reached more than 30,000 direct beneficiaries in areas affected by the Nepal earthquake, and the work carried out in each project continues.
Sometimes, the small moments of life end up surprising you with what they return to you down the road. I can still tell you exactly where I was the first time I heard about each of those grant projects: in an office in Washington, D.C.; in a moving truck enroute from North Carolina to Kansas; standing in my unpacked office trying to take notes on top of a stack of boxes; at midnight on a Skype call. Three years later, Nepal still follows me.
Those grants became so much bigger than anything I could have dreamed in the moments I first sorted out project scope with the grantee teams and worked through needs assessment with an outstanding grant committee. More than 300 donors gave more than $600,000 to recovery in Nepal, and the work funded by those 300 organizations and individuals goes on in Nepal. Our grantees, working through other funders and partners, continue a recovery process that will be decades long.
Perhaps, though, the biggest learning moment came last year, as I watched funders come together over and over and over to respond to three hurricanes, wildfires throughout the nation, and earthquakes in Mexico. Geographically, the disasters of 2017 and the earthquake in Nepal have nothing in common. But the conversations I have with donors are different.
More and more, I've listened to funders talk about holding on to money for the long haul, finding ways to work and fund programs together, and recognizing that disaster recovery is a community-encompassing approach that touches on many needs. Those are conversations I didn't have as frequently after Nepal and that collective learning is something worth celebrating.
More like this
Providing Hope for Nepal's Children
Providing Hope for Nepal's Children
Nepal's Long, Dusty Road to Recovery
Nepal's Long, Dusty Road to Recovery