The Difference 300 Donors Can Make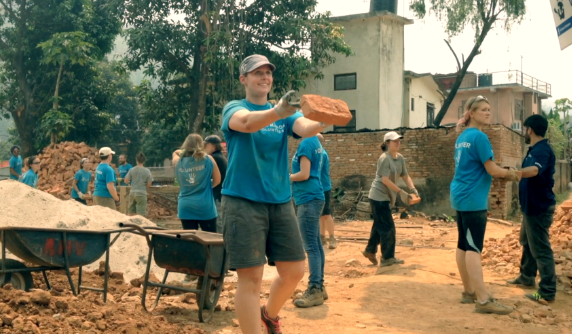 It's been more than a year since two massive earthquakes rattled parts of Nepal. Twelve months later, when I landed in Kathmandu on April 28, how much recovery has happened depends on where you're standing. Whether it was walking the streets of Kathmandu to riding some mountainside road to standing in a village hours from anywhere else, signs of the earthquakes were everywhere. While it was clear that the disaster hadn't happened the day before I arrived, it was also apparent that recovery and rebuilding weren't moving along at a fast pace. And yet, throughout the journey, I had the chance to see the big difference our relatively small earthquake recovery fund was making.
Project Hope: Reaching 8,000-10,000 beneficiaries in 5 village districts
I kicked off the grantee site visits with Project Hope. The hygiene and nutrition work being undertaken by Project Hope and its partner, the Nepal Public Health Foundation, will reach 8,000-10,000 direct beneficiaries in five areas of Makwanpur District. It was an interesting two days with Project Hope, learning about some of the social issues that will affect this project – like child marriage – that also make it so very important to this area.
All Hands: Building 5 schools to serve 2,000 children

All roads run through Kathmandu, I was told before my trip to Nepal, and how true that is! I headed back to Kathmandu, and the next morning was off to Nuwakot District to spend some time with All Hands (pictured right). The All Hands project in Nuwakot, with its local partner, Room to Read, is building five schools. Foundations have recently been poured for several of the schools, and it's amazing to see how invested these villages and communities are in helping All Hands teams bring each school to completion. These five schools will serve nearly 2,000 children annually. All Hands teams in Nuwakot are also working to build transitional housing, safely demo homes deemed unsafe after the earthquake, along with assisting communities in number of other recovery elements.
Plan International: Reaching 11,000 adolescents in 2 districts
From a school construction site in Nuwakot, I headed back to Makwanpur for two days with Plan. The CDP project with Plan International, Fighting Against Child Trafficking in Emergencies, will research what the year since the earthquake looked like in terms of trafficking issues compared to times prior to the earthquake. It will also bolster the capacity of local networks and expand community groups and programming around trafficking.
Some of the activities include Better Life Options Programming for adolescents at the counseling centers, classes and outreach to parents in targeted communities, and assisting already in-place groups (such as Village Child Protection Committees) with their work in this area. Plan's work in Makwanpur and Sindhupolchowk districts will directly reach about 11,000 adolescents.
Shakti Samuha: Reaching women and girls in 3 districts

While I was unable to spend my planned day out with Shakti Samuha, this small Nepali organization is working in three districts on an advocacy campaign around trafficking and the vulnerability of women and adolescent girls post-disaster. Community organizations have been formed in all districts for both women and adolescents, and the groups have been offering feedback on what they see as key issues in their communities, including topics such as gambling, alcohol, and domestic violence.
When I left for Nepal, I said that whenever I travel, my heart is always softened to things I could have never imagined. It's true. I couldn't have predicted how I would feel realizing how much child marriage affects the health of teen girls. I couldn't predict the crazy high I would find on a school construction site would be completely crashed in five minutes standing at a trafficking booth the next day.
And most of all, I couldn't predict this: how truly amazing it is that 300 donors came together and gave a little more than $600,000 (a small fund in the grand scheme of international disaster recovery); and that those funds, leveraged well, will directly reach at least 22,000 people in six earthquake-affected districts. And that number doesn't include the thousands of indirect beneficiaries.
I am frequently asked, "How can I really make a difference in such a massive catastrophe?" Did we make a difference? Will this work affect communities for years to come? I think that collectively, yes, you more than made a difference.
More like this
Providing Hope for Nepal's Children
Providing Hope for Nepal's Children
Nepal's Long, Dusty Road to Recovery
Nepal's Long, Dusty Road to Recovery