Last updated:
2019 California Wildfires
CalFire said in its 2019 Fire Season Outlook, "While wildfires are a natural part of California's landscape, the fire season in California and across the West is starting earlier and ending later each year. Climate change is considered a key driver of this trend. Warmer spring and summer temperatures, reduced snowpack, and earlier spring snowmelt create longer and more intense dry seasons that increase moisture stress on vegetation and make forests more susceptible to severe wildfire. The length of fire season is estimated to have increased by 75 days across the Sierras and seems to correspond with an increase in the extent of forest fires across the state."
(Photo source: Caltrans)
Various power companies including PG&E, Southern California Edison and San Diego Gas & Electric engaged in public safety power shut-offs (PSPS). These were aimed at preventing new fires from starting via a spark from a transmission line. However, power cuts also impacted schools, businesses and knocked out cell phone towers. The power cuts were particularly difficult on people with disabilities, especially those dependent on oxygen or other electrical-powered medical equipment (i.e. wheelchairs that need charging, feeding pumps). It also posed a challenge for the issuance of evacuation orders to communities without power as they may not have had access to the internet, a charged phone with data and/or TV or radio broadcasts.
Latest Updates
More Than $1 Million in Grants to Support Recovery from 2019 California Wildfires
More Than $1 Million in Grants to Support Recovery from 2019 California Wildfires
What Paradise Has Lost
Recovery needs for each wildfire area vary, but attention should be given to long-term support for rehousing, income recovery and agricultural needs.
In the off-season, attention should be paid to additional preparedness measures to support vulnerable populations, especially those living with disabilities, people who are undocumented, and people who do not speak English.
Due to the annual risk of wildfires, the need for immediate and ongoing mental health support and counseling services are significant.
As with most disasters, cash donations are recommended by disaster experts. Cash allows on-the-ground agencies to direct funds to the greatest area of need, support economic recovery, and ensure donation management does not detract from disaster recovery needs.
In response to the fires, the Center for Disaster Philanthropy (CDP) launched the 2019 California Wildfires Recovery Fund to support medium- and long-term recovery.
Contact CDP
Recovery updates 
If you are a responding NGO or a donor, please send updates on how you are working on recovery from this disaster to Tanya Gulliver-Garcia.
Donor recommendations
If you are a donor looking for recommendations on how to help with disaster recovery, please email Regine A. Webster.
Philanthropic and government support
CDP awarded over $1 million through six grants from the 2019 California Wildfires Recovery Fund:
Community Foundation Sonoma County received $250,000 to support ongoing disaster case management through the Kincade Wildfire Recovery Project. The project provides financial assistance to low-income Sonoma County households greatly affected by the Kincade Fire. Through a partnership with Community Foundation Sonoma County, this grant will also support UndocuFund and Catholic Charities of the Diocese of Santa Rosa.
Community Action Partnership of Sonoma County on behalf of Rebuilding Our Community Sonoma County (ROC) was awarded $100,000 to shore up and extend ROC's operations and their resource center, enabling them to continue to serve Sonoma County residents who have been directly impacted by the Kincade Fire. By strengthening the principle hub for Kincade Fire recovery coordination, the grant supports the work of other fund grantees who currently use the ROC resource center to collaborate and coordinate support for fire survivors.
Corazón Healdsburg received $250,000 for their Corazón Healdsburg Unity and Community Fund for Kincade Fire Victims, a program which supports the most vulnerable individuals and families affected by the Kincade Fire. The program provides direct financial assistance to cover expenses such as utility bills, food, medical care, shelter, repairs, transportation and other urgent unmet needs.
Latino Service Providers (LSP) received $100,000 for their LSP Youth Promotores program. The program seeks to counteract the stigma associated with addressing mental health issues. By engaging and educating the Latinx community on mental health and disaster preparedness issues, the program helps survivors access culturally appropriate mental health resources and create emergency preparedness plans.
United Policyholders received $100,000 for the 2019 Southern California Wildfires Roadmap to Recovery Program. The program provides pro bono legal services for disaster survivors to help them secure and maintain housing post-disaster through advocacy and education related to insurance claims.
United Way of the Wine Country was awarded $250,000 to continue providing financial assistance through disaster case management to Kincade Fire survivors. The grant will allow United Way to fill the unmet rebuilding needs of those who lost their homes in the fire.
On Oct. 27, Gov. Gavin Newsom issued a state-wide declaration of emergency in response to the fires. He had previously issued declarations on Oct. 11 for Los Angeles and Riverside counties due to the impacts of several fires including the Saddle Ridge, Sandalwood, Reche, Wolf and Eagle fires, and on Oct. 25 for Los Angeles and Sonoma counties because of the Kincaide and Tick fires. The state secured several Fire Management Assistance Grants (FMAG) to support 75 percent of certain firefighting costs for several fires.
On Oct. 25, Gov. Gavin Newsom launched a $75 million Local Government PSPS Resiliency Program in response to the public safety power shutoffs that utility companies initiated to try to prevent fires from starting. The goal of the program is to "mitigate the impact on Californians by supporting continuity of operations and efforts to protect public health, safety, and commerce in affected communities."
On Dec. 23, the governor also issued a proclamation extending the state's prohibition against price gouging until Dec. 31, 2020 in several communities affected by fires that occurred between 2017 and 2019.
Resources
Wildfires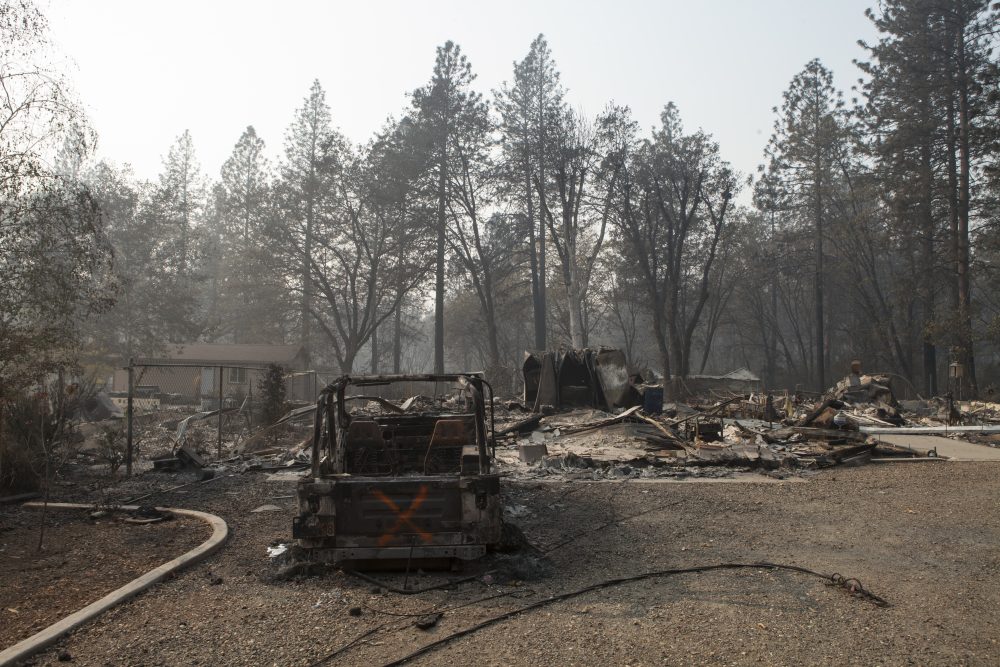 Wildfires
Weather can significantly affect the frequency and severity of wildfires. Prolonged drought can extend prime wildfire season, making blazes more likely. Additionally, high temperatures and low humidity can quickly dry out vegetation which then becomes potential fuel.
Climate Change
Climate Change
Climate change refers to any significant change in the measures of climate lasting for an extended period of time. In other words, climate change includes major changes in temperature, precipitation or wind patterns, among other effects, that occur over several decades or longer.