Last updated:
2019 Dallas Tornadoes
On Sunday, Oct. 20, ten tornadoes touched down in north Texas and other severe weather was reported in Oklahoma and Arkansas. This included an EF-3 tornado in Dallas and its northern suburbs, an EF-2 tornado near Garland, four EF-1 tornadoes and four EF-0 tornadoes.
While there were a handful of injuries, no fatalities were reported despite the storm system crossing two major interstates. The time and day, as well as the fact that the Dallas Cowboys had the Sunday Night Football game, meant many people were at home and may have heard the tornado warnings in time to take cover, or were at least better protected from the elements.
This tornado outbreak was the state's costliest, clocking in around $2 billion. This meant the outbreak was the country's 11th billion-dollar disaster in 2019. There were 14 billion-dollar disasters in 2019, making it the fifth consecutive year with at least 10 billion-dollar disasters. However, 2019 ranked close to the average in terms of cost of the disasters.
(Photo source: Dallas Mayor Eric Johnson)
What is the impact on communities?
The North Dallas EF-3 tornado made landfall near Dallas Love Field Airport and stayed on the ground for 15 miles, traveling northeast. It was on the ground for 32 minutes; estimated wind speed was 140 mph. The tornado affected several Dallas suburbs including Richardson, Garland and Sachse. There were extensive power outages due to downed power lines and reports of damaged gas mains. A local Home Depot was completely demolished by the tornado which adds a logistical challenge for rebuilding. Also damaged was H-E-B's Central Market, a Texas staple, and Dallas Fire Rescue's Station #41. Six schools were damaged and students at three of the schools will be relocated, permanently or for the rest of the year. Two of these schools were completely destroyed; it is hoped that one may be repaired by August for next year's school start.
Much of the severe damage from this tornado was in Preston Hollow, a very wealthy Dallas community. The intersection of Preston and Royal is the center of the Preston Hollow neighborhood. The annual household income within a one-mile radius of the corner is $265,000 and only drops to $156,000 within three miles. Dallas Stars' center Tyler Seguin had a home for sale that was destroyed. The wealth of the impacted community has two likely outcomes: most homes are likely to be insured but also, high rates of insurance may have prevented the community from accessing FEMA individual assistance to support those who are uninsured.
Areas impacted by the tornadoes:
In Garland, an EF-2 tornado was on the ground for six minutes and traveled 2.5 miles. Some of the biggest problems came from "looky-loos"; people driving by or stopping to take pictures. This is preventing clean-up and upsetting residents who are trying to figure out their new normal. Property damage is estimated at $20 million.
The Rowlett tornado was rated as EF-1 with estimated winds of 100 mph. It was on the ground for nine minutes, was 500 yards wide and traveled six miles.
The Rockwall tornado was an EF-1 with estimated winds of 90 mph.
The Midlothian tornado was an EF-1 with estimated winds of 100 mph. It was on the ground for five minutes, was 380 yards wide and traveled 2.9 miles.
The Elmo tornado was an EF-1 with winds of 105 mph. It was only on the ground for two minutes traveling half a mile.
The EF-0 tornadoes were in Wills Point, Kaufman, Ferris and just south of Beckville.
These ten tornadoes were part of a significant storm system that stretched from the mid-Mississippi Valley to the Southern Plains. More than 150 reports of hail and severe weather were recorded in a 24-hour period by the NOAA/NWS Storm Prediction Center. A tornado was reported near Beckville, in far northeast Texas, and another in Tyronza (preliminary an EF-1) in eastern Arkansas. In northwest Arkansas, near the border with Oklahoma, the same storm system resulted in a death when a man was killed after a tree fell on his home.
There were also four tornadoes in Oklahoma between 11:08 p.m. Oct. 20 and 12:09 a.m. Oct. 21. This included an EF-1 in Coweta, an EF-1 in Scraper and two (an EF-1 and a EF-2) in Siloam Springs. The second tornado had wind speeds of 111 to 135 mph, was 1.5 miles wide and was on the ground for 31 miles. Three people were also killed in Oklahoma, one from a tree falling onto a mobile home and two teenage boys who died from carbon monoxide poisoning.
While most of the affected areas had adequate insurance to recover from this disaster without additional support, there are some ongoing needs:
Emotional and spiritual care, especially for families.
Educational and childcare supports for children who are relocated because of the destruction of their schools.
Long-term recovery will include restoration of property, business recovery and environmental cleanup.
Long-term mental health and trauma support will also be required.
Continued advocacy and support for enhanced building codes to mitigate damage from future tornadoes.
CDP will continue to monitor the impact of the tornadoes and the needs that may arise.
As with most disasters, experts recommend cash donations. They allow on-the-ground agencies to direct funds to the most significant area of need, support economic recovery and ensure donation management does not detract from disaster recovery needs.
Philanthropic and Government Support
Gov. Greg Abbott issued a state disaster declaration on Oct. 21, 2019 for 16 Texas counties including: Cass, Cameron, Collin, Dallas, Ellis, Erath, Hunt, Kaufman, Lamar, Panola, Rains, Rockwall, Rusk, Tarrant, Van Zandt and Wood. This enabled local communities to access state resources and allowed utilities to bring in out-of-state support. Despite requests from local politicians, FEMA did not issue a federal disaster declaration for these storms.
Fund resources
Tornadoes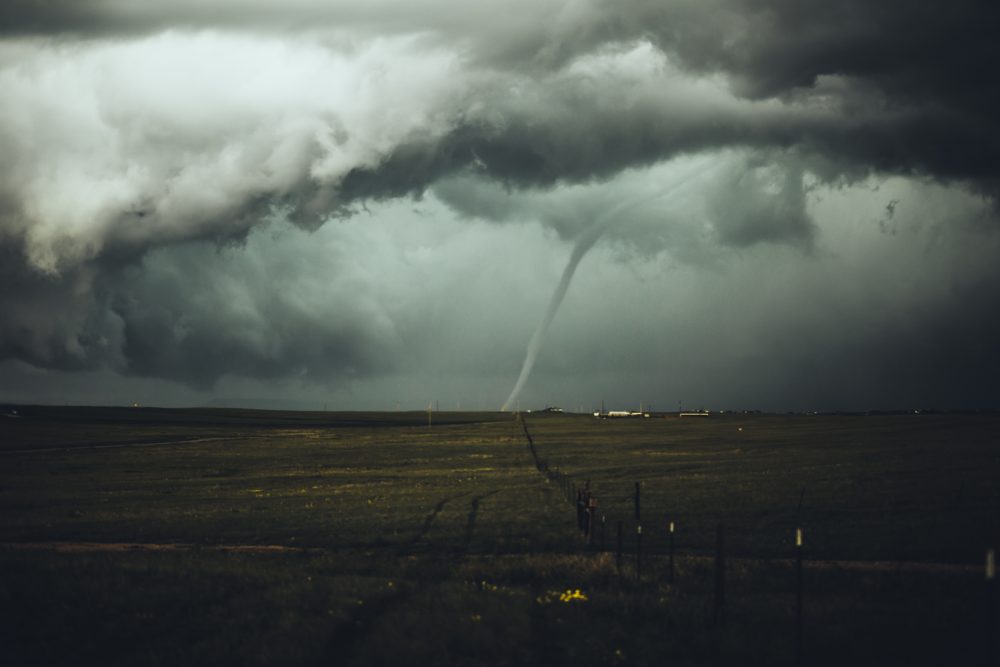 Tornadoes
The National Weather Service defines tornadoes as "a violently rotating column of air touching the ground, usually attached to the base of a thunderstorm." The U.S. is home to more tornadoes than any other country in the world, with approximately 900 to 1,700 tornadoes occurring a year throughout the country.