Nearly 70 out-of-season tornadoes ripped across several states on Friday, Dec. 10, and Saturday, Dec. 11, 2021, leaving death and destruction in their wake.
The National Weather Service (NWS) confirmed 69 tornadoes. As of Jan. 13, they had verified one – EF-U (unknown), 17 EF-0, 28 EF-1, 15 EF-2, six EF-3, two EF-4 and no EF-5 tornadoes making landfall across ten states: Alabama, Arkansas, Georgia, Indiana, Illinois, Kentucky, Mississippi, Missouri, Ohio and Tennessee.
The NWS issued more than 149 tornado warnings. This was the single, deadliest tornado outbreak in December in U.S. history, however, a larger tornado outbreak occurred just a few days later on Dec. 15. While not unheard of, December tornadoes are rare and usually not as destructive as the Dec. 10-11 storms. While larger, the system on Dec. 15 did not produce as many strong tornadoes and saw fewer deaths and less damage.
The current death toll of 90 people (plus 3 non-tornadic deaths) from this outbreak, plus the previous tornado deaths in 2021, made 2021 the deadliest year for tornadoes since 2011 when more than 500 people were killed, including a tornado outbreak in May 2011 which killed more than 170 people. An additional five people were killed directly (and two indirectly) by the second outbreak on Dec. 15.
(Photo credit: State Senator Whitney Westerfield via Twitter)
One tornado – dubbed the Quad-State Tornado – was originally believed to be on the ground for approximately 230 miles (200 miles in Kentucky alone) across four states: Arkansas, Missouri, Tennessee and Kentucky. It would have become the longest tornado in American history, replacing 1925's Tri-State tornado, however, it did not stay on the ground continuously. It was composed of a family of tornadoes bookended by two EF-4 tornadoes with three smaller and weaker tornadoes in the middle. It was still a very long storm cell. The debris field was recorded at above 30,000 feet (the height commercial planes fly) across much of its path.
The most significant concerns were a nursing home in Monette, Arkansas; a candle factory and the towns of Mayfield and Bowling Green, Kentucky; and an Amazon warehouse in Edwardsville, Illinois.
The Washington Post said, "Increasingly accurate and timely weather forecasts and warnings have brought about a significant downward trend in tornado fatalities. But the extreme toll of the Dec. 10-11 outbreak illustrates that vulnerable areas still face a serious risk of highly lethal storms. The outbreak was by far the deadliest on record in December, more than doubling the previous toll from a 1953 tornado in Mississippi. No tornado event this decade has produced as many fatalities. In fact, this outbreak killed more people in a single day than in the three years from Jan. 1, 2016 to Dec. 31, 2018."
Unseasonably warm and humid weather created the perfect weather conditions for catastrophic thunderstorms. Climate change has moved the location of tornado alley and is likely to have impacted the strength of the late-in-the-year storm. Nighttime tornadoes are twice as deadly as daytime tornadoes because of people sleeping through warnings; the twisters are also more difficult to see.
Latest Updates
CDP announces grants from the Disaster Recovery Fund
CDP announces grants from the Disaster Recovery Fund
Celebrating the Midwest Early Recovery Fund's 2022 grantee partners
Celebrating the Midwest Early Recovery Fund's 2022 grantee partners
A reminder to pause and think about long-term recovery in tornado-hit communities
A reminder to pause and think about long-term recovery in tornado-hit communities
What is the impact on communities?
Who is affected and in what ways?
Approximately 90 people died across five states, with 76 in Kentucky including 12 children, and 14 deaths outside of Kentucky. On a single street in Bowling Green, 12 people died, eight of them children. The ages of victims in Kentucky ranged from 2 months to 98 years. One person from the candle factory died as a result of injuries but is counted as tornado-related. In Tennessee, the total deaths were 15. In Illinois, the six deaths were all in the Amazon warehouse and there were two deaths in each of Missouri and Arkansas. There were three indirect deaths including a man who suffered a heart attack while cleaning debris.
The town of Mayfield, population 10,000, was decimated. The Mayfield Consumer Products candle factory had less deaths than originally anticipated. Seven inmates from the Graves County jail working at the factory survived although a jail deputy was killed. Survivors from the factory filed a class-action lawsuit against the company saying they were told they would be fired if they left, despite the impending weather.
Two tornadoes struck the Bowling Green area. This included an EF-3 which killed 17, and EF-2 which caused significant damage. At least 500 homes and 100 businesses were destroyed and another 500 homes across the state were also flattened.
Starting in Arkansas and traveling northeast, an EF-4 long-track tornado ripped the roof off the 86-bed Monette Manornursing home, killed at least one person and injured five others. At least one other person died in the state at a Dollar General in Leachville. The tornado continued through Missouri where it killed a 9-year-old girl and injured her family It then moved into Tennessee where officials reported three deaths: two in Lake County and one in Obion County. This tornado traveled from Monette, Arkansas to Reelfoot Lake/Samburg, Tennessee a distance of 80.3 miles and had a path up to 1,800 yards.
In Illinois, there were six confirmed deaths in an Amazon warehouse. That tornado was given a preliminary ranking of an EF-3. Like the candle factory, Amazon workers raised concerns about safety during the tornadoes with one driver sharing text messages of her boss requiring her to stay on route while others said they were not given adequate warnings. Amazon said that those who died were not in the designated shelter-in-place locations.
The Center for Disaster Philanthropy (CDP) continues to monitor the impact of the tornadoes and the needs that may arise.
Ongoing needs include:
Cleaning, repairing and rebuilding of damaged homes and businesses. This includes debris clean-up, which is significant because of the amount of damage and felling of trees. President Biden has agreed to cover 100% of the debris costs in Kentucky, but this is not the case for the other states.
Replacement of vehicles, appliances and furniture lost in the tornadoes.
Emotional and spiritual care, especially for families of victims killed in the storms, first responders and those on the tornadoes' direct paths. Long-term mental health and trauma support will also be required.
Business recovery will be critical, especially in Mayfield where the candle factory was a large employer.
To support the recovery efforts, please donate to CDP's Disaster Recovery Fund.
Contact CDP
Philanthropic contributions
If you would like to make a donation to the CDP Disaster Recovery Fund, please contact development.
(Photo: Urban Search & Rescue teams are in Mayfield, Kentucky supporting local responders and conducting search and rescue missions. Source: Secretary Alejandro Mayorkas via Twitter)
Donor recommendations
If you are a donor looking for recommendations on how to help with disaster recovery, please email Regine A. Webster.
Philanthropic and government support
In March 2022, CDP awarded a $150,000 grant from the Disaster Recovery Fund to the Felix E. Martin Jr. Foundation, which works to build the capacity of the Muhlenberg County, Kentucky's Long-term Recovery Group. The grant will fund a disaster response coordinator to oversee the recovery process and provide for a disaster relief center. Additionally, funds will help address the unmet needs of residents affected by the disaster.
CDP, through its Midwest Early Recovery Fund, made the following grants in support of tornado recovery efforts:
$103,400 to The Community House Foundation in Trumann, Arkansas to support a disaster recovery coordinator for eighteen months of recovery coordination needs.
$110,000 to the Salvation Army's Arkansas/Oklahoma Division for disaster case management services as they support recovery. Primary locations include Poinsett (Trumann), Craighead (Monette) and Mississippi (Leachville) counties.
Kentucky Gov. Andy Beshear said this was the most devastating outbreak ever to hit his state. He declared a state of emergency and President Biden issued a major disaster declaration (FEMA-DR-4630) on Dec. 12, 2021. As of April 9, 2022, 2,324 individual assistance applications were approved for a total obligation of $15.24 million in individual assistance for housing and other needs. This was an average of slightly more than $6,500 per household. In addition, $616,124 was obligated in public assistance.
Arkansas received a disaster declaration (FEMA-DR-4633) on Dec. 23, 2021. As of April 9, 2022, 137 applications for individual assistance had been received for a total obligation of $933,395. This was an average of $6,813 per household.
Missouri was granted a disaster declaration (FEMA-DR-4636) on Jan. 10, 2022 for public assistance, categories A-G. This covers a range of services and assistance in seven counties but does not include support for individuals. As of April 7, 2022, $1,075,199 had been obligated.
Related resources
Tornadoes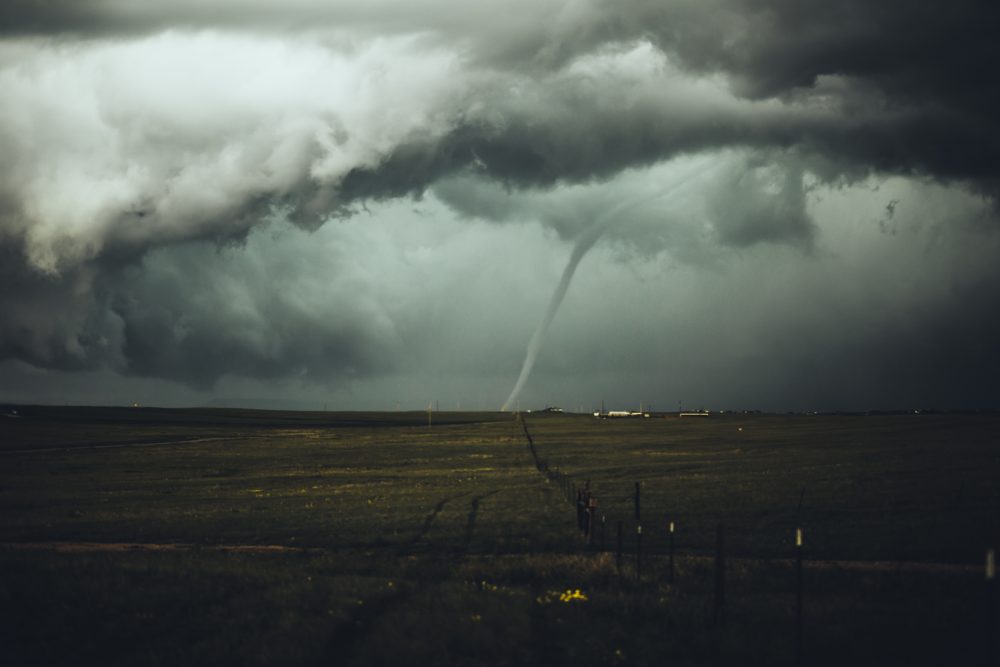 Tornadoes
The National Weather Service defines tornadoes as "a violently rotating column of air touching the ground, usually attached to the base of a thunderstorm." The U.S. is home to more tornadoes than any other country in the world, with approximately 900 to 1,700 tornadoes occurring a year throughout the country.