While the peak months for tornadoes are April to June, several destructive storm systems have already caused damage across parts of the southern U.S., including Alabama, Arkansas, Florida, Louisiana, Oklahoma and Texas.
This year is predicted to be an active tornado year, and several outbreaks occurred even before Meteorological Spring on March 1. This is attributed, in part, to a waning La Niña. "During the La Nina and especially when it is transitioning into a neutral phase, the potential for increased severe weather events and above-average tornado activity is in place."
(Photo: Tornado damage in St Bernard Parish, Louisiana on March 23, 2022. Source: NOLAReady via Twitter)
Popular Science magazine says, "The new predictions put the number of tornadoes for 2022 at around 1,350 to 1,475, above a yearly average of 1,253. April is supposed to be particularly busy with a predicted 200 to 275 storms (last year in April there were just 73). But the big takeaway is that they'll likely hit places outside of what's traditionally been known as 'Tornado Alley.'"
Central plains states like Oklahoma still have tornadoes but researchers have discovered that statistically, tornado activity is shifting to the southeastern parts of the U.S.
Latest Updates
What we're watching: Weekly disaster update, April 18
What we're watching: Weekly disaster update, April 18
Reflecting on tornado recovery in Louisiana
Reflecting on tornado recovery in Louisiana
What we're watching: Weekly disaster update, April 11
What we're watching: Weekly disaster update, April 11
The extent of the damage has not been ascertained in all locations. As more information emerges, the situation will be clarified. However, there are common issues that are raised after a disaster.
Clean-up
Cleaning, repairing and rebuilding of damaged homes and businesses. This includes debris clean-up, which may be significant because of the downed power lines and trees, as well as the number of vehicles, appliances and furniture lost in the tornadoes. All the latter will also need to be replaced.
Cash assistance
A critical ongoing need will be unrestricted cash donations to support affected individuals and families. Direct cash assistance can allow families to secure emergency housing, purchase items and contract services locally that address their multiple needs. It gives each family flexibility and choice, ensuring that support is relevant, cost-effective and timely. Cash assistance can also help move families faster towards rebuilding their lives.
Emotional and spiritual care
Emotional and spiritual care will be critical, especially for families of people killed in the storms, first responders and those on the tornadoes' direct paths. Long-term mental health and trauma support will also be required. Some of the affected communities – especially in Louisiana – have been impacted by numerous events, including Hurricanes Katrina, Rita, Isaac and Ida. This has left them with increased trauma from natural hazards.
Business recovery
Business recovery will be critical to help communities rebuild. A number of businesses were damaged or destroyed, putting people out of work at a time when they were already struggling harder than normal because of COVID-19 and Hurricane Ida recovery. This is particularly true of small businesses.
Long-term recovery
In addition to immediate response, long-term recovery needs will include rebuilding and fixing homes and community infrastructure to secure economic recovery. The tornadoes have affected people from all walks of life, some with insurance and others without. The destruction of mobile homes will also affect affordable housing availability in those communities.
To support the recovery efforts, please donate to the Center for Disaster Philanthropy's Disaster Recovery Fund.
Contact CDP
Recovery updates
If you are a responding NGO or a donor, please send updates on how you are working in this crisis to tanya.gulliver-garcia@disasterphilanthropy.org.
(Photo: Tornado damage in the town of Arabi in St. Bernard parish. Source: Tanya Gulliver-Garcia)
More ways to help
As with most disasters, disaster experts recommend cash donations, which enable on-the-ground agencies to direct funds to the greatest area of need, support economic recovery and ensure donation management does not detract from disaster recovery needs.
CDP has also created a list of suggestions for foundations to consider related to disaster giving. These include:
Take the long view: Even while focusing on immediate needs, remember that it will take some time for the full range of needs to emerge. Be patient in planning for disaster funding. Recovery will take a long time, and funding will be needed throughout.
Recognize there are places private philanthropy can help that government agencies might not: Private funders have opportunities to develop innovative solutions to help prevent or mitigate future disasters that the government cannot execute.
All funders are disaster philanthropists: Even if your organization does not work in a particular geographic area or fund immediate relief efforts, you can look for ways to tie disaster funding into your existing mission. If you focus on education, health, children or vulnerable populations, disasters present prime opportunities for funding.
Ask the experts: If you are considering supporting an organization that is positioned to work in an affected area, do some research. CDP and National VOAD can provide resources and guidance about organizations working in affected communities.
If you are an individual who has been affected, we recommend that you contact your local 2-1-1 to find out what services are available to help your recovery.
Resources
Tornadoes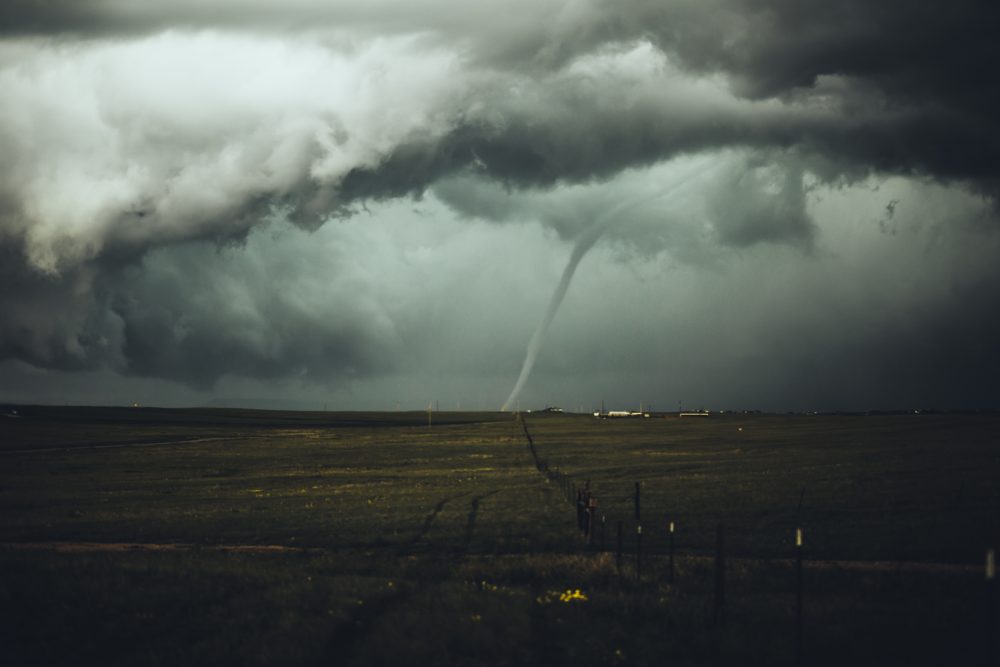 Tornadoes
The National Weather Service defines tornadoes as "a violently rotating column of air touching the ground, usually attached to the base of a thunderstorm." The U.S. is home to more tornadoes than any other country in the world, with approximately 1,000 to 1,200 tornadoes occurring a year throughout the country.
Climate Change
Climate Change
Climate change refers to any significant change in the measures of climate lasting for an extended period of time. In other words, climate change includes major changes in temperature, precipitation or wind patterns, among other effects, that occur over several decades or longer.