Last updated:
Sunda Strait Tsunami (Indonesia)
On Dec. 22, 2018, the Anak Krakatau (Son of Krakatoa) volcano ferociously erupted and sent 160 acres of material crashing down its southwest flank, triggering a tsunami.
The Sunda Strait lies between the Indonesian islands of Java and Sumatra, and along the Pacific Ocean's Ring of Fire, known for its regular seismic and volcanic activity. The eruption displaced enough volcanic and geological material that the height of Anak Krakatau went from 1,109 feet (338 m) to 361 feet (110 m).
While Indonesia does have a tsunami warning network, it is designed to provide warnings for tsunamis triggered by earthquakes. As this one was triggered by the sudden collapse of an island into the water, no tsunami warning was issued. Wave heights ranged from 12 feet (3.75 m) to 21 feet (6.6 m) and the tsunami affected both Sumatra Island on the north side of the strait and Java Island on the south side.
(Photo: A resident searches for items among the ruins of a villa after the area was hit by a tsunami, at Carita beach in Padeglang, Banten province. Source: REUTERS)
What is the tsunami's impact on communities?
More than 400 people died and just over 14,000 were included in the official number of injured people. There are varying reports on the number of injured people, with the government providing different numbers at different times. A number of people who died were teenagers, families and young adults attending a beachside concert by the Indonesian pop band Seventeen who had no warning before the tsunami swept through the tent where the concert was being held.
More than 40,000 people were displaced from their homes and there was extensive damage to infrastructure in the affected area. Several ports were damaged, along with roads leading away from them. This resulted in delays in getting large quantities of relief and recovery supplies to affected people.
While nothing can be done to prevent tsunamis and volcanic eruptions from occurring in Indonesia, which sits on the Pacific Ring of Fire, there are some ongoing needs to mitigate the impacts of future events.
Disaster-Resilient Early Warning Systems
The initial explosion of Anak Krakatau destroyed seismic sensors on the volcano that help to determine the severity of eruptions. In addition, current tsunami warning networks are only built to assess tsunamis related to seismic events (earthquakes), not tsunamis caused by other incidents. Investment in the design and construction of resilient early warning infrastructure could help save lives in the event of a future tsunami caused by a landslide such as this one.
Economic and Community Recovery
While reconstruction of buildings and infrastructure is well underway, affected communities need support to rebuild their local economies. This is particularly important for small and community-based businesses that provide important products and services to local community members.
Resilient Housing and WASH Infrastructure
Indonesia is made up of a series of islands located along the Pacific Ocean's Ring of Fire, and regularly experiences earthquakes, volcanic eruptions, typhoons and other disasters. The development and construction of resilient housing and Water, Sanitation and Hygiene (WASH) infrastructure will help increase the speed at which residents can recover from future disasters. In particular, they will help increase the security of marginalized people, especially women and girls, and provide an important barrier against post-disaster infections, outbreaks and epidemics.
Contact CDP
Recovery updates
If you are a responding NGO or a donor, please send updates on how you are working on recovery from this disaster to Tanya Gulliver-Garcia.
Donor recommendations
If you are a donor looking for recommendations on how to help with disaster recovery, please email Regine A. Webster.
Philanthropic and government support
Fund resources
Landslides
Landslides
Landslides are a movement of a mass of rock, debris or earth down a slope. Landslides are a type of 'mass wasting,' which denotes any down-slope movement of soil and rock under the direct influence of gravity.
Critical Infrastructure and Systems
Critical Infrastructure and Systems
Critical Infrastructure and Systems (CIS) are the structures people rely on to perform their everyday tasks. They are what keep people, goods and information moving around the world while also keeping people safe and healthy.
Emergency and Interim Shelter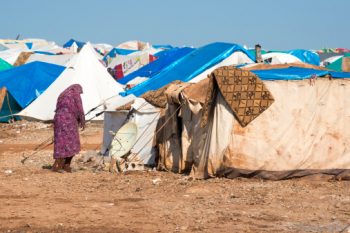 Emergency and Interim Shelter
After a disaster, shelter is more than a place to rest, it is a place of security, access to food, water and medical treatment. A place to start recovering after a disaster.