Overview
Following a disaster, local, regional and national voluntary organizations are often the first to arrive to provide assistance. They are also the last to leave. These organizations offer a range of services including feeding, sheltering, provision of hygiene or cleaning supplies, case management, mucking and gutting, debris and tree removal, tarping of roofs, repairing damage or rebuilding homes. In many cases, these organizations belong to a local, state or national Voluntary Organizations Active in Disasters (VOAD) network. VOAD can refer to both the organizations themselves or to the network entity as a whole.
Many of the organizations asking for financial support – from individuals and funders – after a disaster are VOAD member organizations. Funders can benefit by knowing that organizations – especially those belonging to a state or national VOAD – have gone through a certain level of vetting. They have also committed to following the 4C principles (listed below) and have agreed to partner with each other to reduce duplication of services.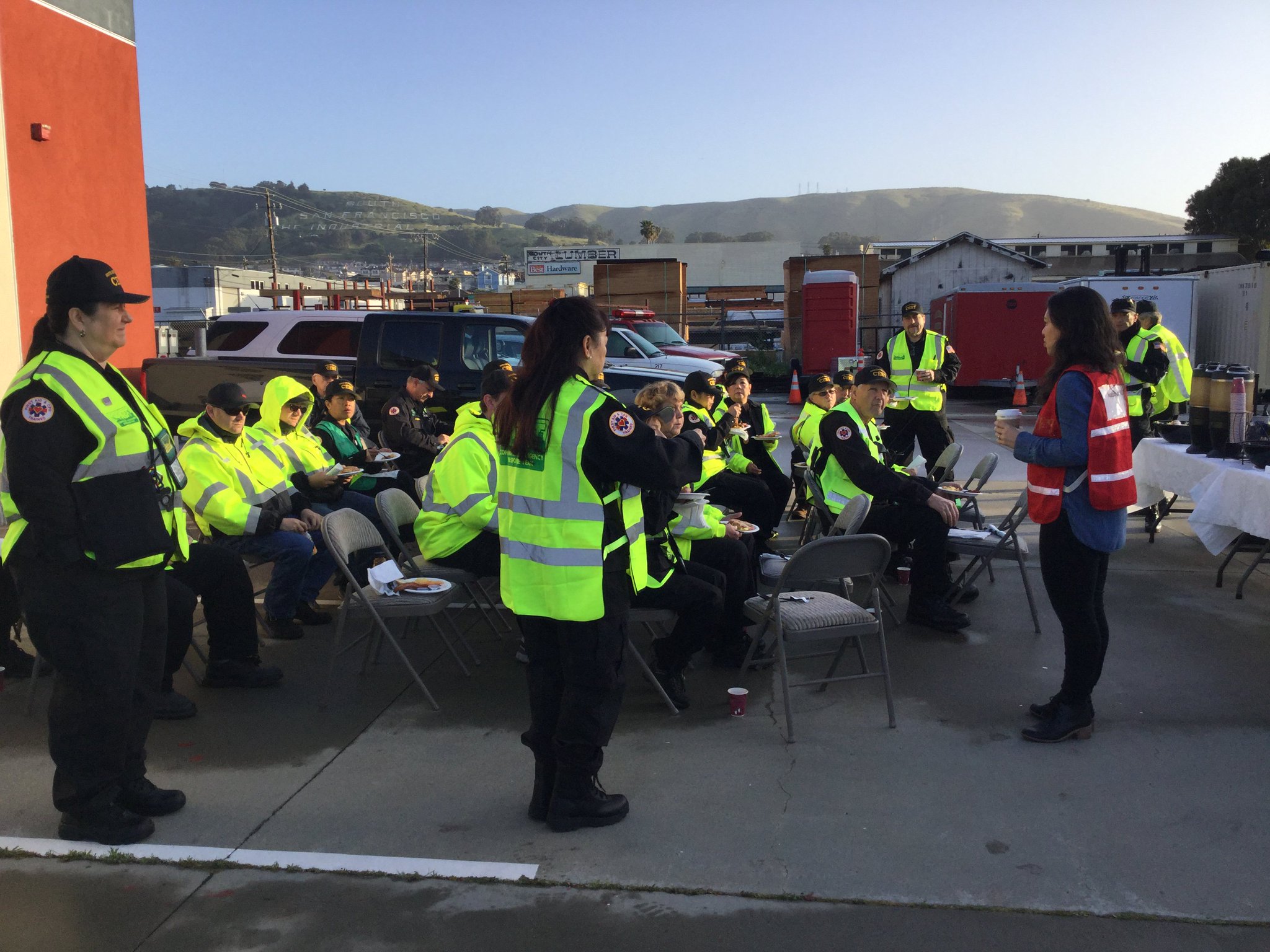 National VOAD membership is divided into National Members, State Members and Partners. The organization has nearly 70 National Member nonprofit organizations that respond to disasters across the entire country. Each state/territory has a State VOAD which also belongs to National VOAD; there are approximately 56 State Members. These members provide coordination during a local or regional disaster, often having a seat at the state or county/city Emergency Operations Center. The Partner membership categories include: Foundation, Corporate, Nonprofit, Government, Academic and Associations. (The Center for Disaster Philanthropy (CDP) is a nonprofit partner.) Partners work with VOAD members to improve U.S. disaster relief, response and recovery efforts in a variety of ways.
It is important to note that the key word in the name is "Voluntary" not "Volunteer". The organizations that respond may use volunteers or they may use paid staff (or a combination of the two). They are voluntary in the sense that they are volunteering to be active in disaster response. Many VOADs are faith-based entities, although several are secular.
The local, state/territorial or national VOAD serves as an umbrella or coordinating organization of the agencies and groups interested in responding to emergencies and disasters, who are not part of the formal emergency response system. They do not provide direct services themselves but the organizations that make up the network do.
VOAD members are made up of public, private, nonprofit, faith and volunteer organizations and agencies who may play a role in all phases of a disaster: preparation, response, recovery and mitigation. While they may be most visible after a disaster, their work in preparedness and mitigation phases are key to building resilient communities. They are also most effective in ensuring effective use of resources after a disaster when they can create relationships before a disaster. This can help determine what assets are missing, as well as build communication systems and structures.
To be officially considered a VOAD and to join the state or national VOAD networks, the organizations need to conform to several key principles and values, agree to honor the 4Cs (described below) and meet other designated criteria. Despite joining the VOAD network, member organizations maintain their autonomy and have control over their own budget and activities. They work together to reduce or eliminate duplication of services and inefficiencies.
The 4Cs are:
Cooperation: VOADs recognize that working together, acting as partners and learning from each other assists them to effectively respond to a disaster and help rebuild a community. This climate of cooperation exists between all levels of VOADs as well as between NGOs and government.
Communication: VOAD member organizations engage in regular information sharing about capacities, accomplishments and commitments. As a network, VOAD works to promote and facilitate information sharing, create opportunities to listen to each other and maintains a channel for dealing openly with concerns.
Coordination: VOAD members seek to match services to needs by recognizing the strengths and assets of each member organization. Rather than working competitively, VOADs strive to behave in a coordinated fashion in order to provide effective service to the impacted community.
Collaboration: VOADs work together through the formation of strategic partnerships and establishment of shared goals to work together to each undertake specific projects that help achieve those goals.
Structures and Function
Local VOAD or COAD Network
At the local level a VOAD network may also be referred to as a COAD – Community Organizations Active in Disasters. There is very little difference between a COAD and a VOAD beyond the name. COADs serve their local community and may involve organizations that do not consider themselves to be disaster- responding organizations but find themselves unexpectedly providing services after a disaster strikes their community. For example, domestic violence shelters often see an increase in the number of women and children using their services after a disaster. This increase is related to the heightened stress of the disaster and/or the shortage of housing and support services.
During or after a disaster, local emergency management may ask the COAD members to get involved in response. While many organizations prepare and may pre-position staff/supplies in advance for disasters with warnings (i.e. hurricanes, severe weather), it is important they follow the lead of their local disaster management officials before activating. This helps ensure that an area is safe to enter and that the work of first responders is not interrupted. The use of the COAD network provides a single point of contact for emergency managers and allows for smooth information flow. Many local Emergency Operations Centers (EOC) have a place designated for the COAD lead and they participate in briefings and meetings to communicate what is happening on the voluntary side. Some COAD member agencies also have their own seat at the EOC – i.e. in Louisiana, Salvation Army and American Red Cross are represented at the EOC – but they report only on their own activities, not on the COAD as a network.
COADS don't replace the state or national VOADs. However, they are usually on the ground faster and remain active in long-term recovery when state and national VOAD member organizations have left. Many COADs will transition into, or support the development of, the Long-Term Recovery Committees. Unfortunately, it is rare that a COAD has a full-time, dedicated staff person. They are usually seconded from a member organization to lead the network. COAD boards are also composed of member organization representatives.
State/Territorial VOADs
There are 56 State/Territorial VOADs across the country. Like a COAD, they play a networking role in coordinating the role of the voluntary organizations active in a disaster. When a disaster is significantly large in scope – bigger than a single region can handle – or when it affects several regions, the State VOAD will activate and provide leadership, while still coordinating with local COADs. For example, following Hurricane Michael in Florida, the Florida VOAD began every conference call with a check-in by any of the local COADs/VOADs before moving to member organization reports.
Like COADs, the State/Territorial VOAD may also have a seat at the State's EOC, as will some state member groups. These seats allow better coordination with relevant state agencies, especially in the areas of feeding and sheltering.
While state VOADs and local COADs operate independently of each other, the more they can work together ahead of a disaster, the better prepared a community will be to help itself during a disaster. This reduces the burden overall on VOAD members. Creating channels for information sharing is also helpful and joint training can be beneficial. The Georgia VOAD, for example, encourages COADs and local VOADs to participate in state VOAD exercises, meetings, conference calls and webinars.
National VOAD (NVOAD or National VOAD)
Like the smaller VOADs, National VOAD is a means of coordinating groups that work at a national scale. While criteria for membership is evolving, member organizations of the National VOAD network are groups that are working in multiple communities and states; they are truly providing relief on a much bigger scale than might be found in a state VOAD or local COAD/VOAD.
National Voluntary Organizations Active in Disasters describes itself as "an association of organizations that mitigates and alleviates the impact of disasters; provides a forum promoting cooperation, communication, coordination and collaboration; and fosters more effective delivery of services to communities affected by disaster" (from About Us). National VOAD understands that effective service delivery during a disaster begins with collaboration and relationship building during "blue skies."
National VOAD membership is divided into National Members, State Members and Partners. It has nearly 70 national member nonprofit organizations who respond across the entire country to disasters. Each state/territory has a State VOAD which also belongs to National VOAD; there are approximately 55 State members. These members provide coordination during a local or regional disaster, often having a seat at the state or county/city Emergency Operations Center (EOC). The Partner membership categories include: Foundation, Corporate, Non-Profit, Government, and Academic and Associations. (Center for Disaster Philanthropy is a nonprofit partner.) Partners work with VOAD members to improve U.S. disaster relief, response and recovery efforts in a variety of ways.
Founded in 1970 following Hurricane Camille in Aug. 1969, National VOAD emerged from a recognition that the previous system of non-coordinated response from government, nonprofits and the private sector often resulted in duplication of services, unmet needs and gaps, and unnecessary competition. All VOAD members share a common set of values and principles to guide their work. Known as the 4Cs these are Communication, Coordination, Collaboration and Cooperation.
Innovative Practices
In a unique response National VOAD and five of its member organizations are coordinating Project Comeback: Texas to provide disaster case management (DCM) services to Texans still needing assistance after Hurricane Harvey. FEMA usually contracts with a state agency to run DCM but in this model, the consortium is being contracted with directly – the first time ever a DCM contract has been given directly to a nonprofit by FEMA. National VOAD is providing support that allows each of the organizations to focus on their areas of expertise to respond to the needs of Texans in their recovery. While National VOAD and its five-member organizations are the lead, the full project involves several other connected organizations, allowing Texans to receive support in their home communities whenever possible.
The National VOAD partners participating in the consortium are:
Catholic Charities USA, the official domestic relief agency of the U.S. Catholic Church
Islamic Circle of North America, one of the nation's Muslim disaster response agencies
Lutheran Disaster Response US, the domestic disaster ministry of the Evangelical Lutheran Church in America, working in partnership with Lutheran Social Services of the South Disaster Response/Upbring (LSSDR)
Society of St. Vincent de Paul, the national council of the Society St. Vincent de Paul's Disaster Services Corporation (DSC)
United Methodist Committee on Relief (UMCOR), the global humanitarian aid and development agency of The United Methodist Church.
As the occurrences of disasters increase, the need for efficient, effective responses increases as well. VOADs and COADs are well-positioned to use their networks and their information-sharing to bring innovative practices to the work of recovery across communities and around the nation.
Key Takeaways
COADs and VOADs serve as a resource for emergency managers and a voice for disaster survivors. Their coordination leads to a reduction of the duplication of services and they work together to fill unmet needs and gaps.
Blue sky planning by Emergency Managers must include VOADs to truly gain a comprehensive picture of how the post-disaster landscape will look.
Funders should prioritize building strong networks of VOADs to help improve disaster relief and response.
Further Reading