Good360 Survey Reveals Growing Support for Resilient Response
This blog post originally appeared on Good360's website and is cross-posted here. The Center for Disaster Philanthropy is a member of the Good360 Disaster Recovery Council (GDRC) and has signed the Resilient Response Initiative pledge.
The Good360 Disaster Recovery Council (GDRC) launched in the fall of 2017, during what would become one of the most active Atlantic hurricane seasons on record.
The timing proved prescient. In the aftermath of the historic devastation wrought by Hurricanes Harvey, Irma and Maria, many companies and nonprofit organizations felt the urgent need to reevaluate their disaster recovery strategies and find ways to build more resilience for themselves and the communities they serve.
The GDRC was established to encourage these very conversations, bringing together thought leaders from across the corporate, nonprofit, government and scientific worlds to collaborate and come up with innovative ideas and data-driven solutions. In 2018, we also launched the Resilient Response Initiative, in partnership All Hands and Hearts and other leading organizations, to push corporations to take a more strategic, thoughtful approach to disaster giving.
Our advocacy is paying off and driving results
Nearly three years after the launch of the GDRC, we are thrilled to report that these concerted efforts have led to material improvements in disaster recovery planning at some of America's most well-known and influential companies. That's one of the critical findings from a new survey conducted and compiled by Good360 to look at how corporations and nonprofits are responding to the COVID-19 pandemic and preparing for the current hurricane season.
Our survey found that less than half of responding companies included all six major tenets of the Resilient Response pledge in their disaster plans prior to 2017. But now, more than 75% of companies report that their disaster plans include these key Resilient Response pillars, which call for corporations to consider long-term goals, be proactive and respond to actual needs, among other best practices.
Drilling down into the specific Resilient Response tenets, the survey found that:
Only 45% of companies say they acted proactively to respond to disasters prior to 2017, while 87% now report doing so
Before 2017, only 36% of corporations made efforts to share and uphold best practices of thoughtful giving during a disaster, while 87% are doing that now
About 45% of companies said they were resilient-focused prior to 2017, but 75% are now committed to building stronger communities able to withstand future disasters
A full 100% of companies now say they felt they were acting transparently and holding themselves accountable for fulfilling disaster-related commitments, compared to just 45% four years ago
Responding to the survey, The UPS Foundation, a member of the Good360 Disaster Recovery Council and a critically important partner for Good360, reiterated that its "humanitarian approach is fully-aligned with Good360's resilient response principles."
"The UPS Foundation and UPS have extensive experience in helping communities prepare for, respond to, and recover from sudden onset and prolonged crises," said Joe Ruiz, Director of The UPS Foundation's Humanitarian Relief and Resilience Program. "We're very proud to be a member of the Good360 Disaster Recovery Council and partner with Good360 to provide critical supplies to meet unprecedented needs in communities resulting from COVID-19."
Resilience is becoming a part of the corporate vernacular
The positive trends seen in the survey suggest that companies that commit to the Resilient Response pledge are taking it seriously and have made identifiable improvements to their internal processes as a result. More than 50 major corporations have signed the pledge, including Fortune 500 leaders such as Walmart, CVS Health, Dow and Ecolab.
"I was happy to participate in this survey, as I was interested in learning how other companies were impacted by COVID-19," said Kris Taylor, Vice President, Global Community Relations and Ecolab Foundation. "For Ecolab, I feel we have a solid disaster recovery plan and have been able to respond effectively to COVID-19. The Resilient Response pledge got me focused on being more proactive, resilient and sustainable. That has really helped in this crisis."
The majority of companies responding to our survey (72%) also reported that their hurricane preparation plans had at least some focus on resilient response. Among these respondents, 36% said their hurricane planning was fully focused on enabling communities to bounce back faster than they did prior to disaster. About 60% of businesses said their hurricane preparation included a focus on long-term recovery, and an equal percentage said they provided funding for community resilience efforts.
Encouragingly, every company in our survey said they had at least some kind of plan for responding to hurricanes and other large-scale disasters.
The pandemic presents both challenges and opportunities
Our survey also asked companies how they were responding to the global health disaster sparked by the novel coronavirus. We found that:
About 58% of companies experienced a moderate to severe business impact
Only 5% of respondents reported no impact
100% of companies saw supply chain disruptions
43% needed to cut staff and 56% furloughed workers
But the impact wasn't all negative — 45% of companies actually reported seeing financial growth during the pandemic. While 81% of corporations say COVID will lead to changes in their operating model, every company in our survey said the pandemic represented an opportunity to drive more innovation in their business.
"Once the COVID-19 crisis became a reality, Coverys challenged its staff to offer ideas on ways to provide support to healthcare providers and communities," said Mary Ursul, Senior Advisor at Coverys, a leading medical professional liability insurer. "The response from staff was overwhelming and heart-felt. Most of the ideas were beyond our area of expertise, so we researched organizations whose primary focus would match the needs identified by staff. That led us to Good360.  We really appreciated the commitment to a more thoughtful approach in responding and helping communities recover from the pandemic — something that is embodied in the Resilient Response pledge."
In terms of how the pandemic was impacting philanthropic efforts, 31% of companies reduced their grants while nearly 19% actually increased their charitable giving. Not surprisingly, 75% of companies cut their volunteering efforts as states closed down and restricted movement.
For Timberland, a key Good360 partner, the COVID crisis prompted the apparel brand to engage both its employees and customers in an effort "to pull on our boots to make a difference in more personal ways," said Atlanta McIlwraith, Senior Manager of Community Engagement for Timberland.
Timberland partnered with parent company VF to raise donations for the GlobalGiving Coronavirus Relief Fund. Among its many initiatives, the company also donated over 2,000 personal protective equipment (PPE) items to local towns, 600 pairs of boots to frontline healthcare workers in Wuhan, China, and 850 pairs of Timberland nursing shoes to staff at the Elmhurst Medical Center in Queens, New York.
"We believe in the power of nature, and human nature — which in times like these, compels us to help strengthen our communities, protect what we love, and meet the needs in our midst that we can," McIlwraith said.
The way forward is through collaboration and key partnerships
As Good360 continues to advocate for more thoughtful, sustainable approaches to disaster relief through its Disaster Recovery Council and Resilient Response Initiative, we are encouraged by the results of this initial survey — and by the collaborative partnerships that have been formed to support the goals of resilient response.
More like this
Announcing the 2018 Atlantic Hurricane Season Recovery Fund
Announcing the 2018 Atlantic Hurricane Season Recovery Fund
The Future of Our Cities & Communities Depends on Urban Resiliency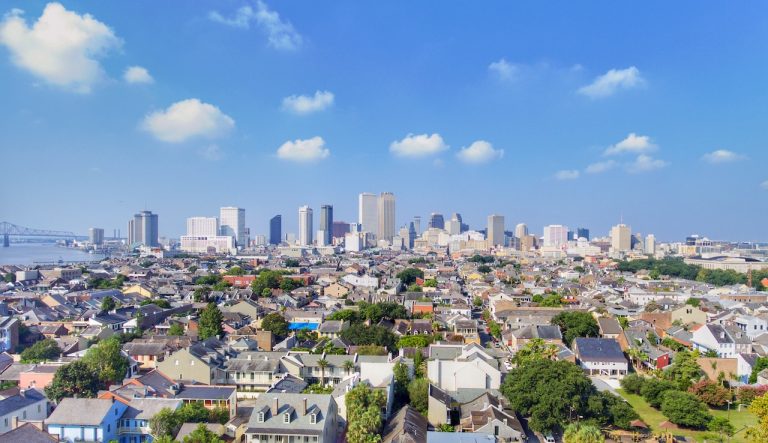 The Future of Our Cities & Communities Depends on Urban Resiliency