I've Got Your Six, Puerto Rico

I understand that there will never be enough money, that things will not unfold perfectly, that mistakes will be made. It's what happens in high intensity situations that involve so many unknowns and so many divisions. I see a broken and damaged island and I feel the hurt.
When I flew over Puerto Rico for the first time and into San Juan, tears welled up in my eyes. Five months after Hurricane Maria, that short airborne pass gave me a view littered with blue tarp roofs and downed trees, contrasted against the blue of the Caribbean, the island's mountains, and sprawling San Juan.
The next four and a half days left me often repeating to myself two questions: "But why?" and "How is this my country right now?"
Because it is my country. Right now. And it's hard to wrap my head around that concept. I think many of us have had difficulty understanding the needs. Difficulty understanding what is happening. Difficulty understanding how to help.
I could start to answer those questions, but instead I want to say this: for every moment of hopelessness, there is hope. Those days in Puerto Rico gave me both extremes, back to back, every day, but most brilliantly in a legal aid office and on a baseball field.
During our meeting with Fundacion Fondo de Acceso a la Justicia (Access to Justice Foundation Fund), I listened to Adi explain how an old slavery law was exempting many people living in one part of Puerto Rico from receiving federal aid. She gave a detailed legal explanation that I won't go into here. I'll just say that there is a law that once favored white slave owners and now keeps those who live there now from having even squatters' rights, much less receiving federal disaster aid.
"But why?" I asked.
I couldn't keep asking, but I wanted to. Lawmakers are too busy and worried about other things to fix an old law that affects a fraction of the people they are serving. That is a reality that made me angry. "How is this my country right now? In 2018?"
The next day, I was standing on an All Hands and Hearts base camp in Yabucoa. The volunteer team there was preparing for a major undertaking the next day – rehabbing a baseball field right behind their base. There are more than 500 Little Leaguers on more than 50 teams in this municipality, an area that once had at least 20 fields. Now, there are only two halfway usable fields. But within a span of hours, this one would become more than useable again.

I walked around the field and stood behind home plate, cleaning the dirt off of it with my shoe. I knelt down and took a photo, the field unfolding before me and the All Hands and Hearts base in the background. And just like that, the dirt of Puerto Rico became something I could never wash off. You don't have to tell me what baseball is in Puerto Rico. I love baseball. I know Puerto Rico is home to four MLB Hall of Famers, and current stars like Carlos Correa, Enrique Hernandez, Yadier Molina, and many more. I know exactly what that field will mean to that community and the youth who will play there.
I worked around the Army for a long time, and there was a phrase I heard a lot.
"I've got your six."
I've got your back. I won't let you down. You won't get hurt or fail because I am here. When you see Puerto Rico, there's no unseeing it. I can ask "Why?" all day long, but at the end of every day, this is my country. This is where it is right now. And there is a lot of work to do.
I understand that there will never be enough money, that things will not unfold perfectly, that mistakes will be made. It's what happens in high intensity situations that involve so many unknowns and so many divisions. I see a broken and damaged island and I feel the hurt.
On the heels of an unexpected barrier involving old slave laws that I still don't understand, it all feels a little hopeless. But on a baseball field, dirt on my knees, with home plate right in front of me, there is hope. Some Little League baseball players with dreams in their hearts are going to hit their first home runs right there. It's hope. It's powerful. We can't afford to forget Puerto Rico, because this is our country right now. And our country needs the hope that comes with a true and focused recovery that will be decades in the making.
The only thing left to say is, "I've got your six."
More like this
A Report On the Ground in Puerto Rico
A Report On the Ground in Puerto Rico
How Philanthropy Changed After One Catastrophic Storm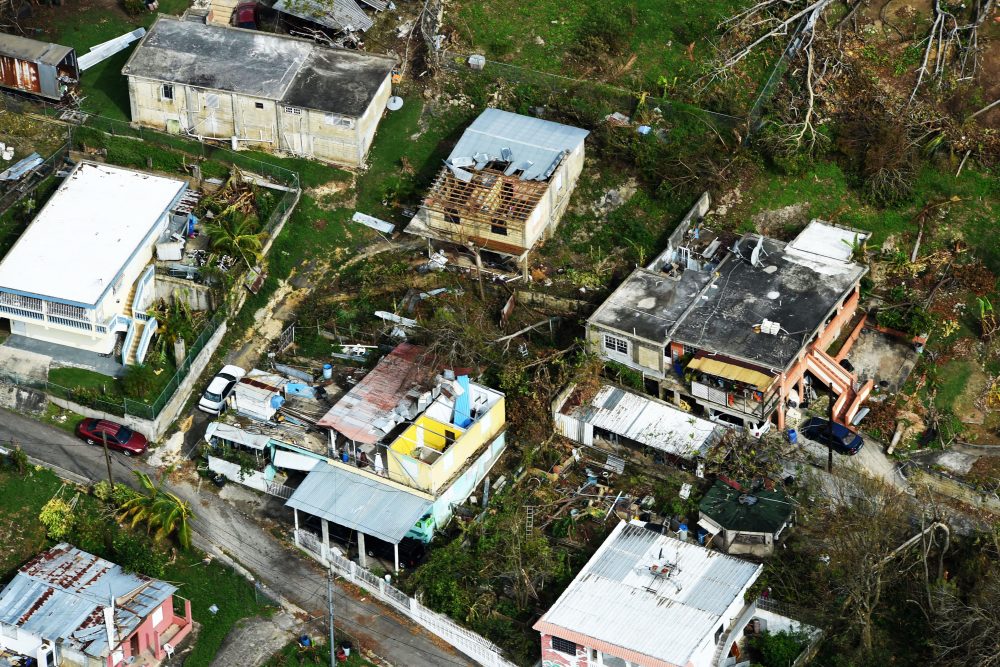 How Philanthropy Changed After One Catastrophic Storm