Puerto Rico: The Long Road to Rebuilding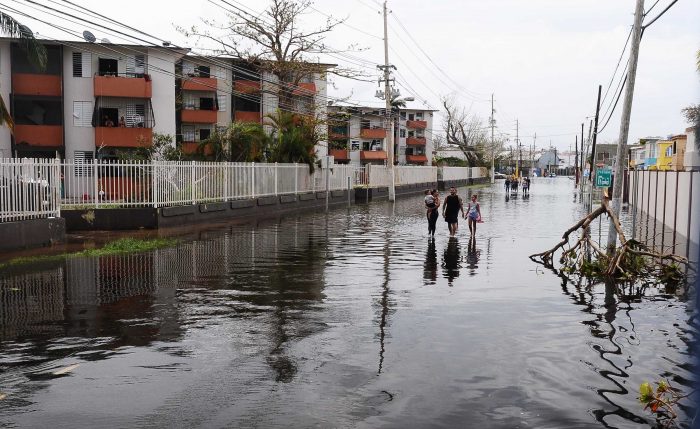 Wherever I have traveled since Hurricane Maria hit Puerto Rico, people who know that I am from the island have asked: "how is Puerto Rico doing?" No matter how many times I've been asked this question, I have found it difficult to answer. I typically hesitate, then say, "recovering." I say this word slowly and thoughtfully, because the answer is complicated.
Puerto Rico is a tropical island that lost, by some estimates, 30 million trees.  Those that remained were stripped of their leaves. Now, the leaves are back and the island is once again green, even though the trees are crooked and reestablishing the lush canopy will take years.
Our supermarkets are again well-stocked. The vast majority of island residents have electricity and water, though it took five or six months. Still, any hard rain or wind can create extensive power outages. We joke that electric cables have been reconnected with scotch tape.
People are out and about. But when a storm was announced recently (hurricane season started again, just nine months after Hurricanes Irma and Maria), too many people broke down crying and had panic attacks. Riding around the island, one sees many empty storefronts. They attest to the economic crisis exacerbated by the lack of electricity that have left so many jobless, caused too many deaths and led hundreds of thousands of Puerto Ricans to leave the island. Flying over the island recently, I could see thousands of blue tarps on what is left of homes. Repairs and rebuilding efforts are frustratingly slow.
I remind those that ask me how Puerto Rico is faring that Hurricanes Irma and Maria happened as the island was already reeling from a huge economic crisis. As a United States territory, Puerto Rico was not allowed by the U.S. Supreme Court or Congress to declare bankruptcy. A $73 billion public debt is to be paid by a population of 3.3 million people. And nearly 50 percent of them have incomes below the U.S. poverty line.
These, among other reasons, lead to the conclusion that the one-word answer to the question "how is Puerto Rico doing?" is "fragile." Puerto Rico is in a fragile state. Recovery and rebuilding are painfully slow, and often just plain painful.
Ever optimistic, Puerto Ricans talk about Hurricane Maria's silver lining. We have demonstrated true solidarity throughout this ordeal. We helped our neighbors clear paths, cooked and delivered meals for those who were housebound, and watched over each other. Local nonprofit organizations worked day and night, seven days a week, for weeks. Their staff had lost homes and property, and had no electricity or water, but they contacted organizations outside of the island and worked with local businesses to collect donations and distribute water, food, clothing, and comfort to their communities.
Donations of all sorts were received. Never in our lifetimes had so many people from all over the world contributed to Puerto Rico. National foundations, largely absent from Puerto Rico for the past two decades, arrived in force. The Puerto Rican diaspora created funds to support relief efforts. Local foundations developed expedited grants processes to support effective community-based groups. The FORWARD Puerto Rico Fund, created by the Red de Fundaciones de Puerto Rico (Puerto Rico Funders Network), provided a vehicle for national funders and individuals to partner with local foundations to support key nonprofit groups. Other funds were created to tap into a variety of networks interested in helping Puerto Ricans.
Although philanthropic response to the disaster has been robust, overall estimates are that Puerto Rico has not received the amount of donations that Hurricanes Harvey and Irma generated in Texas and Florida. Yet, these flexible philanthropic funds have played an essential role in relief efforts.
Continued involvement from foundations with experience in helping rebuild localities affected by disasters will be essential to accelerate the island's recovery.

Lessons in Disaster Philanthropy
For many of us in the Puerto Rican philanthropic community, the devastation caused by the back-to-back hurricanes last September was our first experience with local disaster philanthropy. This experience surfaced a number of lessons that may be useful to other funders.
Philanthropic organizations and individuals that wish to provide help after a disaster, but are unfamiliar with local context, can effectively partner with local foundations who know the territory. This can decrease transaction costs involved in making and monitoring grants.
Nonprofit groups that are known to donors and have proven track records are an effective starting point for donations during an emergency.
Application processes for donations need to be streamlined and quick.
General operating grants are best during the first stages of relief. The ability to use funds flexibly allows groups to address emerging needs.
Local organizations are the best suited to provide emergency help. Many national and international organizations fly staff in to help, but most do not know the country nor how best to reach the most affected people.
Staff of local community-based organizations need financial and counseling support to recover after a disaster. Many staff experience post-traumatic stress.
National foundations that have provided support to disaster-affected places have valuable experiences and resources to share with local donors. This includes knowledgeable people and organizations, and experience with effective strategies for disaster recovery and rebuilding.
Aligned and collaborative grantmaking promotes more efficient and effective philanthropic response to disasters. This includes information sharing and joint strategy development between local and national foundations.
Recovery after natural and economic crises is a long-term process. Dozens of foundations have been partnering in New Orleans for 12 years after Hurricane Katrina, and for more than 5 years in Detroit following its fiscal crisis.
More like this
A Report On the Ground in Puerto Rico
A Report On the Ground in Puerto Rico
What's Happening with the 2017 Atlantic Hurricane Season Recovery Fund
What's Happening with the 2017 Atlantic Hurricane Season Recovery Fund