Six Takeaways from the 2017 Hurricane Season
The two-year anniversaries of Hurricanes Irma and Maria are upon us. These storms, and the recent fury of Hurricane Dorian, serve as stark reminders that September and October are traditionally the most active months of the year for hurricanes.
Although this season began slowly, the National Oceanic and Atmospheric Administration (NOAA) recently increased its prediction of a more active-than-average season to a 45 percent chance, up from 30 percent back in May. And consider this: 45 percent is the same percentage that NOAA predicted for the record-breaking 2017 season in which Hurricanes Harvey, Irma and Maria battered the continental U.S., Puerto Rico and islands in the Caribbean.
The 2017 season produced 17 named storms; 10 became hurricanes and six of those were major. NOAA estimates the cumulative cost of the 16 separate billion-dollar weather events in the U.S. in 2017 was $306.2 billion, breaking the previous cost record of $214.8 billion (2005).
So, what can we learn from 2017? And what can those lessons tell us about what to expect in 2019?

1. More Intensity: Storms seem to be getting more intense and 2017 broke all kinds of records. That year, September 8 set the one-day record for accumulated cyclone energy (ACE), as a result of the combined forces of Hurricanes Irma, Jose and Katia. Harvey broke the record for most rainfall from a tropical cyclone in the U.S., with more than 60 inches of rain falling at two measuring stations in Southeast Texas. Expect not only more disasters, but more intense disasters.

2. Preparedness Matters: NOAA estimates that more than 3,200 people were killed in the 2017 hurricanes, a tragic number, but one that could have been much higher given the intensity of these storms. There are a few reasons why deaths may have been lower than seemed likely to occur. Predictions about storm tracking and intensity from the National Hurricane Center continue to improve year to year – we have more and better information sooner. In turn, media attention continues to increase (sometimes too breathlessly). General awareness about the consequences of storms — like the danger of storm surges — is improving.
Government leaders at all levels are focusing on mitigation issues such as more effective building codes and water management regulations. And states are getting more aggressive with both warnings and preparedness activities before disaster strikes. In 2017, mandatory evacuations were more prevalent, with Florida, Georgia and South Carolina requiring mandatory evacuations which affected over seven million people. Texas, on the other hand, was the most notable exception. This month, Hurricane Dorian brought evacuations from Florida to North Carolina.

3. Recovery Work is Not Finished: Two years after the 2017 hurricanes, life is not back to normal in some areas. In Texas, CDP recently awarded nearly $2.7 million in its fourth round of funding – nearly two years after Harvey struck. Consider how some of the grants are being used: repairing and rebuilding homes, supporting a common application management system for Harvey-impacted homeowners, promoting a tool-lending program and engaging in a complete neighborhood development in order to relocate individuals and families who have suffered from repeated flooding events. These grants suggest communities that are still struggling to recover, not ones that are back on track.
CDP's 2017 Atlantic Hurricane Season Recovery Fund awarded $3.4 million in funding and the work there continues. Given the complicated geography – particularly in Puerto Rico and the U.S. Virgin Islands/British Virgin Islands—CDP adjusted our grantmaking timeline to incorporate a more rigorous, extended assessment in order to reflect the complex on-the-ground situation and respond more effectively.

4. Using an Equity Lens in Recovery Matters: While many can manage their own recovery, many cannot. A year after Hurricane Harvey, the Episcopal Health Foundation report found recovery was slowest in low-income neighborhoods and communities of color. Although there has been some progress, the protracted pace continues.
Investments from our CDP Hurricane Harvey Fund worked to address the disparities by funding many local organizations working with vulnerable populations. As fund director, Sally Ray often says, "By focusing our grantmaking on support for the most vulnerable, we support holistic community recovery." You can hear more about this work here. From our partnership with the Rebuild Texas Fund which leveraged funding for communities in need to local organizations like Attack Poverty, Houston Responds, Houston Immigration Legal Services Collaborative and many others on the ground, doing the work, it's clear, collaboration counts.

5. There Is Still Much To Do: Although CDP's Hurricane Harvey Recovery Fund and 2017 Atlantic Season Hurricane Fund may be coming to a close, we will end our work knowing much still needs to be done in communities affected by the devastating hurricanes… and concerned about the necessary funding to continue the work. Two major issues stand out for us: mental health services and affordable housing. Mental health issues take a while to surface, often years afterward. Our focus on long-term recovery recognizes that "Recovery is not only about the restoration of structures, systems and services… but is also about individuals and families being able to rebound from their losses and sustain their physical, social, economic, mental, emotional and spiritual well-being." 
According to the Internal Displacement Monitoring Centre, in the past 10 years, almost 7.3 million Americans have been displaced by disasters. Affordable housing was already painfully scarce before disasters hit such areas as Texas and northern Florida. Now the situation has gone from bad to worse. According to Emergency Management: "Thousands of Harvey survivors remain displaced or live in damaged homes. Thousands more relive their trauma with each rain, making mental lists of what to grab if they must evacuate or comforting family members troubled by memories of rising water. Affordable housing is closely tied to water management issues. The Harris County Flood Control District has 50 percent more work in progress than it did just before Harvey, thanks to the $2.5 billion bond voters approved a year ago. Unfortunately, 0nly a fifth of the 149 bond projects underway, however, have started construction." As the Houston Observer noted: The uneven patchwork of drainage infrastructure in Harris County means that some of Houston's poorest neighborhoods are still waiting for basic flood protections.

6. Getting Ready Starts Today. As much as we might wish to make disasters go away, there's nothing we can do to prevent them from occurring. But there's a lot we can do to make them less harmful to both people and property. It starts with everyone having a plan for what they will do for their family and loved ones if disaster threatens – plans that include evacuations and safety precautions, as well as coping strategies. It means communities having procedures for what can be done collectively – services provided by both professionals as well as volunteer civic and faith-based organizations. And it takes long-range planning – and funding – from government leaders at the municipal, state and national level to develop programs of planning, preparation and mitigation, so that we can all be better prepared and more resilient to handle what may come.
The time to get ready for the next disaster is today.
More like this
A Report On the Ground in Puerto Rico
A Report On the Ground in Puerto Rico
Puerto Rico: The Long Road to Rebuilding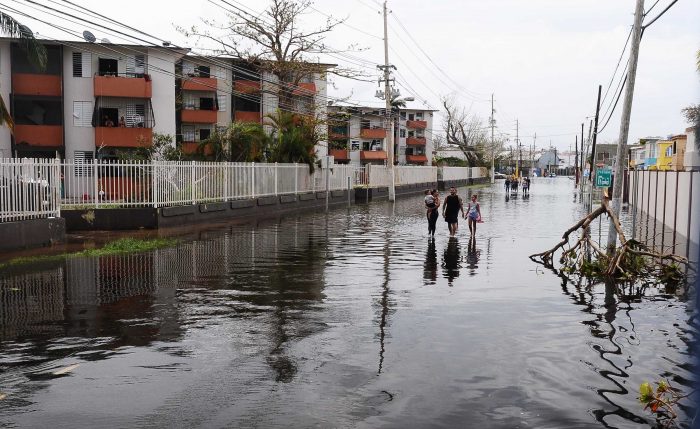 Puerto Rico: The Long Road to Rebuilding