How donors can support relief and recovery of Libya's flooding survivors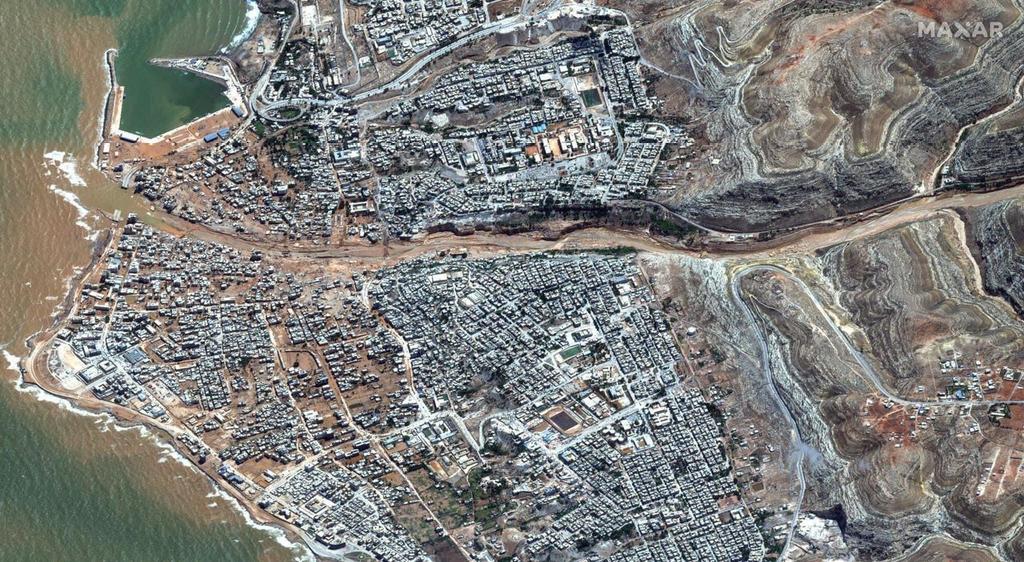 It has been a week of unimaginable loss. A few days after Morocco's deadly earthquake, torrential rain from Storm Daniel fell on northeastern Libya on Sept. 11, causing two dams to break, devastating nearby Derna and Al Bayda cities. The disaster has reportedly killed more than 11,000, and thousands are still missing.
Libya's flood survivors sorely need humanitarian aid, but to say that Libya presents a complicated operating environment for humanitarian workers would be an understatement. Where humanitarian need intersects with political instability, how can U.S.-based philanthropy support relief and recovery efforts?
Humanitarian assistance in a complex environment
Libya's complicated history goes back centuries. More recent was the NATO-backed 2011 uprising against multi-decades of leadership under Moammar Gadhafi.
Our Libya Flooding disaster profile states, "Libya's disaster vulnerability is increased by its political conflict, which has seen a power struggle between two rival administrations." The two rival governments have different statistics on the magnitude of the flooding, and recent deadly fighting has left the country in a perilous position. Disaster preparedness measures were inadequate; the flooding took advantage of this weakness, and precious lives were lost.
Many organizations have told us they want to deploy but need resources. However, there are significant security concerns. Groups that already have a presence inside Libya faced everyday operational challenges primarily due to "bureaucratic and administrative impediments" before the flood struck; those challenges will arguably be exacerbated. Additionally, we do not know how receptive to international aid the various factions in Libya will be.
What this means for donors
There is no sugarcoating the challenges to Libya's recovery but the humanitarian aid imperative compels both CDP and the global community means that we provide assistance where it is needed. And, it is dearly needed now.
In my 20 years of working in philanthropy, I have learned that when faced with complexity, I should return to the basics. Use the muscle memory built into my work to be the most strategic with any disaster donation.
To most effectively help survivors of Libya's floods, especially those already at-risk, marginalized and underserved, such as refugees and migrants, children, women and girls, here are four tried and true approaches that can help donors give strategically:
International nongovernmental organizations with a preexisting presence in Libya will be best positioned to help international donors respond to the crisis. CDP's Global Recovery Fund will prioritize those organizations with deep roots in Libya, especially those that have existing partnerships with local organizations.
Take the long view. Recovery from the floods will take years. There is a current shortage of resources for immediate relief, but there are also long-term needs that need philanthropic support, from mental health to economic development and livelihood restoration to community rebuilding.
It's alright to pause. Through our Measuring the State of Disaster Philanthropy work that we undertake annually with Candid, we know that upwards of 95% of all disaster giving goes to relief and response, leaving the remaining ~5% for preparedness, mitigation and recovery. That 5% is inadequate. Donors can wait to see where other actors direct early funding and then allocate dollars for unmet needs.
Don't hesitate to ask the experts. CDP and InterAction can provide resources and guidance about organizations working in affected communities.
CDP can help
Through the Center for Disaster Philanthropy's Global Recovery Fund, donors can support efforts to meet the ongoing and ever-expanding challenges that Libya's flood survivors will encounter.
Our website has a wealth of resources, including a Libya flood disaster profile and this deep dive into floods.
We are also a phone call or an email away! Please do not hesitate to reach out to me or any member of the CDP team if you have questions about this devastating flooding, its effects and the road to recovery.