Last updated:
2023 New Zealand Floods and Cyclone Gabrielle
New Zealand had a rough start to 2023 with numerous disasters hitting the island just six weeks into the year.
An earthquake, described as ranging from 5.7 to 6.3 magnitude, depending on the source, struck off the coast of New Zealand early evening on Feb. 15. No damage was reported but the quake was felt across North Island.
This followed immediately on the heels of Cyclone Gabrielle, the worst storm to hit New Zealand this century. Hundreds of landslides were expected, in part because the ground was already unstable after several days of record rains fell in New Zealand at the end of January 2023 and continued into early February. One-third of the country's five million people were affected by the cyclone, which is reported to have caused more damage than the previous weeks of flooding.
New Zealand's new Prime Minister (PM) Chris Hipkins, was quoted as saying, "I was looking out the window for a plague of locusts."
Auckland, a city of 1.6 million people, is located on the North Island. It is the largest city in New Zealand. On Jan. 27, an estimated 9.8 inches (240 millimeters) of rain, equal to a summer's worth of rain, fell on Auckland, making it the city's wettest day on record. Additional rain fell on Jan. 31, hindering recovery activities.
Given the intensity and the amount of previous rainfall, the ground was waterlogged, and rivers were full. This provided little capacity for the absorption of new rainfall. It also created risks for landslides and river overtopping. This led to the evacuation of hundreds of people.
Gabrielle brought an additional 6 to 16 inches of rain (dependent upon the location), along with extremely high winds (ranging from 55 to 80 mph on the mainland and higher in outer areas). Flooding ensued, with levels reaching the second story in many houses, with residents trapped on their roof tops. Photos show flooded streets and homes, damaged buildings, and raging rivers, revealing the extent of the disaster's damage.
Photos show flooded streets and homes, damaged buildings, and raging rivers, revealing the extent of the disaster's damage.
(Photo: A section of State Highway 25A collapsed due to heavy rain in Coromandel, New Zealand, Jan. 30, 2023. Source: Waka Kotahi NZ Transport Agency)
One of the suburbs in Auckland that was worst affected by the January flooding was Mangere, a primarily Pasifika neighborhood. Pasifika refers to the people from or descended from residents of the Pacific Islands, including Tonga, Tuvalu, Nieu and the Cook Islands, often governed by New Zealand, that now live in the country. It is the country's fourth-largest ethnic group.
Almost all the homes – 22 in total – on a single street were flooded because of rising waters from a nearby creek. They had all been built within the last three years, but major infrastructure improvements were not made. As a result of the flooding, some of the homes in Mangere now have over 20 people living in them.
After Gabrielle, officials were most concerned about the Hawke's Bay settlement of Wairoa, due to minimal communication. Wairoa is a majority Māori community. The majority of the deaths occurred in Hawke's Bay. Ariel photographs showed extensive damage.
The third-ever national emergency declaration was issued for New Zealand after Gabrielle. It was previously declared for the 2019 Christchurch attacks and the COVID-19 pandemic. This declaration did not end until March 14.
The country's PM Chris Hipkins "declared that climate change is real and with the country in the wake of the devastating floods in Auckland." …
"[Hipkins] warned the country's extreme weather would continue. He stated that extreme weather events were occurring at greater frequency than ever before and the country needs to be prepared to deal with more of these events in the near future."
After Gabrielle, New Zealand's Climate Change Minister, and co-leader of the Green party, James Shaw said, "As I stand here today, I struggle to find words to express what I am thinking and feeling about this particular crisis … I don't think I've ever felt as sad or as angry about the lost decades that we spent bickering and arguing about whether climate change was real or not, whether it was caused by humans or not, whether it was bad or not, whether we should do something about it or not, because it is clearly here now, and if we do not act, it will get worse. … There will be people who say it's 'too soon' to talk about these things … but we are standing in it right now. This is a climate change-related event. The severity of it, of course, made worse by the fact that our global temperatures have already increased by 1.1 degrees."
New Zealand was experiencing a La Niña event which increased the typical summer rains.
New Zealand has a significant social safety network with various nongovernmental and governmental organizations that responded to the flooding.
Cash assistance
A critical ongoing need is unrestricted cash donations to support affected families. Direct cash assistance can allow families to secure emergency housing, purchase items and contract services locally that address their multiple needs. It gives each family flexibility and choice, ensuring that support is relevant, cost-effective and timely. Cash assistance can also help move families faster toward rebuilding their lives.
Long-term needs
Long-term recovery needs include rebuilding and fixing homes, businesses and community infrastructure, the economic recovery of local markets, and the replacement of cars and household items.
Housing
New Zealand was already facing a serious housing crisis, and the floods/cyclone have caused that to worsen. In 2018, 2% of the population lived (some studies say 10%) in unsafe or overcrowded housing or were experiencing homelessness. According to Habitat for Humanity NZ, "overcrowding is more common for Māori (23%) and Pacifica people (43%)."
Agriculture and food supply
Crops in many areas where New Zealand grocery stores obtain their produce were destroyed by Cyclone Gabrielle, causing worries about food supply. "The cyclone devastated crops in regions considered the country's food baskets and experts are saying it could take years to return to normality." Stuff called it a "horticulture apocalypse".
At least half the crop of a New Zealand sweet potato, known as kūmara, was destroyed in the flooding. In some areas, as much as 90% of the crop was lost. This may also lead to a shortage next year as farmers will have problems obtaining enough seeds for planting without sufficient crops this year. Other crops impacted include potatoes, squash, maize, onions, broccoli, apples and kiwifruit. Milk production and the wine industry were also affected. By March 1, prices for broccoli and kumara had already doubled.
Gisborne and Hawke's Bay are both significant wine-growing regions. However, many wine growers want the focus to be on the human impact. Warren Gibson, a winemaker in Hawkes Bay said, "We feel that the loss of life and destruction to homes and personal businesses is so much bigger than the wine story."
While there is an immediate impact, there are also concerns about how the water and deposited silt will affect trees and vines long term.
CDP has a Global Recovery Fund that allows donors to meet the ongoing and ever-expanding challenges of global crises.
Philanthropic and government support
On Thursday, Feb. 2, the New Zealand government announced $450,000 USD ($700,000 NZ) to support rebuilding. Australian Prime Minister Anthony Albanese reached out to PM Hipkins to offer assistance with the floods. Australia has had recent experiences with flooding, a situation that will continue in parts of Australia in 2023.
On Feb. 20, the New Zealand government announced relief funding worth $187 million USD ($300 million NZD). It includes $156 million for repairs to important roads and an additional $31 million to provide emergency support for primary producers and businesses. The first portion of the business recovery dollars will see eligible businesses receive up to $40,000 NZD (about $25,000 USD). Earlier that day, the finance minister Grant Robinson, who has been appointed as Cyclone Recovery Minister, announced that the total cost to the government was likely going to be similar – $8.43 billion USD/$13.5 billion NZD – to the costs of rebuilding Christchurch after the 2011 earthquake.
On Feb. 27, the government announced it was establishing a Temporary Accommodation Service (TAS) for those who cannot return home after Cyclone Gabrielle in "Te Tai Tokerau (Northland), Tairāwhiti (Gisborne), Te Moana a Toi (Bay of Plenty), Te Matau-a-Māui (Hawke's Bay), Waikato and the Tararua District." It was estimated after the initial flooding that there were 1,200 to 1,800 households in Auckland alone that would require this assistance. For Cyclone Gabrielle, estimates are as high as 10,000 people in need. TAS could include portable accommodation (e.g., trailers, mobile homes) or motor lodges, motels and hotels. In Tairawhiti and Hawke's Bay it could mean relocating cabins or tiny homes or even building temporary neighborhoods of modular homes because of the scale. Some people may be covered by their home insurance policies or have the ability to stay with family or friends while their homes are rebuilt.
"FIFA and the football community across Aotearoa New Zealand have shown their support for those hardest hit by floods and Cyclone Gabrielle that has caused devastation across the country. Ticket revenue from the two matches on 22 February at the recent Play-Off Tournament for the FIFA Women's World Cup 2023™ (FWWC2023) in Hamilton/Kirikiriroa and Auckland/Tāmaki Makaurau has been donated to the New Zealand Red Cross Disaster Fund. FIFA has also donated excess Coca-Cola drinks from the tournament to KiwiHarvest to give to affected communities, while some Adidas clothing and football equipment from the tournament will be gifted to Māori Football Aotearoa to distribute."
More ways to help
As with most disasters, cash donations are recommended by disaster experts as they allow for on-the-ground agencies to direct funds to the greatest area of need, support economic recovery and ensure donation management does not detract from disaster recovery needs.
CDP has also created a list of suggestions for foundations to consider related to disaster giving. These include:
Take the long view: Even while focusing on immediate needs, remember that it will take some time for the full range of needs to emerge. Be patient in planning for disaster funding. Recovery will take a long time and funding will be needed throughout.
Recognize there are places private philanthropy can help that government agencies might not: Private funders have opportunities to develop innovative solutions to help prevent or mitigate future disasters that the government cannot execute.
All funders are disaster philanthropists: Even if your organization does not work in a particular geographic area or fund immediate relief efforts, you can look for ways to tie disaster funding into your existing mission. If you focus on education, health, children or vulnerable populations, disasters present prime opportunities for funding.
Ask the experts: If you are considering supporting an organization that is positioned to work in an affected area, do some research. CDP and InterAction can provide resources and guidance about organizations working in affected communities.
Fund resources
Floods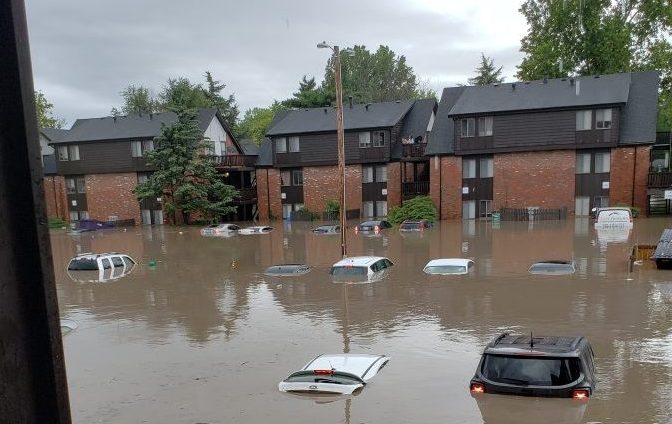 Floods
Flooding is our nation's most common natural disaster. Regardless of whether a lake, river or ocean is actually in view, everyone is at some risk of flooding. Flash floods, tropical storms, increased urbanization and the failing of infrastructure such as dams and levees all play a part — and cause millions (sometimes billions) of dollars in damage across the U.S. each year.
Indigenous Peoples
Indigenous Peoples
There is no universally accepted definition for the term "Indigenous." According to the UN, the best approach is to identify rather than define Indigenous peoples. Indigenous peoples are everywhere. There are more than 476 million Indigenous peoples across 90 countries representing 5,000 different cultures. Indigenous peoples are often disproportionately impacted by disasters.