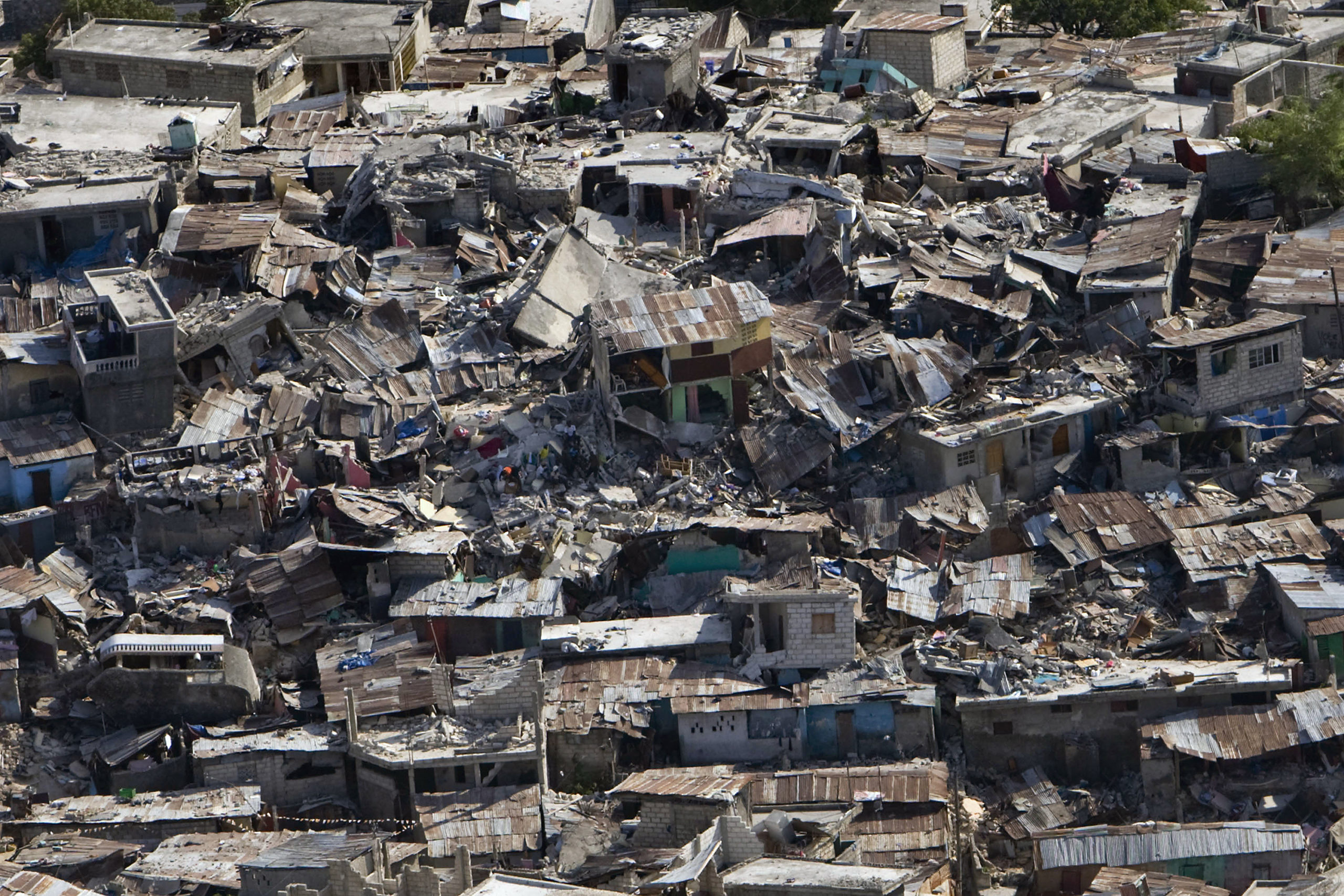 Three years after the Haiti earthquake, half a million people still lived in camps, and only half of the rubble had been removed. In addition, as of March 2012, of the $230 million in required funding needed for the year, only four percent had been covered.
On Jan. 12, 2010, a 7.0 magnitude earthquake hit Haiti, causing more than 222,000 deaths and in excess of 300,500 injuries. Immediate humanitarian assistance poured in, offering food, supplies, and shelter from across the globe. At the height of the disaster, 1.5 million people were living in 1,354 spontaneous settlements, surrounded by some 10 million cubic meters of rubble. Some 2.3 million people were displaced.
(Damage in Port au Prince, Haiti after the Jan. 12, 2010 earthquake. UN Photo/Logan Abassi United Nations Development Programme, CC BY 2.0, via Wikimedia Commons)
Two years later, according to the United Nations Office for the Coordination of Humanitarian Affairs, the country still faced significant challenges; half a million people still lived in camps, and only half of the rubble had been removed. In addition, as of March 2012, of the $230 million in required funding needed for the year, only four percent had been covered. All the same, OCHA reports, a "sustained and colossal humanitarian operation in response to the earthquake and the cholera epidemic has yielded remarkable results and continues to save lives."
Overcoming the destruction of the 2010 earthquake requires more than just rock removal or ongoing food deliveries. As the poorest country in the Western Hemisphere—80 percent of the population already lived under the poverty line before the disaster struck—Haiti remains in need of assistance that will strengthen internal resources, empower the nation, and transform a longtime dependence on foreign aid. Political instability and violence have woven through much of the country's roots, and the nation has continued to fall victim to chronic floods and hurricanes. In addition, Haiti's broken education system continues to impede progress and stability; the CIA reports that just over half of the population age 15 and older can read and write, and as of 2010, 40.6 percent were unemployed.
In this vulnerable state, the earthquake heavily impacted a society already struggling for its welfare. The event does, however, offer great opportunity for rebuilding from the ground up—especially with the help of those willing to go beyond simply donating to truly investing.
As one international relief expert put it, the capital city of Port-au-Prince is not really recovering, but rather learning to live with the aftermath of disaster. No country can develop through credit or aid alone.
Facts and stats
Many Haitians still living in camps face threats of forced eviction. The International Organization for Migration (IOM) reported that between July 2010 and July 2011, the number of camps under that threat increased by 400 percent. Eighty-nine percent of those camps are privately owned. Women also report high levels of domestic violence and sexual abuse in the camps, but cannot afford to leave.
Roughly a third of the Haitian population was still considered food insecure in late 2011.  Damaged farmlands, rising food prices, a lack of rain between March and June, and other issues have contributed to the problem. Food insecurity is a lack of sustainable access to adequate safe, nutritious, and socially acceptable food for a healthy and productive life.
Health and sanitation issues remain a top challenge. Cholera spread throughout the region following the earthquake; as of early 2012, 500,000 cases and more than 7,000 deaths had been reported. The number of new cases has decreased, but should future rains and/or flooding bring cholera once again, supplies may well have been depleted. In terms of general sanitation, a lack of safe drinking water and overflowing/unusable latrines complicate the situation.
The earthquake exacerbated pre-existing structural problems. Due to the country's poverty levels and history of weather-related events, many live in makeshift housing. Even permanent buildings are not necessarily made to withstand the elements.
Donors seeking to aid in the continued relief and long-term recovery of Haiti could:
Support ongoing humanitarian efforts and innovative solutions for those affected by the earthquake.
Hundreds of thousands remain in camps threatened with eviction, poor sanitation, food insecurity, and safety risks, yet lack the ability to find housing elsewhere. Whenever possible, connect with NGOs with ongoing, long-term relationships in the area, building resilience rather than simply increasing dependence on foreign aid.
Fund small business loans and investment for homes and small businesses.
Particular emphasis could be placed on structures built to better withstand floods, hurricanes, and other natural disasters. More than 80,000 buildings in Port-au-Prince and the surrounding area collapsed due to the earthquake.
Invest in education initiatives that will do more than just rebuild schools.
Close to 5,000 Haitian schools were affected by the earthquake, including 80 percent of those in Port-au-Prince. But with high levels of illiteracy and unemployment—some 60 percent of students are said to drop out before sixth grade—opportunities exist for innovative programming and retention that will build a stronger base for the country's future.
Support efforts for continued rubble removal.
Two years after the disaster, just 50 percent of the debris had been taken away, though officials report working non-stop with the area government officials, residents, and the international community. More than 20 percent of the removed rubble has been recycled into buildings, sidewalks, and flood prevention structures.
Invest in warning systems and disaster preparedness efforts.
Scientists had been predicting an earthquake in Haiti the magnitude of the 2010 event for years. And yet, the country remained largely unprepared. A lack of money led to a lack of research and planning. In addition, the country's current state leaves it more vulnerable to other types of disaster.
Resources
Earthquakes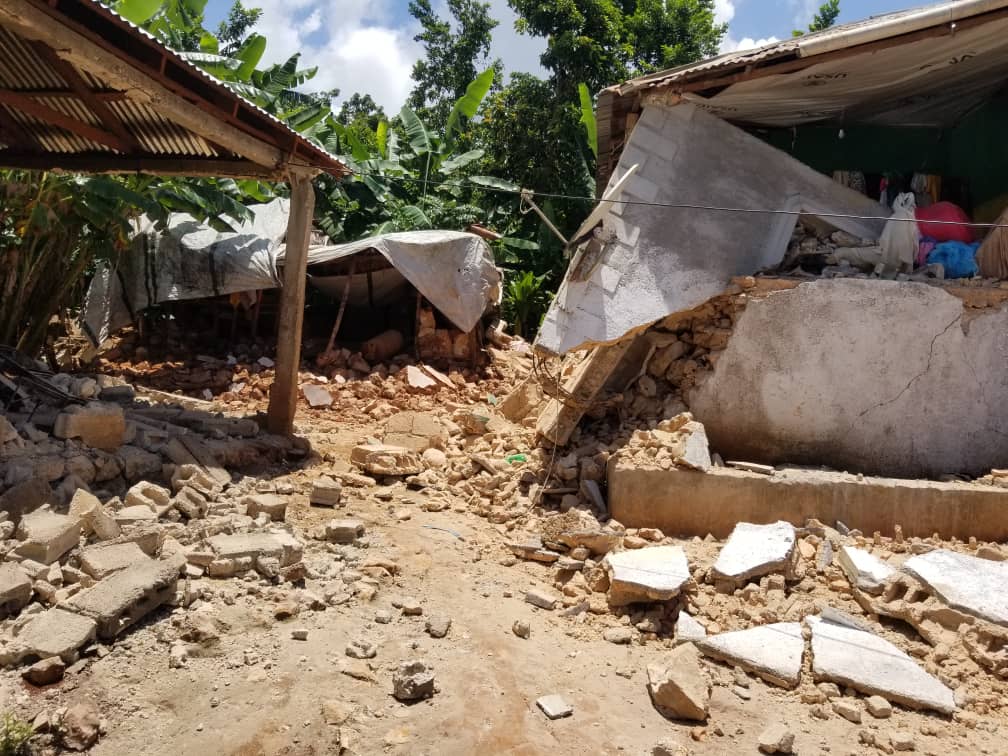 Earthquakes
Striking without warning, earthquakes often are among the most devastating disasters. Caused by the movement of plates along fault lines on the earth's surface, earthquakes often leave a monumental path of instant death and destruction.
Education
Education
Right alongside emergency shelter, nutrition, protection and other essentials, education provides stability, hope, normalcy and resources for the present and the future of any disaster-affected community. A return to the classroom also helps restore a sense of routine for children.