Last updated:
Midland, Michigan Dam Breaches
On Tuesday, May 19, 2020 warnings were issued about the imminent breach of dams along the Tittabawassee River.
Later that evening, both the Edenville and Sanford dams (respectively 140 miles/225 kilometers and 133 miles/214 kilometers north of Detroit) were breached, flooding homes along the river. The Tittabawassee River, recorded a new record of 35 feet (10.6 meters) on Wednesday morning and crested at 35.05 feet, lower than the predicted 38 feet (11.6 meters).
(Source: Michigan EGLE)
According to The Guardian, "One of the dams, which the National Weather Service said saw 'catastrophic' failures, had been under scrutiny by federal regulators since 1999. The Edenville dam, where there is a hydropower project, is about 140 miles north of Detroit and was built in 1924. Federal regulators revoked the project's license in 2018, after warning for two decades that it was vulnerable to significant flooding."
The Sanford dam was breached but did not completely fail. Officials from the Federal Energy Regulatory Commission (FERC) directed Boyce Hydro, the owner of both the Sanford and Edenville dams, to file an incident report about the partial failure of a third dam. An initial observation by the FERC found erosion on the downstream slope of the Secord Dam, which is located upstream of the other two dams.
What was the impact of this disaster?
Michigan Governor Gretchen Whitmer issued an emergency declaration and 3,500 homes and about 11,000 people were evacuated. The Federal Emergency Management Agency (FEMA) issued an Emergency Disaster Declaration (EM-3525)on May 21, 2020, though no funding had been authorized as of June 15, 2020. Governor Whitmer said on June 9 that she is preparing to request a major disaster declaration for the city of Midland to help repair some of the estimated $175 million in damage.
This was the second evacuation in 24 hours. Heavy rains of 4-7 inches (10-18 centimeters) fell for two days before, leading to breaches or uncontrolled release of water from several dams further upstream. Evacuation orders were rescinded after a couple of days, and the waters receded.
Of particular concern was Dow Chemical's main plant which is on the riverbank in Midland. Floodwaters had reached the plant's boundaries and were filling stormwater runoff ponds. There was also concern that the floodwaters may have disturbed sediment from Dow Chemical's downstream Superfund site which had already dumped dioxins there. Thankfully, while floodwaters did impede on holding ponds owned by Dow, there appears to have been limited contamination of the area. Though testing will continue for months and years to come.
In an interview with CNBC, Dow CEO Jim Fitterling stated that no chemicals had been released, though they did have some river water enter a pond where they make a saltwater brine used in production. He also said they had shut down production at the plant before the dam failures and evacuated nonessential personnel from the facility.
Who was affected and in what ways?
The situation had stabilized enough that congregate shelters were shut down in late May, with those still requiring emergency housing being accommodated in hotels and other suitable locations. The city of Midland was forced to ask people to stay off the damaged dams and the newly exposed lake beds. Residents ventured onto the dams despite warnings about the dangers of fluctuating water levels and continuous erosion.
Mental health
Mental health will continue to be a priority as residents deal with a changed landscape that has affected homes, rental properties, vacation destinations and employment opportunities. There is also considerable concern about potential of dioxins from the Superfund site spreading to other locations (including residential) in the area. Crisis and ongoing counseling support will be needed.
Long-term recovery
The affected communities will also need long-term recovery support, particularly in economic and social sectors. The back-to-back challenges of COVID-19 and the flooding have pushed local residents and organizations beyond their capacity to cope. While insurance will help cover some costs, many additional losses will need to be funded with savings and other sources. FEMA has not yet approved financial assistance.
Contact CDP
Recovery updates
If you are a responding NGO or a donor, please send updates on how you are working on recovery from this disaster to Tanya Gulliver-Garcia.
Philanthropic and government support
The Center for Disaster Philanthropy (CDP), with support from a donor who wishes to remain anonymous, provided a $50,000 grant from CDP's Disaster Recovery Fund to the Midland Area Community Foundation to help rebuild wells in areas that were affected by the dam failures. The loss of the lake has changed groundwater levels resulting in a current count of 350 wells that are not working correctly. Of these wells, 130 serve full-time residents, whereas the others serve secondary or vacation homes.
The Rollin M. Gerstacker Foundation donated $750,000 to three organizations in response to the flooding. The United Way of Midland County received $200,000, the Midland Area Community Foundation's Flood Relief Fund also received $200,000, while an additional $350,000 was allocated for "additional assistance." The DuPont Corporate Giving Program donated $50,000 to each of these organizations as well.
FEMA issued an emergency declaration (EM-3525) but did not issue a major disaster declaration which triggers the potential for public and individual assistance.
Resources
Floods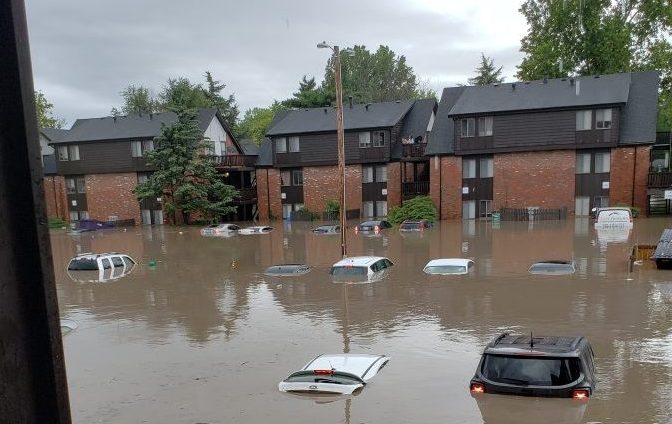 Floods
Flooding is our nation's most common natural disaster. Regardless of whether a lake, river or ocean is actually in view, everyone is at some risk of flooding. Flash floods, tropical storms, increased urbanization and the failing of infrastructure such as dams and levees all play a part — and cause millions (sometimes billions) of dollars in damage across the U.S. each year.
Mental Health and Trauma
Mental Health and Trauma
Mental health includes our emotional, psychological, and social well-being. It affects how we think, feel, and act. It also helps determine how we handle stress, relate to others, and make choices. Mental health is important at every stage of life, from childhood and adolescence through adulthood.