After months of posturing while simultaneously denying any plans to attack, Russian President Vladimir Putin's assaults on multiple cities in Ukraine began overnight on Feb. 24 and have continued day and night since then.
The Center for Disaster Philanthropy's (CDP) response to this crisis is focused on humanitarian needs that arise, particularly among internally displaced peoples (IDPs) and refugees. We are not looking at the conflict itself except for how it affects population movement and humanitarian needs. To that end, this profile is not providing detailed updates about the status of the war as we believe that is better done by news media.
The month of October was peppered with a series of Russian air strikes in Ukraine. On Oct. 10, Russia launched the largest air strikes since the start of the Ukraine war and the strikes continued the following day. The strikes targeted Ukrainian cities, killing civilians and knocking out power and heat. A spokesperson for the UN High Commissioner for Human Rights said, "Attacks targeting civilians and objects indispensable to the survival of civilians are prohibited under international humanitarian law."
In their Nov. 15 Ukraine Situation Report, the United Nations Office for the Coordination of Humanitarian Affairs (UNOCHA) said, "Millions of people in Ukraine are without electricity, water or heating today, following a wave of missile attacks that hit critical infrastructure in at least 16 of the country's 24 regions and in the capital Kyiv. According to the Government and Ukrainian Air Force, approximately 100 missiles were launched on the country this afternoon, mainly targeting energy infrastructure but also leaving some civilians injured or killed and homes destroyed in the capital Kyiv."
Fighting and explosions near Ukraine's Zaporizhzhia nuclear power station, which has been under Russian control since soon after it invaded the country, have raised concerns about a potential catastrophic nuclear disaster at the site. The head of the International Atomic Energy Agency, the UN's nuclear watchdog agency, has called the situation "unprecedented."
(Photo: Border crossing point in Medyka, Poland. Source: Polish Ministry of the Interior and Administration via Twitter)
The school year in Ukraine began on Sept. 1, but the situation for children is far from normal. Officials say six months of war have damaged 2,400 schools across the country, including 269 that were completely destroyed.
According to Save the Children, "an average of four preschools a day have been damaged or destroyed in the war in Ukraine, putting children's early development in jeopardy as the new school year begins." Getting children back to learning, in classrooms when it is deemed safe, and through online or community-based alternatives is critical.
Humanitarian challenges continue to grow and aid workers are anticipating a multi-year recovery will be required.
Putin stated that Russian forces were targeting Ukrainian military infrastructure, not people or communities. However, data and stories from Ukraine paint a different picture, including thousands of civilian casualties.
This is the largest mobilization of forces in Europe since World War II. This latest attack is part of a multi-year crisis stemming back to 2014 and beyond.
CNBC reported: "Heightened fears of a military conflict between Russia and Ukraine have been present for some time, and eastern Ukraine has been the location of a proxy war between the two countries. Soon after Russia's annexation of Crimea from Ukraine in 2014, pro-Russian separatists proclaimed two republics in the eastern part of the country: the Donetsk People's Republic and the Luhansk People's Republic — much to the Ukrainian government's consternation. Since then, there have been ongoing skirmishes and fighting in the region, which is known as the Donbas, between Ukraine's troops and separatists."
There are three types of needs in this situation:
Supporting individuals and families within Ukraine, including people staying in place and internally displaced persons.
Providing assistance in receiving countries across Europe that are taking in tens and hundreds of thousands of refugees. This may include host communities in other continents as well, as the crisis continues.
Responding to the global economic fallout, especially as it pertains to world hunger, given the impact on the exportation of food products from Russia and Ukraine.
The CDP Ukraine Humanitarian Crisis Recovery Fund focuses on addressing humanitarian needs that arise, particularly among the most vulnerable, marginalized and at-risk internally-displaced peoples and refugees. CDP is also in contact with and can grant to Ukrainian and other international organizations that are not 501(c)3 entities.
Contact CDP
Recovery updates
If you are a responding NGO, please send updates on how you are working in this crisis to tanya.gulliver-garcia@disasterphilanthropy.org. Responding donors are also encouraged to contact Tanya to share how they are innovatively assisting people in Ukraine and receiving communities.
Philanthropic and government support
There has been a strong philanthropic response to the war in Ukraine. The Council on Foundations maintains a webpage summarizing philanthropy's response. According to Candid's latest figures, 1,743 donations and pledges worth more than $2.66 billion have been made in support of the Ukrainian people. Of these, 1,552 are grants worth $1,499,488,771 and 191 are pledges worth $1,169,539,480. Learn more about how you can share your data with Candid.
Grants from the philanthropic community vary in size, focus and sector. The following are examples of the diversity of philanthropy's response:
On Aug. 8, the UN and humanitarian partners launched a revised Ukraine Flash Appeal, the third iteration of the Flash Appeal. The revised Flash Appeal covers the period between March and December 2022. It requests $4.29 billion to support 11.5 million people in need, which is a 90% increase in financial requirements compared with the previous revision in April.
As of Nov. 20, donors funded 71.1% of the $4.29 billion sought. The financial support level is significant, considering humanitarian emergencies are often underfunded. Also, some donors have redirected funding to Ukraine from other humanitarian crises, which risks worsening these crises with serious human costs.
The Ukraine Situation Regional Refugee Response Plan (RRRP) seeks $1.85 billion to assist a project refugee population of 8.3 million people. According to UNOCHA, 50.2% of this figure has been funded as of Nov. 21.
In April, UNOCHA released an updated UN Business Guide for the Ukraine Humanitarian Crisis, which includes information about how the private sector can help. All response activities should be guided by the humanitarian principles of humanity, impartiality, neutrality, independence and Do No Harm.
On Nov. 8, the U.S., through the U.S. Agency for International Development, announced it is providing an additional $25 million for winterization assistance. In the 2022 fiscal year, the U.S. provided more than $1.5 billion in humanitarian assistance to affected people inside Ukraine and those fleeing to neighboring countries.
On Oct. 19, the European Commission announced a new emergency shelter and winterized facilities program for Ukraine. The Commission will provide more than $176 million (€175 million) to support people in need in Ukraine and Moldova.
More ways to help
As with most disasters, cash donations are recommended by disaster experts as they allow for on-the-ground agencies to direct funds to the greatest area of need, support economic recovery and ensure donation management does not detract from disaster recovery needs.
The UN Business Guide describes how the private sector can help. In the Guide, UNOCHA "urges companies to refrain from sending unsolicited donations that may not correspond to identified needs or meet international quality standards."  Donors are encouraged to send cash rather than in-kind donations and support activities with the Flash Appeal and the RRRP.
CDP has also created a list of suggestions for foundations to consider related to disaster giving. These include:
Prioritize investments in local organizations: Local humanitarian leaders and organizations play a vital role in providing immediate relief and setting the course for long-term equitable recovery in communities after a disaster or crisis. However, these leaders and organizations are mostly under-resourced and underfunded. Strive to grant to locally-led entities as much as possible. When granting to trusted international partners with deep roots in targeted countries, more consideration should be given to those that empower local and national stakeholders.
Recognize there are places and ways that private philanthropy can help that other donors may not: Private funders can support nimble and innovative solutions that leverage or augment the larger humanitarian system response, either filling gaps or modeling change that, once tested and proven, can be taken to scale within the broader humanitarian response structure. Philanthropy can also provide sustainable funding to national and local organizations that support much-needed operational costs.
All funders are disaster philanthropists: Even if your organization does not work in a particular geographic area or fund immediate relief efforts, you can look for ways to tie disaster funding into your existing mission. If you focus on education, health, children or marginalized populations, disasters present prime opportunities for funding.
Ask the experts: If you are considering supporting an organization that is positioned to work in an affected area, do some research. CDP and InterAction can provide resources and guidance about organizations working in affected communities.
Related resources
Internally Displaced People
Internally Displaced People
Internally displaced persons are those who have been forced to flee their homes, in particular as a result of armed conflict, generalized violence, violations of human rights or disasters, and who have not crossed an internationally recognized border.
Refugees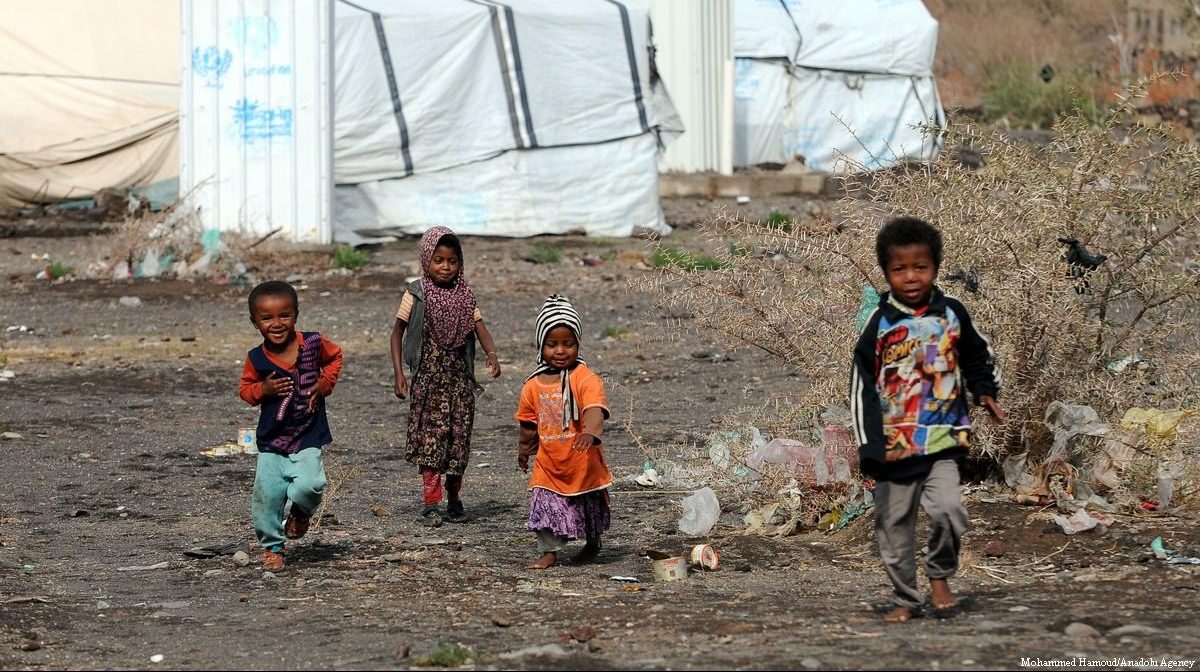 Refugees
Refugees are people who have been forced to flee their home countries because of persecution, war or violence. A refugee has a well-founded fear of persecution for reasons of race, religion, nationality, political opinion or membership in a particular social group. Many refugees are in exile to escape the effects of natural or human-made disasters.
Older Individuals
Older Individuals
Disasters disproportionately affect older people. Yet, this population is often "invisible" in terms of data about risks and needs, guidelines, planning and overall understanding of their unique needs during a disaster.