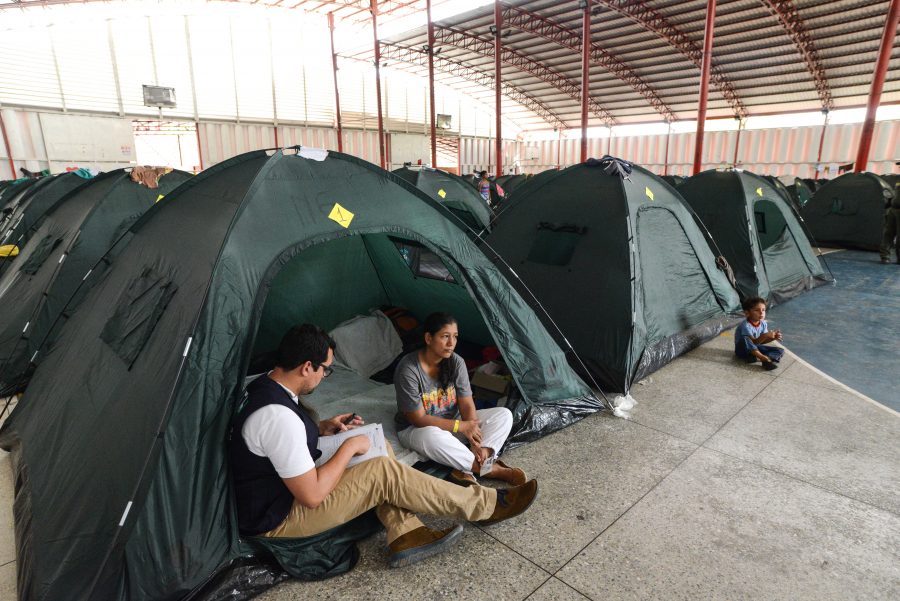 Complex Humanitarian Emergencies
Overview
In recent decades, humanitarian emergencies have become more complicated and long-lasting. An emergency always poses challenges, but they become complex when layered with crisis, climate change and conflict.
No universally agreed definition of a complex humanitarian emergency (CHE) exists. Britannica describes a CHE as "a type of disaster event (or sequence of events) that is caused by and results in a complicated set of social, health, economic and often political circumstances, usually leading to great human suffering and death, and requiring external assistance and aid. CHEs are associated with a variety of factors, such as war or conflict, under-development, poverty, overpopulation, human-caused environmental destruction and climate change, and disaster events such as drought, famine and floods."
The United Nations (UN) considers a CHE a crisis involving multiple causes. A breakdown in authority or inadequate capacity often prevents adequate response from the government, who are the ultimate duty bearers responsible for responding to the needs of those affected in the country.
Characteristics of CHEs often include:
War or conflict.
Great human suffering and death.
Large numbers of affected and displaced people.
Human-caused environmental destruction and disasters caused by impacts of climate change.
Weakened public institutions and systems such as healthcare, education and sanitation.
High risk of public health emergencies and outbreaks of disease.
International assistance and aid are needed, and actors who abide by the humanitarian principles of humanity, impartiality, neutrality and independence.
Delivery of assistance is prevented by groups who are part of the conflict.
Relief workers face heightened security risks.
The following are examples of different types of CHEs in terms of characteristics, scale and humanitarian needs:
Haiti became the world's first Black-led republic when it overthrew French colonial control in 1804. However, the country is regularly exposed to natural hazards and the effects of climate change and faces recurring socio-economic and political challenges. The roots of these challenges include France forcing Haiti to pay reparations which indebted future generations and hampered economic progress for decades. In 2022, 43% of the population needed humanitarian assistance. Gang violence has helped fuel displacement and restricts humanitarian access.
Ethiopia made important development gains in the last decade. However, the combination of recent escalating and brutal internal conflict, climate shocks, human rights abuses, disease outbreaks and the socioeconomic impacts of COVID-19 led to the deterioration in humanitarian conditions. In 2022, 25.9 million people needed humanitarian assistance, and the country is on the brink of famine as of July 2022.
Afghanistan has endured decades of war, recurring natural hazards, chronic poverty, drought and food insecurity, resulting in millions of Afghans needing humanitarian assistance – more than half the country's population. The UN warns that poverty may become nearly universal, affecting up to 97% of the population, and 1.1 million children under five years face the most severe form of malnutrition. A national drought was officially declared in June 2021 and is the worst in more than 30 years. Afghanistan's humanitarian crisis has political and economic roots that were exacerbated when the Taliban assumed power in August 2021. The deadly earthquake that hit southeastern Afghanistan in June 2022 demonstrates how a sudden onset disaster can exacerbate and complicate an existing CHE.
The United Nations Office for the Coordination of Humanitarian Affairs (UNOCHA) coordinates emergency responses to humanitarian crises. Their coordination role includes working with humanitarian actors in assessing situations and needs, agreeing on shared priorities and response strategies, clarifying consistent public messaging, and monitoring the progress of the crisis and the humanitarian response to it.
In complex emergencies involving refugees, The United Nations High Commissioner for Refugees (UNHCR) is responsible for protection and assistance activities on behalf of the refugees. UNHCR may also be appointed lead agency and therefore be responsible for coordinating the UN response.
The Center for Disaster Philanthropy (CDP) uses several sources to inform our analysis and funding priorities for CHEs, including Fund for Peace's Fragile States Index, Global Hunger Index and ACAPS' Inform Severity Indices. These sources help CDP decide where to support, understand needs and anticipate what may happen next. Internally, CDP categorizes CHEs as Levels 1, 2 or 3. Level 1 CHEs are profiled in the weekly What We're Watching blog and tracked. Level 2 CHEs receive a higher level of attention by featuring an in-depth Disaster Profile and consideration for funding. Finally, Level 3 CHEs are prioritized for funding and receive a more significant focus in CDP's communication and educational content. Level 2 and 3 Disaster Profiles are on our website's disaster page.
Key Facts
How to Help
Use informed analysis to allocate funding systematically and strategically rather than reactively. This can be hard for funders, especially when stakeholders watch news headlines and expect them to fund the disaster, conflict and humanitarian crisis of the hour. However, significant unmet global humanitarian needs that do not get media attention and "forgotten crises" often have more significant humanitarian funding gaps.
Support broad and integrated efforts. CHEs involve multiple causes, so narrow and siloed approaches are ineffective. Funders can have a more significant impact when they support efforts that are broad in scope and integrated with the existing government, non-government or UN mechanisms. Most importantly, funder support should ensure programs are community-informed and community-led. Consider how support can address needs across sectors while reinforcing the respective country's Humanitarian Response Plan, a document consolidated by UNOCHA on behalf of the Humanitarian Country Team and partners that respond to the assessed and expressed needs of the affected population.
Support mitigation, recovery and resilience, not just immediate needs. While ensuring affected people have access to life-saving assistance is essential, recovery and resilience cannot be ignored. Even amid a CHE, children need to be educated, small businesses need to return to operation, schools and health facilities need to be operational, and families need support rebuilding or creating new and sustainable livelihoods. The type of recovery support will vary depending on the context and current conditions. However, it is possible to help affected communities begin the recovery process and effectively strengthen their ability to adapt to increasing disaster risk and recurring shocks.
Provide flexible and multi-year funding. In CHEs, the context is dynamic and fluid. Shifting alliances and motivations of groups party to a conflict, ongoing displacement and the constant threat of natural hazards make precise planning difficult if not impossible. Allowing organizations the flexibility to use grant funds in ways that make the most sense given the current conditions on the ground exhibits trust in partners and supports effective response and recovery.
Fund local actors and interventions that strengthen local systems and capacities. Local actors remain on the ground and will continue to meet ongoing, recurrent and protracted needs when media attention and funding start to wane.
What Funders Are Doing
CDP provides support for people impacted by CHEs worldwide through its funds, including the Global Recovery Fund and COVID-19 Response Fund. In 2022, more than half of CDP funding will go to various programs in CHE contexts. The following are examples of CDP grants awarded to support recovery from CHEs for individuals and communities.
CDP awarded $249,935 to Mercy Corps in 2020 to help restart and strengthen small businesses impacted by conflict in Yemen by providing access to financial services, business training and mentorship. By the end of the project, 94% of the businesses had increased their monthly income. This grant demonstrated that even amidst conflict, there are opportunities to support recovery programs for small female- and male-led businesses and market system actors.
CDP awarded $100,000 to Concern Worldwide U.S. in 2022 to support communities in rural areas of Afghanistan's Takhar province to build resiliency, recover from the economic impacts of the humanitarian crisis and withstand the ongoing effects of the COVID-19 pandemic. The project will restore water access to pre-pandemic levels and build rainwater catchment ponds.
CDP awarded $202,488 to Near East Foundation in 2021 to provide lifesaving support to conflict-impacted people in South Sudan and Sudan, including internally displaced persons, returnees and at-risk host populations. The project will support food security and livelihood recovery through climate-smart agricultural production, inclusive value chain development and access to finance.
Funding and support from the philanthropic community vary in size, focus and sector. The following are examples of the diversity of philanthropy's response to CHEs:
Learn More
We welcome the republication of our content. Please credit the Center for Disaster Philanthropy.
(Photo: A Inter-American Commission on Human Rights worker questioning a Venezuelan woman at a refugee camp in Colombia. Source: Daniel Cima/CIDH; CC BY 2.0)