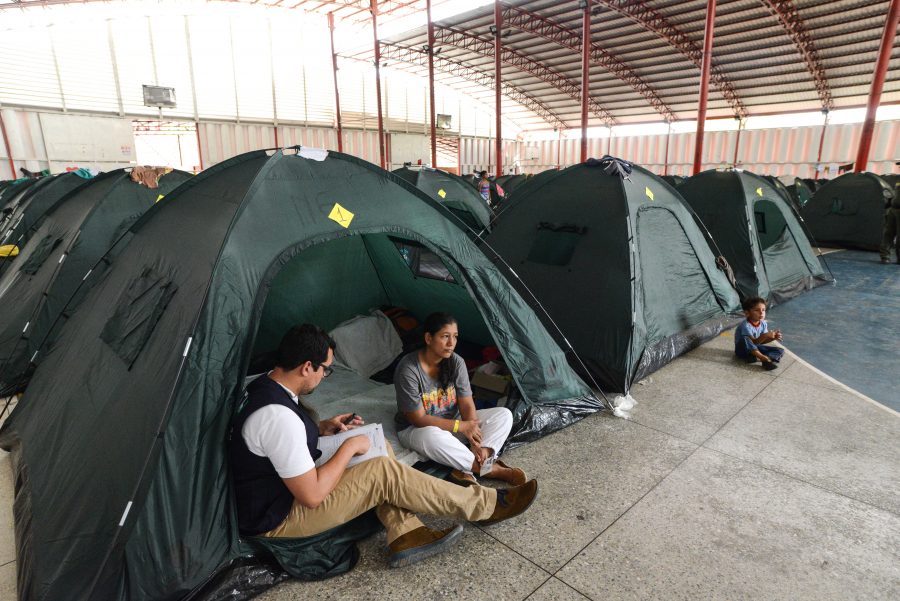 Complex Humanitarian Emergencies
Overview
During political strife or military fighting, innocent populations often are unwittingly involved. The challenges only increase when a disaster occurs or large groups are displaced and need assistance. The delivery of aid can be compromised and relief workers may be put in harm's way.
Such events are termed Complex Humanitarian Emergencies (CHEs). The United Nations (UN) defines a CHE as "a humanitarian crisis in a country, region, or society where there is total or considerable breakdown of authority resulting from internal or external conflict and which requires an international response that goes beyond the mandate or capacity of any single and/or ongoing UN country program." In short, CHEs involve an acute emergency layered over ongoing instability. Multiple scenarios can cause CHEs, like the civil wars in Syria and Yemen, the man-made political crisis in Venezuela, or the public health crisis in Congo.
CHEs may be worsened by famine and heightened by the outbreak of disease or poor sanitary conditions as people flee their homes due to the fighting as is the case in Syria, in the middle of a civil war and one of the largest refugee crises in the world.
There are two tools responding organizations can use to determine what type of aid is appropriate. For acute CHEs the Multi-Cluster/Sector Rapid Assessment (MIRA) says needs assessment should be "well-coordinated, rapid and repeated/reviewed as necessary to reflect the changing dynamics, drivers and needs in each country and agreed that the results of needs assessments should inform the overall strategic planning and prioritization process." In a protracted crisis, a Humanitarian Needs Overview (HNO) should follow a MIRA.
In recent years, most CHEs have been caused by intra-country fighting, not as a result of wars between nations. This can bring its own complications. Unraveling a complex humanitarian emergency and providing relief typically requires an understanding of the motivation of the actors involved. In addition, intervention can take on political overtones.
Click here to see the list of Level 1 CHEs that the Center for Disaster Philanthropy has identified as a focus for 2022.
Key Facts
Groups that are fighting sometimes will not allow humanitarian assistance. Combatants often target civilians, putting them at risk for human rights abuse, food shortages, breakdown of publicly supported health systems and unhealthy living conditions in refugee camps. When conflicts are intra-state, participants do not wear military uniforms, making it difficult to differentiate between combatants and civilians.
CHEs often bring about Complex Security Environments, situations that cause difficulty for aid workers.  In 2018, 171 aid workers were kidnapped, according to Relief Web including 52 kidnappings in South Sudan in the midst of a conflict that began in 2013.
Conflicts are increasing across the globe. Between 2006 and 2016, the number of political conflicts, which can lead to CHEs, increased from 278 to 402. Also, in 2016, the number of people forcibly displaced reached an unprecedented 65.6 million.
In the early stages of a CHE, most deaths occur due to diarrheal diseases, respiratory infections, measles or malaria. As the event lingers and people continue to be displaced, the issue often becomes malnutrition.
How to Help
Provide mental health aid for those affected. People who have been displaced have undergone a significant change in way of life, perhaps including loss of livelihood, extreme poverty and damaged social support structure. Because of the ongoing conflict, they also may suffer from post-traumatic stress disorder.
Provide assistance for women and children. These groups often face increased risks in CHEs like gender-based exclusion, marginalization and exploitation.
Fund research into lessons learned in previous CHEs. Each situation has unique elements, but some lessons may be applied more broadly. The Organization for Economic Co-Operation and Development published this guidance for evaluating the effectiveness of aid in CHEs. Funding for post-event evaluations would enhance accountability while providing resources that could be adapted for future events.
Provide assistance for public health needs. With a disaster or ongoing conflict, gains made in public health—immunization, water, sanitation and the like—can be quickly wiped out. Shoring up public health assistance in developing nations and in complex humanitarian emergencies is an area of need. Developing epidemic preparedness protocols could aid public health in a variety of situations, including disasters.
What Funders Are Doing
Learn More
We welcome republication of our content. Please credit the Center for Disaster Philanthropy.
(Photo: A Inter-American Commission on Human Rights worker questioning a Venezuelan woman at a refugee camp in Colombia. Source: Daniel Cima/CIDH; CC BY 2.0)