A major storm system stalled over Western Europe on July 14-15, leading to record-setting rain over Belgium, Germany, Luxembourg, Switzerland, France and the Netherlands.
Some parts of Germany received the equivalent of a normal two months of rain in 24-48 hours, which caused rivers to overtop their banks, flash flooding through communities, and left hundreds of people injured, missing or dead. The storm system dumped 40 gallons of water per 10 square feet (148 liters of water per square meter) in 48 hours – almost double the usual rainfall for a month. The sheer scale of the flooding shocked climate scientists worldwide as they draw direct links between this incident and human-caused climate change.
The Ahr, Volme and Dussel rivers all overtopped their banks with record-setting water levels, which led to evacuation orders and emergency declarations in multiple cities. As the water continued to flow downstream, it filled dams past their capacity, leading to more evacuations as infrastructure was stretched – sometimes beyond its breaking limit. The most serious was at a dyke alongside the Juliana Canal in the south of the Netherlands' Limburg region. Warning sirens sounded as villages and hospitals evacuated ahead of the rushing water.
(Photo credit: Rhein-Erft-Kreis via Twitter)
What was the impact on communities?
As of Aug. 11, there were more 229 confirmed deaths in Europe. Most deaths were in Germany (about 184), although the number of people missing there dropped from thousands to several dozen.
In Belgium, the death toll stands at 38. A judge has opened a possible manslaughter investigation over the floods and the deaths. The prosecutor's office in the city of Liege said the judge will identify who is responsible for "involuntary homicide by lack of foresight or precaution." Part of the investigation is likely to focus on the alert system. Germany is now exploring the possibility of SMS alerts.
Who was affected and in what ways?
In the hard-hit town of Verviers, hundreds of homes were inhabitable without electricity and gas, some without water, for weeks due to the damage to the critical infrastructure. Access to power in Germany is likely to remain challenging even after repairs are made since a coal mine in Inden, Germany was flooded when a small river reclaimed its natural course and flowed into the mine.
Throughout the affected region, flooding, landslides and debris from the storm damaged critical infrastructure. Access will continue to be a challenge as many roads were washed out, bridges washed away, and railway tracks left askew.
Debris and waste management was a significant issue. According to Politico, "German and Belgian authorities are struggling to clear mountains of waste — washing machines, smashed furniture, paper, cars, plastics, chemicals, sewage and building debris — washed up by this month's catastrophic floods. The tsunami of trash is so vast that the main priority is getting rid of the stuff before it poses a risk to human health and not recycling and reusing it as called for by EU guidelines."
The region of Liège dealt with the 2,000 tons of waste that occurred in the first 24 hours by dumping it at an old industrial site and on an abandoned highway. This is part of the 1.5 million tons of waste the floods generated across the province. About 40,000 to 50,000 vehicles are included in that total in Belgium. Some of these vehicles were spared the first round of flooding but destroyed when a massive rainstorm produced additional flooding in the town of Dinant on July 24.
Although The Netherlands experienced significant amounts of rain, it did not suffer any fatalities, nor were towns submerged. CNN reported that "The Netherlands has a long history of water management and their success in the face of this disaster may offer the world a blueprint on how to handle floods, especially as climate change is expected to make extreme rain events more common."
Germany, Belgium and other impacted areas are well-established countries with strong emergency response and management systems. In addition, their membership in the European Union will help ensure that most of the immediate critical needs are met but there are several unmet needs currently, and mid-to-long-term recovery needs must also be anticipated.
Flood damage
According to the GDV insurance industry association, insured losses from the floods in the Western regions of Germany alone may reach $4.7 billion to $5.9 billion (4 billion to 5 billion euros). This estimate does not include damage in Bavaria or Saxony. According to the GDV, only 45% of homeowners in the country have flood damage included within their insurance.
Global supply chain
The global supply chain has been impacted by these floods, particularly due to the destruction of railroads and other transportation infrastructure. Getting these assets operational will be important to help reduce the impact on shipping and supply chains which have already been affected by the blockage of the Suez Canal and COVID-19.
COVID-19
As with all 2020-2021 disasters, the floods are happening in the context of the COVID-19 pandemic which will impact rebuilding, and potentially increase cases and/or reduce access to vaccines and testing.
Mental health
Mental health will be a top priority. Given the unusual nature of the disaster, many residents may never have dealt with evacuations or property damage before. Crisis and ongoing counseling support will be needed, especially for families who have lost loved ones.
Personal protective equipment and supplies
Personal protective equipment and supplies for clean-up support will be necessary, including mucking, gutting and mold remediation in houses and debris removal. Rebuilding damaged homes, businesses and infrastructure is a crucial step to get the communities repaired and residents back home.
Long-term recovery
A significant need in this disaster will be long-term recovery, particularly in areas with unique architectural heritage. The sheer magnitude of the damage is breathtaking as entire villages have been wiped off the map and historical buildings left in piles of rubble. Local agencies will need significant support over the long term as they seek to rebuild the affected areas while preserving their unique heritage.
The Center for Disaster Philanthropy (CDP) has a Global Recovery Fund that provides an opportunity for donors to meet the ongoing and ever-expanding challenges presented by global crises.
Contact CDP
Recovery updates
If you are a responding NGO or a donor, please send updates on how you are working on recovery from this disaster to Tanya Gulliver-Garcia.
Philanthropic and government support
In partnership with Google, this fund provided:
A $100,000 grant to the Luxembourg Red Cross to provide support to flood-affected communities. The grant will provide cash assistance for recovery needs to the most flood-affected households to cover costs not covered by government grants/assistance.
In September 2021, Aktion Deutschland Hilft e.V. received $300,000 to provide emergency relief to communities in flood-affected Germany.
A $250,000 grant to Belgian Red Cross in November 2021 to ensure flood-affected populations in Belgium are provided with basic needs: first aid and psychological help, cash assistance, emergency shelter, camp beds, food, water, blankets, hygiene kits, etc., and that early and longer-term recovery and rehabilitation needs of the community are met with dignity.
Germany has implemented a $472 million (400 million euro) relief plan to help survivors with their immediate needs. Half will be funded by the federal government, with the other half funded by 16 state governments. Some of the damage in The Netherlands can be covered by the government but they have a limit of $590 million (500 million euros) per disaster, and will only cover flood damage, not rain damage.
As with most disasters, cash donations are recommended by disaster experts as they allow for on-the-ground agencies to direct funds to the greatest area of need, support economic recovery and ensure donation management does not detract from disaster recovery needs.
There was a significant outpouring of community support. An 82-year-old pensioner from Münster – Horst Eschler – donated nearly $1.2 million (1 million euros) to Aktion Lichtblicke and challenged his favorite team – FC Bayern Munich – to raise their donation to match. Bayern donated $1.2 million more on top of their previous donation of nearly $120,000 (100,000 euros)
In the Wallonia region, the government has told 202 of the 262 communes that they will qualify for federal disaster relief assistance. Wallonia was also hit by a second set of floods on July 24.
On July 21, Germany announced a federal aid package worth $234 million (200 million euros). It will be matched by an equal amount contributed by federal states. Other states have announced their own aid packages. A second federal package will be released in the future focused on essential infrastructure. That package will likely be in the $2.3 billion ($2 billion euros) range.
Armin Laschet, premier of North Rhine-Westphalia, has pledged $234 million (200 million euros) already. This includes the previously announced grant of $4110 (3,500 euros) per household. Bavaria is pledging its own $58.7 million (50 million euros) contribution for those impacted.
Resources
Floods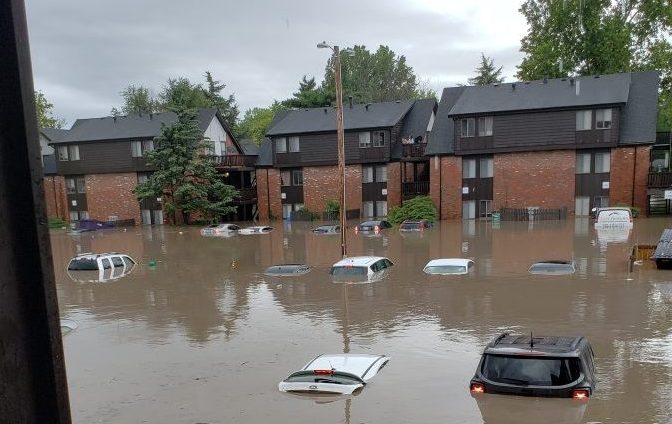 Floods
Flooding is our nation's most common natural disaster. Regardless of whether a lake, river or ocean is actually in view, everyone is at some risk of flooding. Flash floods, tropical storms, increased urbanization and the failing of infrastructure such as dams and levees all play a part — and cause millions (sometimes billions) of dollars in damage across the U.S. each year.
Climate Change
Climate Change
Climate change refers to any significant change in the measures of climate lasting for an extended period of time. In other words, climate change includes major changes in temperature, precipitation or wind patterns, among other effects, that occur over several decades or longer.
Critical Infrastructure and Systems
Critical Infrastructure and Systems
Critical Infrastructure and Systems (CIS) are the structures people rely on to perform their everyday tasks. They are what keep people, goods and information moving around the world while also keeping people safe and healthy.