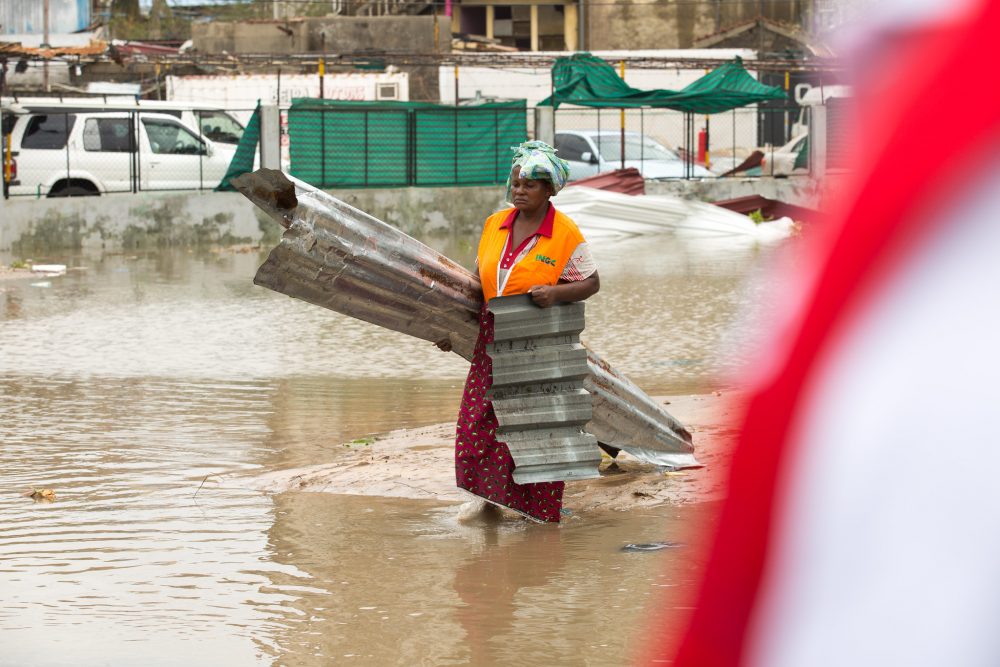 Women and Girls in Disasters
Overview
Pre-existing, structural gender inequalities mean that disasters affect women and girls in different ways than they affect boys and men. The vulnerability of females increases when they are in a lower socioeconomic group, particularly in the Global South. This vulnerability impacts preparedness, evacuation, response, number of deaths and recovery. The reasons for this vulnerability can often be traced to the roles females hold in society and existing gender and cultural norms where they live. This can include the duties women and girls carry out, the clothing they wear, the way they expected to behave, etc.
This vulnerability is also part of the intersectional nature of the gendered impact of disasters. For example, women and girls of color in the U.S. tend to have higher rates of poverty, greater challenges accessing health care, reduced access to education and employment opportunities (and lower wages when they do find work). They often live in female-led households and are more likely to be tenants than homeowners.
Before a disaster, women and girls usually have the primary responsibility for caring for a home and the people in it including children, older family members and people with disabilities. Their caregiving responsibilities may prevent their ability to evacuate. About 80 percent of the people left in New Orleans after the mandatory evacuation was issued were women, despite representing only 54 percent of the population of the city. After a disaster, women will likely be responsible for caring for the sick and injured while still maintaining their daily chores. And if the main breadwinner is killed during the disaster, women often need to seek outside employment and, especially in an international context, girls are pulled from school to take care of the household.
In all countries, violence against women and girls is a factor post-disaster. Sexual assaults, physical abuse and human trafficking increase after a disaster. From an Intimate Partner Violence (IPV) perspective, this often stems from stress due to financial concerns, disaster-trauma heightened mental health issues, increased substance use, etc. Sexual violence may occur in crowded housing situations (e.g. against or by a host family member). Stress is exacerbated in crowded shelters or temporary housing which may lead to aggressive behavior, including sexual aggression. In war-torn areas – including refugee encampments and internally displaced persons camps – sexual violence is often seen as a means of control of the population.
In cultural communities that require modest clothing, women and girls may find it harder to run away from danger (i.e. an approaching tsunami or a collapsed building) because of the barriers their clothing may create. Additionally, modest dress and/or cultural norms may mean females engage in different cultural and recreational activities. This could mean girls may not be taught how to swim or to climb trees. This creates barriers that make it difficult to take care of themselves when trying to survive flooding.
During recovery, women and girls may have to work harder to carry out the functions of daily living for their families. This can include lining up for relief supplies, having to travel farther to access water or cooking in challenging conditions. These activities often happen during the day, limiting the access women and girls have to education or outside employment.
Key Facts
In some disasters, there is a distinct disparity in deaths between women and men. Researchers have found that, "61 percent of fatalities in Myanmar after Cyclone Nargis in 2008, 70 percent after the 2004 Indian Ocean Tsunami in Banda Aceh, and 91 percent after Cyclone Gorky in Bangladesh in 1991" were women. However, when economic and social rights are more equally distributed between men and women, researchers have discovered that the death rates are also more equal. There was negligible difference between female and male death rates after Hurricane Katrina; age was a much more significant factor.
During and after a disaster there is often a delay in reporting of sexual violence. This stems from a number of reasons, including victims focusing on basic recovery versus reporting and lack of access to or existence of support services (health clinics, rape counseling services, domestic violence shelters etc.)
Pregnancy and childbirth make women particularly vulnerable after a disaster. Reproductive health services for expectant and nursing mothers are important in evacuation and post-disaster shelters.After Typhoon Haiyan it was discovered that more than 230,000 pregnant women were affected by the typhoon. Ten days after the disaster, the United Nations Population Fund reported that nearly 900 women were giving birth each day, with around 130 likely to experience potentially life-threatening complications.
Building women's empowerment and including women in disaster planning creates resilience. Women can help identify disaster risks for themselves and for girls that may not be understood by male planners. They can also help build security for their families, including increased income or awareness of personal preparedness and health.
Including women in recovery helps reduce stereotypes and discrimination about women's roles. After the earthquake in Ecuador in 2016, the UN Volunteers coordinated programs to increase women's involvement in running of camps; traditionally these are male-dominated spaces. This helped reduce violence and gave women more control over their space. They also helped by designing "small projects aimed at changing traditional gender roles and improving women's participation, which led to women engaging in non-traditional activities such as cash-for-work initiatives and the removal of debris." Women also got involved in the construction industry.
How to Help
Provide funding for programs specifically for women and girls. Gender-specific programming that addresses their unique needs, and is culturally-competent, helps build their resilience. While programs do not necessarily need to be women and girls only, they do need to have a very clear focus on gender-based needs.
Fund activities for women and girls in advance of a disaster to help build resiliency and self-sufficiency. In Togo and other African countries, women gather in a "Mother's Club". This is a group of 20 women who live close together. They are trained "in the field of maternal and child health, hygiene and environmental sanitation, nutrition and the creation of income-generating activities."
Provide clear energy options when rebuilding homes. According to the World Health Organization, "around 3 billion people cook using polluting open fires or simple stoves fueled by kerosene, biomass (wood, animal dung and crop waste) and coal. Each year, close to 4 million people die prematurely from illness attributable to household air pollution…" Women and children are the most affected by this because of the division of household labor.
Fund gender-disaggregated data studies. To understand the needs of women and/or girls it is important that gender is considered when conducting research. All phases of disasters affect women differently and learning more about these impacts can lead to better solutions.
Provide funding to support sexual and intimate partner violence resources inside and outside of the disaster zone. It is important to also focus on evacuation zones or areas of resettlement after a major disaster. For example, training and support should be provided to encourage police officers in evacuation centers to take reports of victims from other jurisdictions.
Fund reproductive rights including family planning, doulas/midwives and other culturally appropriate birthing supports. CDP, as outlined in the What Funders Are Doing section, provided specific grants to support pregnant women and the services that support them. This led to a decrease in infant and maternal mortality and morbidity.
Support funding for permanently affordable housing for single-parent led households. Housing is a fast way to help families recover. While single-parent led households could be male-led, statistically they are more likely to be female-led. Building in affordability also addresses income disparities that exist for women.
What Funders Are Doing
– All Hands Volunteers received $100,000 to rebuild earthquake-devastated schools with a total enrollment of 1,667 students in Nepal's Nuwakot District, where nearly 90 percent of the schools were destroyed. (As noted in the Issue Insight on Education, disasters have a significant impact on education, especially for girls.)
– Plan International USA received $219,690 to fund its Fighting Against Child Trafficking in Emergencies (FACTE) Project in Nepal.
– Shakti Samuha received $61,264 to reduce vulnerability to human trafficking and other kinds of violence by providing income-generation skills and educational support for women and children in the districts of Sindupalchowk, Ramechhap and Sindhuli.
– Direct Relief worked to ensure safe newborn deliveries in the Philippines by equipping midwives with essential supplies to ensure safe births among typhoon-affected populations, including distributing midwife kits to 100 trained and skilled midwives working in local health centers throughout remote regions in the Philippines.
– Mercy in Action rebuilt a birthing center in Tanauan that was devastated by the typhoon to help bring a trusted birth center, run by licensed Filipina midwives, back to the community.
– Save the Children used its CDP Typhoon Haiyan funds to improve access to clean birthing supplies and materials in typhoon-affected communities and communities at risk of such disasters. The organization sourced and distributed Birthing Essentials and Care of Newborns (BEACON) boxes to prevent excess maternal and infant morbidity and mortality.
Learn More
We welcome republication of our content. Please credit the Center for Disaster Philanthropy.

(Photo: Cyclone Idai aftermath in Mozambique. Source: Denis Onyodi: IFRC/DRK/Climate Centre; CC BY 2.0)