Last updated:
2018 California Wildfires
By the end of November 2018, California had experienced nearly 8,000 unique fires – more than 1.8 million acres of land have been destroyed.
Three fires that started on Thursday, Nov. 8, 2018, drew significant attention due to their location close to major cities and their rapid spread. While all three were finally contained, the damage and loss of life was significant.
(Photo: Matt Howard via Unsplash)
On Monday, Nov. 12, President Trump approved a major disaster declaration for three counties in California – Butte, Los Angeles and Ventura.
Officials estimate that the fires caused approximately $16.5 billion in damages, 25% of which was uninsured properties. Pacific Gas and Electric Company (PG&E) accepted blame for the faulty transmission line and, after filing for bankruptcy, made a $13.5 billion settlement to those affected by the Camp Fire and other wildfires. The utility company pled guilty to 84 counts of involuntary manslaughter on June 16, 2020.
Latest Updates
Climbing a Mountain of Sand
Climbing a Mountain of Sand
Announcing the 2018 California Wildfires Recovery Fund Grants
Announcing the 2018 California Wildfires Recovery Fund Grants
The Camp Fire
The Camp Fire in Butte was the deadliest and most destructive wildfire in California history – and it did nearly all of the damage in a single day. It started just before 7 a.m. on Nov. 8, in a place with no homes nearby, located in the middle of nowhere. Within six hours it had burned 18,000 acres triggering extremely rapid evacuations in several communities. Driven by winds, including those created by the fire, it spread at the rate of more than a football field every second and at one point was consuming 80 football fields a minute.
Paradise, a small town in Butte County located about 85 miles north of Sacramento, ordered all 26,000 people to evacuate with just a moment's notice. Some people never received the orders. Cell towers and phone systems failed. Power was out in a lot of places, too.
The fire killed at least 85 people and displaced roughly 54,000 people from their homes. In addition, at least five firefighters were injured. It took 17 days to control the fire.
By early afternoon, the fire had incinerated 14,000 homes, most of the town of Paradise, and significant chunks of the foothill communities of Magalia, Concow and Butte Creek Canyon. Over the course of nearly three weeks, the fire burned 153,336 acres and destroyed 18,733 structures, including 14,000 residences.
---
Related reading
The Hill Fire 
In Southern California, a Santa Ana wind affected the spread of the Hill Fire and Woolsey Fire. The Hill Fire started in the afternoon of Thursday, Nov. 8, 2018. Over the course of a week, the fire burned more than 4,531 acres. By Friday night, Nov. 16, it was 100 percent contained. It affected the same area as the 2013 Springs Fire.
The Woolsey Fire
The Woolsey Fire began south of Simi Valley and spread quickly overnight on Thursday, Nov. 8. Over the course of two weeks, the fire claimed three lives, burned 96,949 acres and destroyed 1,500 structures. The entire town of Oak Park – population approximately 14,000 – was evacuated. Mandatory evacuations included Thousand Oaks which was also affected by an active shooter Wednesday, Nov. 7, when a lone gunman killed 12 people, including a police officer, at a country and western bar. The fire, which forced more than 250,000 people from Malibu to Thousand Oaks to evacuate, was 100 percent contained as of Wednesday night, Nov. 21.
Housing
Housing remains the biggest need. As can be seen from the FEMA numbers, more than 14,000 homes were destroyed in the Camp Fire alone but slightly more than 8,000 applications were approved for the three main 2018 fires. The funding averaged to around $11,000 per applicant, which was likely insufficient to replace what was lost. The recent fires in 2020 showed that the housing shortage remained so severe that when evacuated, people were forced to sleep outside during evacuations.
Income recovery
Recovery needs for each wildfire area vary, but attention should be given to long-term support for income recovery including small businesses and agricultural needs. In Paradise, all businesses were destroyed along with the homes, so total rebuilding was needed.
Preparedness support
The Camp Fire, in particular, highlighted the need for additional preparedness support to vulnerable populations.
Mental health
Due to the high death toll and damage levels, mental health support and counseling services will be a significant need.
The CDP California Wildfires Recovery Fund (2018) supported recovery from these fires.
Contact CDP
Recovery updates
If you are a responding NGO or a donor, please send updates on how you are working on recovery from this disaster to Tanya Gulliver-Garcia.
Philanthropic and government support
Through its California Wildfires Recovery Fund (2018), the Center for Disaster Philanthropy (CDP) raised $1.6 million and issued seven grants:
Other philanthropic support includes:
North Valley Community Foundation (NVCF) has issued $35 million in grants through the Butte Strong Fund, the Camp Fire Relief Fund and donor-designated funds. In the immediate aftermath of the fire, the North Valley Community Foundation awarded grants for the immediate and overwhelming need for emergency relief and response. Learn more about CDP's partnerships with NVCF in our Disaster Philanthropy Playbook.
Through the Camp Fire Relief Fund, in the six months after the fire, NVCF awarded 210 grants for relief and response totaling more than $3.6 million. The money was given to organizations and government agencies working directly with Camp Fire survivors, often in the form of direct assistance. See examples grants made by the Camp Fire Relief Fund here.
The Butte Strong Fund is a partnership of NVCF, the Sierra Nevada Brewing Co. and the Aaron Rodgers NorCal Fire Recovery Fund. It was set up to work alongside communities for years after the fire. It has issued $22 million in grants in five categories: housing, business recovery, community development, health and wellness, and children and youth services. See examples of the grants made by the Butte Strong Fund here.
In 2018, the Kaiser Permanente Corporate Giving Program committed up to $1 million to the American Red Crossand other organizations to help Camp Fire victims in Northern California. The funds will support community-based and faith-based organizations helping people recover from these disasters. Kaiser Permanente has also deployed medical and nursing volunteers to provide care to displaced families and seniors now living in shelters. They also donated $500,000 to the United Way of Greater Los Angeles for immediate relief efforts as well as longer-term recovery support to organizations serving low-income residents impacted by the California wildfires. A third donation for $350,000 was made to the United Way of Ventura County to provide food, shelter and comfort to victims of the California wildfires throughout the impacted counties.
Vizient Foundation made a $10,000 grant to Sutter Health, in support of and individual employee who was impacted by a FEMA-declared disasters in accordance with the Vizient foundation's disaster relief policy.
FEMA issued a Major Disaster Declaration (DR-4407) for three counties – Butte, Los Angeles and Ventura – to provide Individual Assistance and Public Assistance (Categories A-G) for these three fires. As of Nov. 10, 2020, a total of 8,074 applications had been approved for a total funds distribution of nearly $91 million. In addition, $981.1 million was allocated for Public Assistance and $20.3 was obligated through the Hazard Mitigation Grant Program.
On the second anniversary of the Camp Fire on Nov. 8, the Federal Emergency Management Agency (FEMA) issued a press release emphasizing their commitment to Butte County's recovery. They said, "Two years ago, the Camp Fire – California's deadliest and most destructive wildfire in history – swept through 153,336 acres over 16 days. It destroyed 18,804 structures, prompted the evacuation of more than 30,000 residents and took the lives of 85 individuals. Such wide-spread damage required a coordinated effort between local, state and federal government, nongovernmental organizations, the private sector and volunteers to support Butte County in its response and long-term recovery efforts. Since 2018, FEMA has provided more than $238 million in assistance to local and state government agencies, and residents to support recovery from the Camp Fire.  Individuals and households received $84 million to manage rental expenses, home repair and home replacement costs, in addition to grants to replace personal property and cover other disaster-related expenses. As part of an extensive direct housing mission, FEMA also developed the 72-acre Gridley Industrial Park, with 289 manufactured housing units and mobile homes for thousands of displaced Butte County residents. … Due to the size and severity of the Camp Fire, FEMA established a long-term community recovery office in Paradise to take a holistic, long-term view of critical recovery needs and coordinate the mobilization of resources at the federal, state and community levels. Collectively, we are vested in and committed to the area's long-term recovery plan to restore a functioning, healthy economy, improve infrastructure, expand housing, address environmental considerations, and make Butte County and the Town of Paradise more resistant to future disasters."
Resources
Wildfires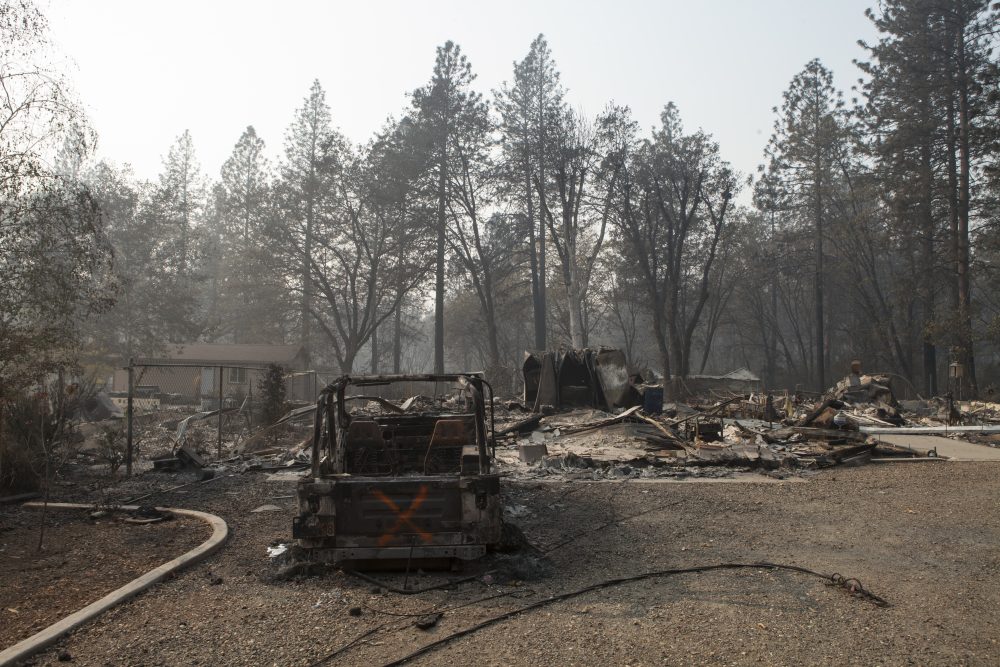 Wildfires
Weather can significantly affect the frequency and severity of wildfires. Prolonged drought can extend prime wildfire season, making blazes more likely. Additionally, high temperatures and low humidity can quickly dry out vegetation which then becomes potential fuel.