China experienced unprecedented flooding across several locations as multiple threats impacted the country. The first was a rainstorm between July 17 and 20, followed by two typhoons and then another stretch of rain that began Aug. 6.
July 17-20 Rain
The city of Zhengzhou in Henan province, south of Beijing and west of Shanghai, received 24.2 inches (617.1 millimeters) of rain between July 17 and 20 – nearly equivalent to a typical year's worth of rain. The impact was more substantial because the heaviest rain fell near the storm's end after the ground was already saturated. On the third day of rain, 7.9 inches (201.9 millimeters) fell in just one hour. Local meteorologists said that this amount of rain was expected only once in a thousand years. Officials reported that 31 large and medium reservoirs exceeded their alert levels as the saturated ground struggled to absorb the massive amounts of water.
(Photo credit: CFP)
Typhoons
Typhoon Cempaka made landfall just west of Macau on July 20 before moving back out over the Gulf of Tonkin and quickly dissipating. Typhoon In-Fa made landfall in the eastern province of Zhejiang on July 25 with a maximum wind speed of 85 mph (137 km/h) – the equivalent of a mid-range Category 1 Hurricane. Chinese officials evacuated more than 1.5 million people from the storm's path, and no deaths or injuries were reported. Transportation systems were badly disrupted as Shanghai and Ningbo ports were both closed temporarily and both of Shanghai's international airports were also closed.
August Rain
Flooding in Sichuan province in southwestern China resulted in additional flooding as the tributaries of the Fujiang, Jialing and Qujiang rivers took in high amounts of water with levels rising above the danger zone in several places. More than 80,000 people had to evacuate. Between August 6 and 8, Qu County in Sichuan received 13.1 inches (334 millimeters) of rain. In total, more than 440,000 people were affected across 119 towns.
COVID-19
As with all 2020-2021 disasters, COVID-19 affected relief and recovery efforts. As of Dec. 14, 2021, China has 99,856 COVID-19 cases, with 4,636 deaths (the death count has not changed since Aug. 11, 2021). Cases in the last seven days increased just 9% (from 531 to 577). Given the size of the population, this is a minimal number. China has a robust vaccination program, averaging 20 million doses a day. This is 60% of all global vaccines administered daily. Mainland China has 18.2% of the world's population but has 30.7% of the world's vaccinations. As of Nov. 19, 75% of Chinese residents had been fully vaccinated against COVID.
What was the impact on communities?
On July 20, the armed forces performed a controlled demolition of a dam in the city of Luoyang in an attempt to relieve upstream flooding. Military engineers also worked tirelessly to shore up defenses in areas where dams and levees had failed.
In China's Inner Mongolia province, two dams collapsed under the weight of two days of torrential rain, sending waves of water through the remote communities in China's north. Several roads were washed away, leading to access challenges as the water swept through the area.
Who was affected and in what ways?
Henan province has been the hardest hit region. Home to 99 million people, Henan is one of China's least economically developed provinces and comprises many factories and farmland. As of Aug. 3, at least 302 people had died and 47 remained missing. These numbers were remarkably low given the population and scale of flooding.
The government reported that, "According to statistics, as of 12:00 on August 2, a total of 150 counties (cities, districts), 1663 townships and 14.531,600 people were affected in the province. The province organized emergency relief of 933,800 people, with a peak of 1,470,800 transfers and resettlement; 30,106 houses and 8,9001 houses collapsed; the affected area of ​​crops was 8.72 million mu [1.4 million acres], and the area of ​​no harvest was 3.8 million mu [626,000 acres]. The direct economic loss was 114.269 billion yuan [$17.7 billion]."
In Zhengzhou alone, at least 400,000 reports of flooded cars were submitted to insurance agencies, totaling nearly a billion USD (6.4 billon yuan) in claims. About 4,000 homes were destroyed by the floods.
The typhoons and flooding, combined with COVID-19 outbreaks, had extensive impacts on several of the world's busiest manufacturing ports located in China. This, in addition to European flooding and wildfires, led to significant disruption on the global supply chain.
There are limited non-governmental organizations that respond in China, but those that are there will require ongoing cash support, particularly unrestricted donations, to meet the needs. Due to the scale of the disaster, it will take many years to recover. Assistance will be required for a long time – especially for those in rural areas.
Needs will include:
Mental health supports, especially for those impacted by the floods and one or more typhoons. Flooding is frequent in China, so anyone who suffered losses previously may face compounded trauma. Crisis and ongoing counseling support will be needed.
Support to rebuild damaged homes, businesses and infrastructure is crucial for getting the communities repaired and residents back home. Henan is home to a large number of factories that may also require clean-up and restoration.
Agricultural supports – including livestock, crop and equipment replacement – will be critical given the significant amount of farming in Henan.
The Center for Disaster Philanthropy (CDP) has a Global Recovery Fund that provides an opportunity for donors to meet the ongoing and ever-expanding challenges presented by global crises.
Contact CDP
Recovery updates
If you are a responding NGO or a donor, please send updates on how you are working on recovery from this disaster to Tanya Gulliver-Garcia.
Philanthropic and government support
CDP gave Project HOPE a $500,000 grant to donate equipment to flood-affected hospitals in China to help them re-open. In addition, Project HOPE plans to integrate emergency management, preparedness and mitigation workshops and training into a larger healthcare Disaster Risk Reduction (DRR) program. Project Hope is one of the few trusted partners who have great access to Henan Province – which is challenging. In December 2021, Project Hope received an additional $266,930 in funding to expand its response and DRR/preparedness work. This additional amount will allow the hospital network to have an ambulance to carry pregnant mothers, newborns, etc. from lower hospitals to the main MNCH hospital, which is much needed. Some additional long-term supplies (e.g., pumps, not consumables) will also be purchased.
CDP also gave a $180,000 grant to World Vision to provide shelter for 1,400 people displaced by flooding in China.
Billions of yuan were contributed in cash and goods-in-kind by Chinese corporations, foundations and individuals. At least 24 projects were listed on Alipay's donation platform where millions of people raised a record amount. Some of these funds, including $15.5 million (100 million yuan) from the Ant Group, were used by the China Women's Development Foundation and the Henan Women's Federation to create 10,000 epidemic kits, 10,000 life kits and 10,000 food kits to support frontline disaster response. The Henan Charity Federation raised a total of $408 million (2.664 billion yuan) in donations as of July 23. More than half the money was dispersed immediately and recipients included the Zhengzhou Children's Welfare Institute and the Zhengzhou Charity Federation.
Related resources
Floods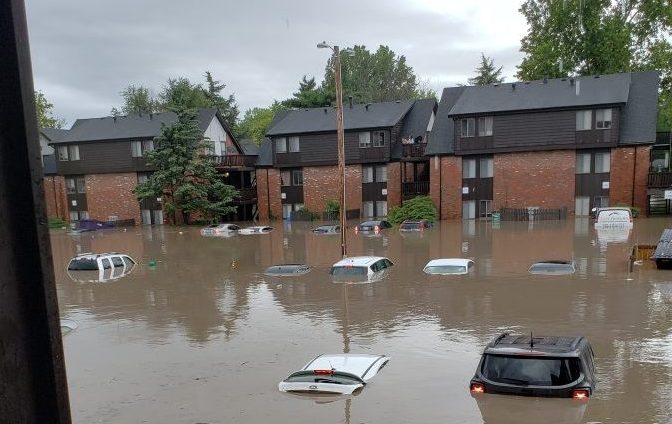 Floods
Flooding is our nation's most common natural disaster. Regardless of whether a lake, river or ocean is actually in view, everyone is at some risk of flooding. Flash floods, tropical storms, increased urbanization and the failing of infrastructure such as dams and levees all play a part — and cause millions (sometimes billions) of dollars in damage across the U.S. each year.
Climate Change
Climate Change
Climate change refers to any significant change in the measures of climate lasting for an extended period of time. In other words, climate change includes major changes in temperature, precipitation or wind patterns, among other effects, that occur over several decades or longer.