In 2014, the United States government declared a crisis at the border to address the rapid increase in the number of unaccompanied children and, to a lesser extent, women, migrating through border checkpoints and/or unguarded entry points, especially into Texas.
Eight years later, this continues to be a crisis. Refugee advocates are hoping that the Biden administration will bring significant changes. However, the Biden administration has steered clear of calling children coming to the border a crisis, instead emphasizing that the crisis is based in several origin countries in Central America.
Asylum seekers – a legal term meaning people whose request to find sanctuary in another place has not been processed – come to the United States, often passing through other countries on the way. In September 2019, the Supreme Court upheld a government decision that any asylum seeker who entered the United States after July 16, 2019, would automatically be denied asylum if they had not tried to seek refuge in a country they had traveled through on their way to the border. Although most migrants are from Central America, this rule also impacted Cubans, Indians, Africans and Venezuelans who may travel through several countries before reaching the U.S.-Mexico border.
(Photo credit: Mani Albrecht, U.S. Customs and Border Protection)
The Biden administration agreed in December 2021 that it would comply with an August court order to reinstate Trump's "Remain in Mexico"/Migrant Protection Protocols program, which Biden had canceled his first day in office. The administration is directing that all migrants being returned be vaccinated against COVID-19 (adults will get the one dose Johnson & Johnson vaccine, while children will get Pfizer and get their second dose at their hearing. The Justice Department aims to ensure timely completion of cases and assigned 22 judges to hear them with a goal of completing cases in 180 days. On Dec. 29, 2021, the Biden administration asked the Supreme Court to end it the program. The Court will likely hear the case in its upcoming term.
Asylum seeking is different than an apprehension at the border for the misdemeanor act of illegal entry. In these cases, a system of expedited removal allows them to be transferred within 72 hours to the custody of Immigration and Customs Enforcement (ICE) and then deported once an order is signed. This cannot happen with children or family unit migration, or if the individual declares they are seeking political asylum.
Contrary to many media reports, migrants do not have to present themselves at a legal port of entry to claim asylum; they only need to assert that claim to the first ICE or Customs and Border Protection (CBP) official they encounter or submit an application to apply for asylum within one year of arrival. Asylum seekers can apply for employment authorization after 150 days of waiting for their asylum hearing. Under the previous administration's policies, those who applied most recently were granted their hearing first, meaning some people have lived and worked in the U.S. for years while waiting for their hearings.
The current crisis is based in the needs of the large number of people trying to cross the border, the needs of those who have crossed and are seeking asylum claims, and the root cause issues leading people to flee their home countries. The crisis of unaccompanied minors is of particular importance.
Latest Updates
CDP's Disaster Recovery Fund addresses refugee crises in the United States
CDP's Disaster Recovery Fund addresses refugee crises in the United States
What is the impact of this crisis?
In the most recent fiscal year (Oct. 1, 2020 to Sept. 30, 2021), 1,659,206 people were apprehended by Customs and Border Protection (CBP) at the southern border with Mexico. This represents the highest number of crossings ever recorded (above the prior records of 1,643,679 in 2000 and 1,615,844 in 1986). In fiscal year 2022, only data for October and November 2021 has been released as of Jan. 19, 2022. In October, there were 164,753 encounters and in November, there were 173,620 for a total of 338,373. This is already 20% of the full 2021 fiscal year total.
The southern border of the U.S. has long been a crossing point for people coming from Mexico, or through Mexico from other countries, into the U.S. While asylum-seeking and border crossing is often identified as a problem with Mexican immigrants, from 2000 to 2016 unlawful Mexican immigration dropped off by almost 90 percent.
In fiscal year 2021, however, the largest single origin source of migration was Mexico, with the border patrol arresting more than 608,000 Mexican nationals or 37% of the total. The next largest category was "other" – anyone not from Mexico or Central America" and includes Cubans, Haitians, Brazilians, Venezuelans, Ecuadorans – which accounted for 367,000 arrests. Central American migrant arrests – primarily from the Northern Triangle – included Honduras (308,931 or 19% of all encounters), Guatemala (279,033 or 17%) and El Salvador (95,830 or 6%).
According to the Pew Research Center, "Encounters soared in fiscal 2021 for some countries that have not historically been common sources of migration at the U.S.-Mexico border. The number of encounters involving people from Ecuador, for example, increased more than eightfold, from 11,861 in fiscal 2020 to 95,692 in fiscal 2021. There were also stark increases in encounters involving people from Brazil (from 6,946 to 56,735), Nicaragua (from 2,123 to 49,841), Venezuela (from 1,227 to 47,752), Haiti (from 4,395 to 45,532) and Cuba (from 9,822 to 38,139)."
The U.S. has expelled almost all of the people who have tried to cross, with the exception of unaccompanied, minor children, using a controversial piece of public health legislation – Section 265 of U.S. Code Title 42. This legislation prohibits entry into the U.S. by any person who may be in danger of bringing a communicable disease with them and has been implemented in response to the COVID-19 pandemic. While usually not seen to include refugee or asylum speakers who have already entered U.S. soil, the legislation was expanded to include all land and coastal ports of entry. From March to November 2020, this legislation included unaccompanied children but that was struck down by a federal judge on Nov. 18, 2020. The rest are usually deported under Title 8 which pertains to aliens and nationality. In fiscal year 2021, 61% of migrants were processed for expulsion under Title 42.
The Council on Foreign Relations defines "unaccompanied minors" as, "Under U.S. law, unaccompanied alien children (UAC) are defined as migrants under eighteen years old with no lawful status in the United States and who have no parent or legal guardian available to care for them. Despite the term's connotation, these children do not necessarily enter the country alone. Some arrive with family members and are separated at the border; others are abandoned by smugglers or fellow migrants near the border."
Pew says, "Migrant encounters increased across demographic groups in fiscal 2021, but single adults continued to account for the large majority. Encounters with unaccompanied children rose from 30,557 in fiscal 2020 to 144,834 in fiscal 2021, while encounters with people traveling in families increased from 52,230 to 451,087. By far the largest number and share of encounters involved single adults. There were 1,063,285 encounters with single adults in fiscal 2021, up from 317,864 the year before. More than six-in-ten encounters (64%) involved single adults, though that was down from 79% in fiscal 2020."
In the first two months of fiscal year 2022, there have been 26,742 unaccompanied minors detained by Border Patrol (or 7.9% of the total). This is a much lower number than at this point last year.
The government tries to quickly move apprehended children from detainment camps to health and human service facilities (including shelters or group homes), relocate them into foster homes or reunite them with a relative. About 85%of unaccompanied minors have a relative in the U.S. No statistics have been released for fiscal 2022, but as of Sept. 30, 2021, there were 13,730 children in Health and Human Services care.
Who is affected and in what ways?
Since 1998, it is believed that more than 7,000 people have died while trying to make it to the border or while crossing. One method of measuring the death toll is to count the number of human remains that have been found near the border. In Arizona, 43 remains of migrants were found in June and 127 people over the first six months of 2021. In Texas, there were 50 migrant deaths in the first six months, as reported by the Brooks County Sheriff's department. And in Big Bend that number was 32. In California, from Oct. 1, 2020, to the end of Sept. 2021 (the fiscal year) there were 31 border crosser deaths.
The International Organization for Migration (IOM) reported that there were at least 650 deaths of migrants crossing the border during 2021. IOM says that is the most of any year since 2014. U.S. Customs and Border Patrol reported 557 deaths in fiscal year 2021 (Oct. 1, 2020, to Sept. 30, 2021). It says most deaths are connected to heat. This year's deaths are much higher than 2020 (254 deaths) and 2019 (300 deaths).
As of Dec. 10, 2021, the Southern Border Communities Coalition reports that 160 people have died since 2010 due to interaction with U.S. border agents, including several who died while in CBP custody. In 2021, 46 people died including deaths by suicide, medical emergencies, vehicle accidents, drownings and "use of force" fatal shootings.
Reports on abuse allegations were received by Human Rights Watch at the end of September 2021 through Freedom of Information Act requests. "The internal reports include testimony and descriptions of testimony regarding over 160 cases of misconduct and abuse of asylum applicants at the hands of officers within several DHS components, particularly CBP officers and Border Patrol agents. The records, though heavily redacted, demonstrate that asylum officers within US Citizenship and Immigration Services (USCIS), another component of DHS, have repeatedly provided internal reports on allegations of assault, sexual abuse, due process violations, denial of medical care, harsh detention conditions, and dehumanizing treatment at the border."
Reducing the crisis at the border is going to take a combination of political advocacy, policy changes and humanitarian aid. Support is needed on both sides of the border to support emergency conditions in the U.S. and Mexico.
Humanitarian support
There are a number of groups providing support to refugees and asylum seekers at the border including legal services, education, health care, housing support, etc. the Center for Disaster Philanthropy and National Voluntary Organizations Active in Disaster (National VOAD) can support funders looking to find responding nonprofits on the U.S. side of the border.
Advocacy
Invest in groups working to support border advocacy and community organizing and/or support their advocacy work with your own voices.
Security aid
It has been proven that providing financial aid to originating countries toward decreasing violence and increasing security and protection of citizens will reduce emigration. While philanthropy can support some small programs to that end, it is going to take substantial investment from the U.S. and other UN nations to really address the crisis.
Support Indigenous peoples
The focus has been on Latinx migrants but have ignored the plight of Indigenous Peoples. This means many of the services provided for migrants and asylum seekers are Spanish-language-based. The National Committee for Responsive Philanthropy puts forth three suggestions for supporting Indigenous migrants:
"Fund Indigenous-led migrant organizations.
Build the capacity of Indigenous-led groups.
Fund interpretation language justice initiatives for and by Indigenous people."
Donate to CDP's Disaster Recovery Fund to help assist our domestic work. CDP also has a Global Recovery Fund that provides an opportunity for donors to meet the ongoing and ever-expanding challenges presented by global crises.
Contact CDP
Donor recommendations
If you are a donor looking for recommendations on how to help with disaster recovery, please email Regine A. Webster.
Philanthropic and government support
In January 2022, CDP announced four grants to address U.S. humanitarian crises:
CDP webinar: Funding for Immigrant Communities Post-Disaster includes information on how private philanthropy can ensure funded organizations are addressing the identified needs of immigrants and their communities.
Philanthropic Strategies to Support Refugees and Asylum Seekers, a report from Grantmakers Concerned with Immigrants and Refugees (GCIR) examined the actions of 10 different philanthropies and puts forward several suggestions for action to address critical needs.
"Encourage innovation and adaptation in volatile times. Think systemically and creatively.
Explore the benefits of collective grantmaking.
Take a holistic approach to addressing the needs of newcomer populations.
Enhance existing support to grantees by reevaluating grant requirements.
Leverage foundations' bully pulpit, stature, and convening power."
Related resources
Complex Humanitarian Emergencies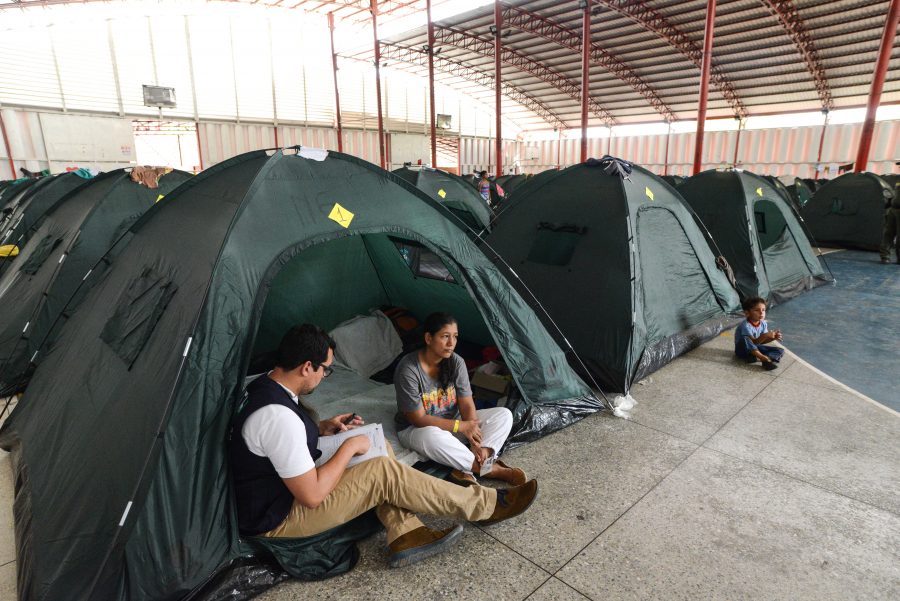 Complex Humanitarian Emergencies
CHEs involve an acute emergency layered over ongoing instability. Multiple scenarios can cause CHEs, like the civil wars in Syria and Yemen, the man-made political crisis in Venezuela, or the public health crisis in Congo.