Unlike hurricane seasons or monsoons, there is no single prescribed date for the start of the North American wildfire season.
Historically, Canada and the United States have shared wildland firefighting resources including personnel, vehicles, helicopters and airplanes. Both countries have developed their wildfire response plans around having access to resources from their neighbor. However, 2021 demonstrated the weakness in those plans as both countries were unable to share resources as they fought multiple wildfires within their respective borders simultaneously.
Colorado, multiple jurisdictions across California, Oregon, Nevada, Washington State and Western Canada (including Manitoba, Saskatchewan, Alberta and British Columbia) issued warnings about potentially catastrophic fire conditions that may exceed last year's horrific wildfire season. Much of the risk came from major drought across the continent including Western Canada, most of the Western U.S. from the Pacific through the Midwest and almost all of Mexico.
(Photo Source: Forest Service NW via Twitter)
Latest Updates
CDP Colorado Wildfires Recovery Fund announces final grant and fund closeout
CDP Colorado Wildfires Recovery Fund announces final grant and fund closeout
Announcing nearly $1.5 million in wildfire recovery grants
Announcing nearly $1.5 million in wildfire recovery grants
What is the impact on communities?
Though we would have liked to, we were not able to share information on every fire across the continent. Below, you will find some general information and information about fires that exceeded 50,000 acres or significantly impacted the surrounding people, places and environment, particularly at-risk populations.
United States
United States
As of Dec. 31, the National Interagency Fire Center's (NIFC) reported a total of 58,733 wildfires across the country that had burned more than 7.13 million acres. The average year-to-date was 61,524 fires burning 7.47 million acres.
On Oct. 21, the National Multi-Agency Coordinating Group lowered the National Preparedness Level to Level 1, meaning there was minimal fire activity and resources are available nationally as needed.
There were 12 fires across five southern states this past week (up to Jan. 20): Arkansas, Florida, Louisiana, Oklahoma and Texas. All the fires were relatively small and have mostly been contained. There is one fire burning in California near Big Sur.
There were major fires across several states in 2021. The most significant fires were:
Arizona
Backbone Fire
Mescal Fire
Pinnacle Fire
Rafael Fire
Telegraph Fire
California
In 2021, 8,619 wildfires burned almost 2.6 million acres. There were three fatalities and 3,629 structures were damaged or destroyed.
All but three of the top 20 fires in California have happened since 2000. The majority of these large fires in California happened in the last two years, with three happening in 2021.
Major fires in California 
Antelope Fire
Beckwourth Complex
Caldor Fire
Dixie Fire
McFarland Fire
Monument Fire
River Complex 2021 
Tamarack Fire
Colorado
Oil Springs Fire
For Middle Fork and Marshall fires see the 2022 North American Wildfires profile.
You can support the Center for Disaster Philanthropy's response to the wildfires by donating to our Colorado Wildfires Recovery Fund.
Idaho
Snake River Complex
Montana 
Richard Spring Fire
Nevada
Tamarack Fire
New Mexico 
Johnson Fire
Oregon 
Bootleg Fire
Cougar Peak Fire
Devil's Knob Complex
Rough Patch Complex
Utah 
Bear Fire
Flatt Fire
Washington state
Cedar Creek Fire
Cub Creek 2 Fire
Schneider Springs Fire
Whitmore Fire
Canada
Canada
Canada's western provinces saw a very active beginning of their wildfire season, with multiple fires threatening populated centers in Alberta, Saskatchewan and Manitoba. As of Sept. 15, the Canadian Interagency Forest Fire Centre (CIFFC)  stopped issuing reports as minimal fire activity is expected for the rest of the year. Canada's firefighting resources are recovering from the critically busy year and the national preparedness level is now at Level 1, indicating that local and provincial resources are sufficient to meet current and anticipated fire levels. In total, CIFCC reported 6,317 wildfires that had burned 10.34 million acres (4.18 million hectares).
There are several areas of ongoing support that are needed in the response and recovery phases. These include rebuilding of homes or repair of damage, debris clean-up, soil remediation, temporary housing, physical and mental health, agricultural support, and livelihood/income support.
Funders should also consider the following options to support fire-impacted communities now and to reduce the impact of future fires:
Award loans and grants for rebuilding damaged homes and businesses.
There is currently a $2 million cap on disaster loans for businesses or private, nonprofit organizations through the Small Business Administration's Economic Injury Disaster Loan program. That amount may not cover what is needed, and monies allocated may be slow to arrive. Companies often hire migrant workers to do rebuilding and do not always provide safe and adequate housing, food and other support. Make fair hiring practices a component of your grants
Support local agencies on the ground throughout the disaster life cycle, especially those working with marginalized communities.
Those in already precarious situations — such as the elderly, sick, undocumented and mixed-status families, and people living in poverty — may find their circumstances worsened in the face of disaster. Mental health providers, food banks and organizations working with children or the elderly, for example, must have plans in place to mitigate the disaster's impacts.
Fund drought mitigation efforts.
These may focus on sustainable agriculture, water conservation or even land use. According to the National Drought Mitigation Center, an emerging area for research is land use patterns that "maintain the integrity of watersheds and that have a smaller paved footprint result in greater resilience in the face of drought."
Invest in public awareness and educational campaigns as well as dissemination of promising practices in wildfire and drought mitigation.
Simple efforts such as clearing flammable materials from 100 feet around the house may help prevent property damage. Fires can also be started by misuse of equipment, such as grills, that can be averted with proper knowledge.
Assist businesses in developing business continuity and disaster recovery plans to reduce economic impact.
These plans should include contingencies for displaced workers, back up of data and alternate facilities for continuing operations in the event of property damage.
Consider the needs of volunteer fire departments.
As volunteers, they often lack the structural support of larger departments, and their resources may have been depleted during the wildfire.
Support the creation of "smart growth" efforts.
Smart planning can help mitigate wildfires or prevent them altogether.
As with most disasters, experts recommend cash donations. They allow on-the-ground agencies to direct funds to the most significant area of need, support economic recovery and ensure donation management does not detract from disaster recovery needs.
Contact CDP
Philanthropic contributions
The Center for Disaster Philanthropy has an evergreen California Wildfires Recovery Fund that supports communities across the state as they work to rebuild and recover from wildfires. In addition, the CDP Colorado Wildfires Recovery Fund supported recovery from fires that affected Colorado in 2020 and 2021.
Our Disaster Recovery Fund provides support for wildfire-affected areas in the remainder of the United States and our Global Recovery Fund provides support for Canada, Mexico and the rest of the world.
(Photo: Wildfire burning in North America. Source: Forest Service NW via Twitter)
Donor Recommendations
If you are a donor looking for recommendations on how to support recovery from this disaster, please email regine.webster@disasterphilanthropy.org.
Note: If you are an individual who was affected by the disaster, we encourage you to contact your local 211 to see what resources are available in your community.
Philanthropic and Government Support
In September 2021, CDP awarded a $150,000 grant to North Valley Community Foundation to support their Dixie Fire Grant Program.
In March 2022, Corazon Healdsburg received a $99,734 grant to provide wildfire disaster preparedness and prevention training for its clients. By providing emergency disaster kits and support for renters insurance, as well, these clients will be better able to face future wildfires and be more resilient.
Resources
Wildfires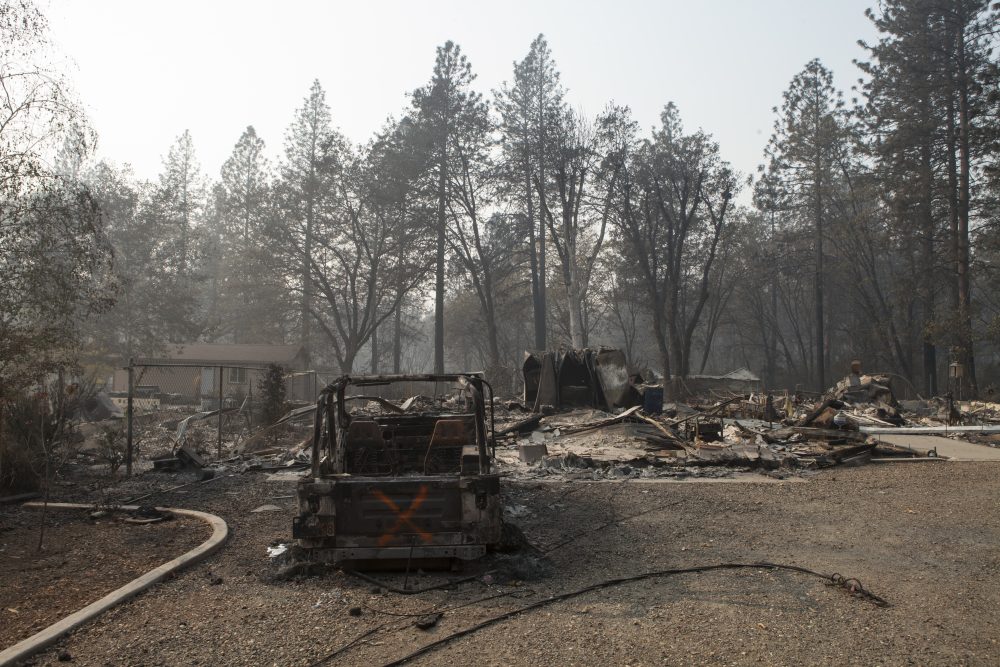 Wildfires
Weather can significantly affect the frequency and severity of wildfires. Prolonged drought can extend prime wildfire season, making blazes more likely. Additionally, high temperatures and low humidity can quickly dry out vegetation which then becomes potential fuel.
Climate Change
Climate Change
Climate change refers to any significant change in the measures of climate lasting for an extended period of time. In other words, climate change includes major changes in temperature, precipitation or wind patterns, among other effects, that occur over several decades or longer.