Hurricane Otis struck the Pacific coast of Mexico five miles south of Acapulco on Oct. 25, 2023, at 1:25 a.m. CT as a Category 5 storm with sustained winds of 165 mph, surpassing Hurricane Patricia as the strongest recorded hurricane to make landfall on Mexico's Pacific coastline. Otis damaged nearly 80% of hotels and 96% of businesses in Acapulco, a city whose economy is largely built around tourism.
On Tuesday, Oct. 24, Otis underwent one of the fastest and strongest rapid intensification cycles ever witnessed, transforming from a tropical storm to a Category 4 storm in under 12 hours. Otis' strength increased from 70 mph to 160 mph and grew to 165 mph before landfall. Rapid intensification is defined as an increase of 35 mph in a 24-hour period.
Well-known meteorologist Jim Cantore said, "In my 37 plus years I have never seen something like that occur with a tropical system. When I left on assignment Monday I knew it could impact Mexico, but to blow up like that!! Never saw it coming."
In addition to recreational tourists, Acapulco – the tourism center of Guerrero state – was also hosting an international mining industry convention when Otis made landfall. Otis also decimated the large mariner community, which has long been a foundational driver for Acapulco's tourism industry.
As Otis moved inland, the storm quickly dropped to a Category 1 hurricane and dissipated less than 18 hours after landfall. While a fast-moving system, Otis still caused extensive damage to the tourism industry and locals alike, including waist-high flooding and landslides as it moved into the mountains. In addition to the devastating impact on the economy, property and lives, the storm also damaged the surrounding tropical forest.
(Damage in Acapulco, Mexico after Hurricane Otis, Oct. 25, 2023. Credit: Jonatan Mendoza via X)
Hurricane Otis' winds increased by 115 mph in 24 hours. The National Hurricane Center said the rapid intensification cycle was a "nightmare scenario" and that this kind of explosive intensification has only been exceeded once, by Hurricane Patricia in 2015, whose windspeed increased by 120 mph in 24 hours. Otis, however, became the strongest landfalling Pacific hurricane on record, nearly 8 years to-the-day after Patricia came ashore. Hurricane experts blame warm ocean temperatures due to climate change for the strength of Otis.
According to the National Weather Service, "The eastern Pacific hurricane region covers the eastern North Pacific Ocean east of 140˚W north of the equator."
The region's hurricane season officially runs from May 15th through November 30th, but hurricane-related disasters can occur during any season. As our climate changes and disasters occur more frequently throughout the year, disaster seasons are becoming obsolete and the need for year-round preparedness is increasing.
The National Oceanic and Atmospheric Administration's (NOAA) 2023 Eastern Pacific
Hurricane Season Outlook was released on May 25, 2023, and indicated an above-normal season was most likely (55%). NOAA's 2023 Outlook predicted 14-20 named storms, 7-11 hurricanes and 4-8 major hurricanes. Hurricanes rated Category 3 and higher on the Saffir-Simpson Hurricane Wind Scale are known as major hurricanes. The 1991-2020 averages are 15 named storms, eight hurricanes and four major hurricanes.
As Kelsey Ellis and Nicholas Grondin said in their article on the 2023 hurricane forecasts, "While the Atlantic gets the most attention, largely because it gets more damage with more people and property in the way, the Pacific tends to get more storms, especially during El Niño years."
Through Nov. 21, 2023, the eastern Pacific region saw 19 named storms, including 10 hurricanes.
Latest Updates
What we're watching: Weekly disaster update, October 30
What we're watching: Weekly disaster update, October 30
Key facts
As of Nov. 21, at least 49 deaths have been reported, and at least 32 people are missing though Acapulco's chamber of commerce reports nearly 100 missing. Five people died in Coyuca de Benitez, and at least 44 people died in Acapulco.
President Andres Manuel Lopez Obrador told a press conference, "What Acapulco suffered was really disastrous." A photo essay from the Washington Post and a video from the New York Times both show the extent of the damage.
Nearly three million people were exposed to tropical storm-force winds, with many facing hurricane-strength winds of almost 170 mph upon landfall.
Enki Research indicated that the costs of damages would reach at least $15 billion. The most expensive weather-related disaster in the country prior to Hurricane Otis was Hurricane Wilma in Oct. 2005 at $7.5 billion.
On Nov. 1, Mexico's government announced a $3.4 billion recovery plan to rebuild Acapulco and expects additional resources will be needed.
Shortly after the disaster, President Obrador said that, according to the civil defense agency, 220,000 homes were damaged.
NOAA reported 24-hour rain totals of 72 inches in the Acapulco area between Oct. 24 and Oct. 25, 2023. The streets flooded in Acapulco and images showed people wading through waist-deep water. The streets were filled with mud and debris, making recovery and movement challenging. The wind blew out thousands of hotel and condominium windows and damaged businesses, homes, electrical towers and roads. As of Nov. 21, the Mexican government has reported 42.5% progress in the removal of debris on secondary roads, sidewalks and other public spaces.
Electricity and internet service are minimal. The power utility said on Nov. 4 that power had been restored to 93% of those affected in Acapulco. At least 500,000 households and businesses lost power at the height of the storm, and over 10,000 utility poles were destroyed.
Associated Press reported, that Acapulco "descended into chaos after the storm, as thousands engaged in massive looting." Many of the "looters" were people searching for food, water and basic essentials.
On Oct. 26, more than 8,300 Mexican Army, Air Force and National Guard members were deployed to Guerrero. As of Oct. 30, that number had increased to 18,000. Search and rescue teams were also deployed to look for survivors, especially in the more mountainous and remote regions, prone to landslides. As of Nov. 7, 5,120 National Guard troops were deployed.
The Mexican government announced a plan on Nov. 7 that would increase the total National Guard deployment in Guerrero to 14,620 troops. At least 9,860 of these troops will be permanently deployed to Acapulco to, as Defense Minister Luis Cresencio Sandoval stated, "continue guaranteeing security" in the area.
State of Guerrero
Guerrero is one of the most violent states in Mexico due to drug cartels. On Oct. 23, 13 police officers, including the police chief of Coyuca de Benitez, were killed and two others wounded in an attack on a security patrol.
The state is also one of the poorest states in the country, with an average income of $5,000 compared to the national median of $8,000. Approximately 42% of the population lives in rural communities with fewer than 2,500 residents.
The state has about 3.5 million residents, with nearly one-third of them under the age of 14. It is one of the most diverse states in the country, with 20% of the state identifying as Indigenous. In addition to tourism, there are significant farming and fishing industries.
Health and behavioral health
Research shows that hurricanes cause and exacerbate multiple diseases. While many health impacts peak within six months following hurricanes, chronic diseases continue to occur for years.
Hurricanes also inflict harm to the mental health of people in their paths. According to research from Vibrant Emotional Health, the repeated stress of chronic cyclical disasters causes trauma in ways that are not fully understood. This research is key to helping mental health professionals fully understand the needs of survivors.
Donors should look into long-term investment in mental health support. Government-funded or NGO-led emotional and spiritual care programs tend to be short-term, but research has shown that long-term support is required.
Livelihoods and economic development
As seen in recent hurricanes in Florida and Bahamas, storms affecting the tourism economy have a disparate effect. Hotels and medium to large businesses usually have insurance that can help them recover. Small businesses, individual entrepreneurs and residents working in the tourism industry usually do not have the same level of income or insurance, if any, to recover without government or philanthropic assistance.
According to Miguel Angel Fong, president of the Mexican Hotel Association, 80% of hotels in Acapulco were damaged. Due to the approach of high season (December to March), the economic impact may be stronger than it would have been at other times.
Acapulco's tourism industry depends on workers – hotel employees, tour guides, fishing instructors, boat captains and crew – who, in many cases, fall through the cracks of disaster assistance. Similarly, due to the widespread infrastructure damage in Acapulco, transportation is a huge challenge for many workers, some declining offers of work because of the cost to get to work exceeds the $16 they would earn for a day's work.
Cattle and agriculture for local consumption are present in about 85% of the municipalities in the state. Similar to larger businesses, family farming tends to have less wealth than large-scale farming operations. The largest agricultural products are sugarcane, rice, corn, bananas, cacao, coffee and tobacco. There are also several active mines, including silver, gold, copper, lead, antimony and iron.
Housing
At least 220,000 homes across the region are reported to have sustained damages. Many people struggle to find safe and affordable housing following a hurricane, particularly those from poor and marginalized backgrounds. For example, in 2021, Hurricane Ida exacerbated an affordable housing crisis in New Orleans as housing supply post-disaster was low, but demand was high.
The amount of work needed and the ability to recover depends on the amount of damage. Houses that are only partially damaged may only require clean-up, debris removal, and tarping of roofs, while houses that incurred extensive damage may require substantial labor and structural repair. Houses that experienced flooding must be gutted on the inside and undergo mold remediation in order be safe for people to return.
As with employment, households with insurance or homeowners will fare better than those without or renters.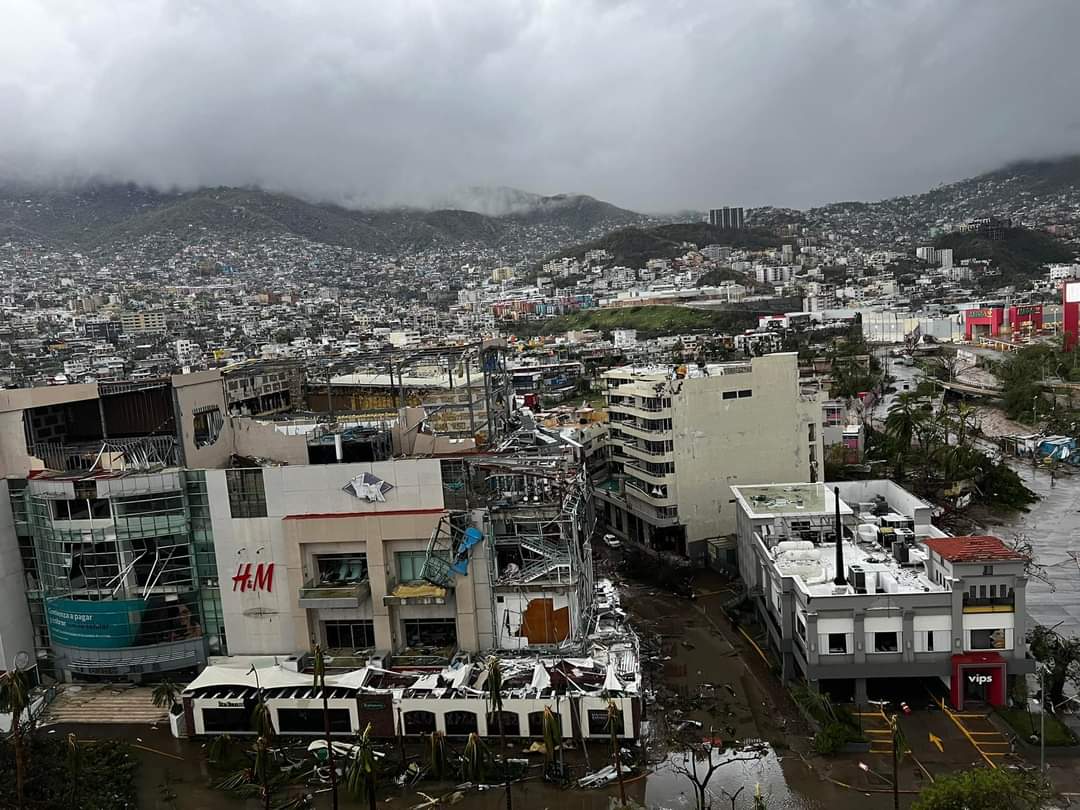 CDP has a Global Recovery Fund that provides an opportunity for donors to meet the ongoing and ever-expanding challenges presented by global crises.
Contact CDP
Philanthropic contributions
If you have questions about donating to the CDP Global Recovery Fund, need help with your disaster-giving strategy or want to share how you're responding to this disaster, please contact development.
(Damage in Acapulco, Mexico after Hurricane Otis, Oct. 25, 2023. Credit: Jonatan Mendoza via X)
More ways to help
As with most disasters, disaster experts recommend cash donations, which enable on-the-ground agencies to direct funds to the greatest area of need, support economic recovery and ensure donation management does not detract from disaster recovery needs.
CDP has also created a list of suggestions for foundations to consider related to disaster giving. These include:
Take the long view: Even while focusing on immediate needs, remember that it will take some time for the full range of needs to emerge. Be patient in planning for disaster funding. Recovery will take a long time, and funding will be needed throughout.
Recognize there are places private philanthropy can help that government agencies might not:Private funders have opportunities to develop innovative solutions to help prevent or mitigate future disasters that the government cannot execute.
All funders are disaster philanthropists: Even if your organization does not work in a particular geographic area or fund immediate relief efforts, you can look for ways to tie disaster funding into your existing mission. If you focus on education, health, children or vulnerable populations, disasters present prime opportunities for funding.
Ask the experts: If you are considering supporting an organization that is positioned to work in an affected area, do some research. CDP and InterAction can provide resources and guidance about organizations working in affected communities.
Philanthropic and government support
The Center for Disaster Philanthropy's Atlantic Hurricane Season Recovery Fund is a permanent fund that focuses on the full spectrum of the disaster cycle. The following are examples of grants awarded through this fund; similar grants could be made for Hurricane Otis:
Resources
Hurricanes, Typhoons and Cyclones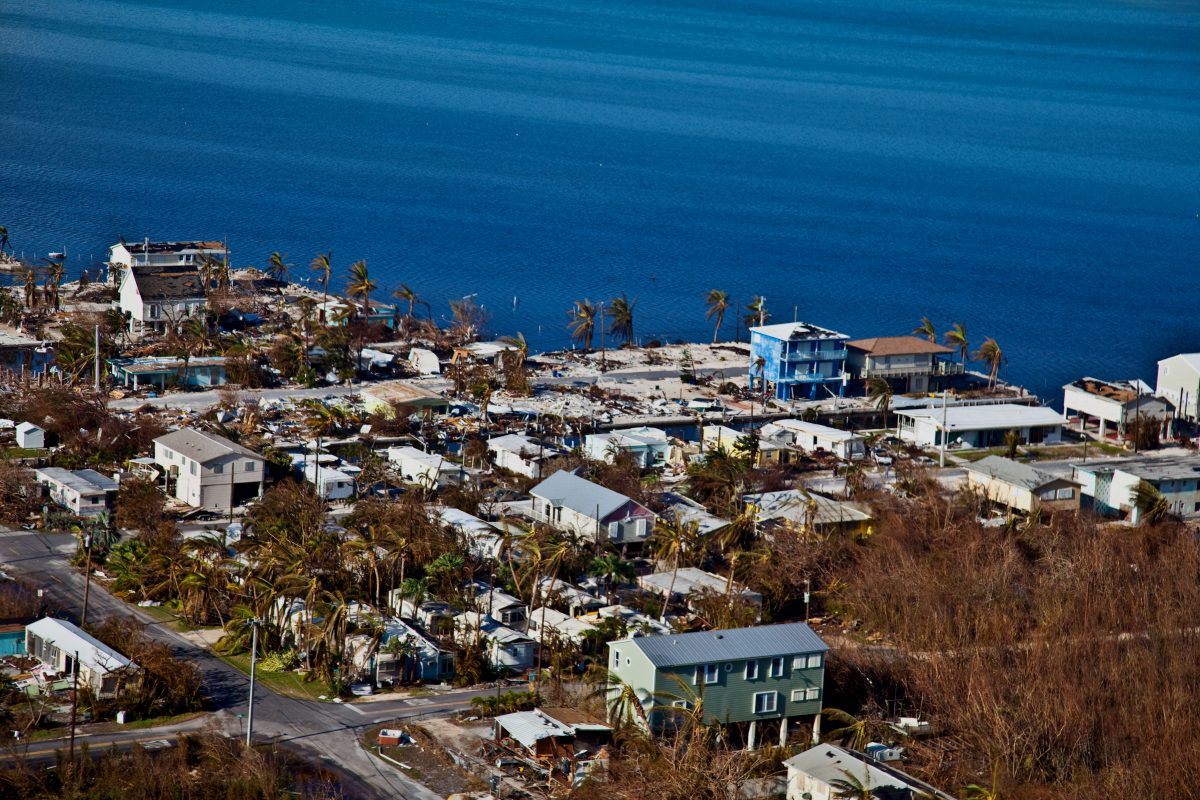 Hurricanes, Typhoons and Cyclones
Hurricanes, also called typhoons or cyclones, bring a triple threat: high winds, floods and possible tornadoes. But there's another "triple" in play: they're getting stronger, affecting larger stretches of coastline and more Americans are moving into hurricane-prone areas.
Critical Infrastructure and Systems
Critical Infrastructure and Systems
Critical Infrastructure and Systems (CIS) are the structures people rely on to perform their everyday tasks. They are what keep people, goods and information moving around the world while also keeping people safe and healthy.
Crisis Communications
Crisis Communications
When a disaster strikes, a crisis communications plan that uses the six pillars of crisis communications will allow staff to communicate clearly, concisely and in ways that match your organization's and community's needs.