On Friday, March 4, a large wildfire started in a forest on a mountain in Uljin county, a seaside area in North Gyeongsang Province, South Korea.
Uljin is approximately 205 miles southeast of Seoul. The fire spread throughout the region, including north to the city of Samcheok in Gangwon Province.
As the fire burned through the eastern coastal area on March 5, it temporarily threatened a liquified natural gas plant and the Hanul Nuclear Power Plant. South Korea deployed several thousand troops and firefighters to battle the blaze. The main fire was extinguished on March 15 after the U.S. Army provided support.
Editor's Note: Some countries/regions use the term "forest fire," which CDP adopts where appropriate but "wildfire" is an umbrella term that includes wildland fires burning in any type of vegetation, including forests.
(Photo: NASA Earth Observatory by Lauren Dauphin, using MODIS data from NASA EOSDIS LANCE and GIBS/Worldview).
In total, "84 helicopters and 3,970 personnel by the [Korean Fire Service], 48 helicopters and 1,600 personnel by the South Korean military, and five helicopters from the US Army's Korea-based 2nd Infantry Division" were involved in fighting the Uljin fire.
Other fires broke out in Yeongweol and Gangneung in Gangwon Province, blocking a coastal highway and railway, and involving thousands of other firefighters.
NASA's Earth Observatory says, "Most forest fires in South Korea (58 percent) occur in the spring when forests tend to be the driest and vegetation is primed to burn."
What was the impact on communities?
The fire in Uljin was extinguished on March 15. It burned 51,702 acres (20,923 hectares) of woodland. The fires in Gangneung (4,695 acres/1,900 hectares), Donghae (5,189 acres/2,100 hectares) and Samcheok (3,728/1,509 hectares) were also contained.
In total, the fires burned nearly 60,000 acres (23,993 hectares), the equivalent of 33,000 soccer fields, making them the worst wildfires since South Korea's started keeping records in 1986. The previous most destructive fires in South Korea's history were the blazes of 2000 which burned slightly less land at 58,800 acres (23,794 hectares).
South Korean President Moon Jae-in designated all four cities – Uljin, Samchoek, Gangneung and Donghae – as special disaster zones. According to presidential spokesperson Park Kyung-mee, "Special disaster zones [will] provide government support in recovery work and relief funds for the eastern coastal cities suffering from expanded damage from the wildfire."
More than 650 buildings were damaged, including more than 350 homes. No casualties were reported.
Cash donations
As with all disasters and large-scale emergencies, it is most effective to make cash donations to support groups already engaged and coordinating on the ground at the disaster site. They often have the ability to take that monetary donation and double or triple its value through their local partnerships. Additionally, this allows on-the-ground agencies to direct funds to the most significant area of need, support economic recovery and ensure donation management does not detract from disaster recovery needs.
Do not donate hard goods such as clothing, food and water, medications or other items unless there is a specific request from an organization already working in the specific area. Logistical costs and resources (including human) to transport and store physical donations are often inconvenient, more expensive than procuring locally, culturally and contextually relevant, and undermines local markets that can provide the goods and services, which also helps local communities recover.
Long-term needs
Long-term support needs will include rehousing, shelter rehabilitation, livelihood recovery, agricultural support and additional recovery support to vulnerable populations. Due to shock and associated trauma, the continuing threat of fire, mental health support and counseling services will be a significant need.
The Center for Disaster Philanthropy has a Global Recovery Fund that provides an opportunity for donors to meet the ongoing and ever-expanding challenges presented by global crises.
Contact CDP
Donor recommendations
If you are a donor looking for recommendations on how to help with disaster recovery, please email Regine A. Webster.
More ways to help
In partnership with Google, CDP awarded $112,433 to HopeBridge Korea Disaster Relief Association in 2022 to implement a child psychosocial support program for survivors of the Korean wildfires.
Funders should consider the following options to support affected communities now and to reduce the impact of future fires:
Award loans and grants for rebuilding damaged homes and businesses. Much of the damage occurred in tourist economies.
Support local agencies on the ground throughout the disaster life cycle, especially those working with marginalized communities. Those in already precarious situations — such as the elderly, sick, undocumented and mixed-status families and people living in poverty — may find their circumstances worsened in the face of disaster. Mental health providers, food banks and organizations working with children or the elderly, for example, must have plans in place to mitigate the disaster's impacts.
Fund drought mitigation efforts. These may focus on sustainable agriculture, water conservation or even land use. According to the National Drought Mitigation Center, an emerging area for research is land-use patterns that "maintain the integrity of watersheds and that have a smaller paved footprint," which can help build resilience to drought.
Invest in public awareness, educational campaigns and information dissemination on fire prevention and promising wildfire and drought mitigation practices. Simple efforts such as clearing flammable materials from 100 feet around the house may help prevent property damage. Fires can also be started by misuse of equipment, such as grills, that can be averted with proper knowledge.
Assist businesses in developing business continuity and disaster recovery plans to reduce economic impact. These plans should include contingencies for displaced workers, back up of data and alternate facilities for continuing operations in the event of property damage.
Consider the needs of volunteer fire departments. As volunteers, they often lack the structural support of larger departments, and their resources may have been depleted during the wildfire.
Support the creation of "smart growth" efforts. Smart planning can help mitigate wildfires or prevent them altogether.
CDP has also created a list of suggestions for foundations to consider related to disaster giving. These include:
Take the long view: Even while focusing on immediate needs, remember that it will take some time for the full range of needs to emerge. Be patient in planning for disaster funding. Recovery will take a long time, and funding will be needed throughout.
Recognize there are places private philanthropy can help that government agencies might not: Private funders have opportunities to develop innovative solutions to help prevent or mitigate future disasters that the government cannot execute.
All funders are disaster philanthropists: Even if your organization does not work in a particular geographic area or fund immediate relief efforts, you can look for ways to tie disaster funding into your existing mission. If you focus on education, health, children or marginalized populations, disasters present prime opportunities for funding.
Ask the experts: If you are considering supporting an organization that is positioned to work in an affected area, do some research. The CDP and InterAction can provide resources and guidance about organizations working in affected communities. Local community foundations also have insights into nongovernmental organizations (NGOs) best suited to respond in a particular community.
A number of celebrities donated to organizations to support those affected by the fires, including numerous donations to Hope Bridge Korea Disaster Relief Association. These include actor-singer IU, actors Lee Byung-hun and Song Kang-ho, who each donated $82,170 (100 million won), actor Kim Go-eun and actor-singer Hyeri, who each donated $40,554 (50 million won) and comedians Yoo Byung-jae and Lee Seung-yoon, who each donated $8,110 (10 million won). Hope Bridge will build temporary residences for those who fled their homes.
Related resources
Wildfires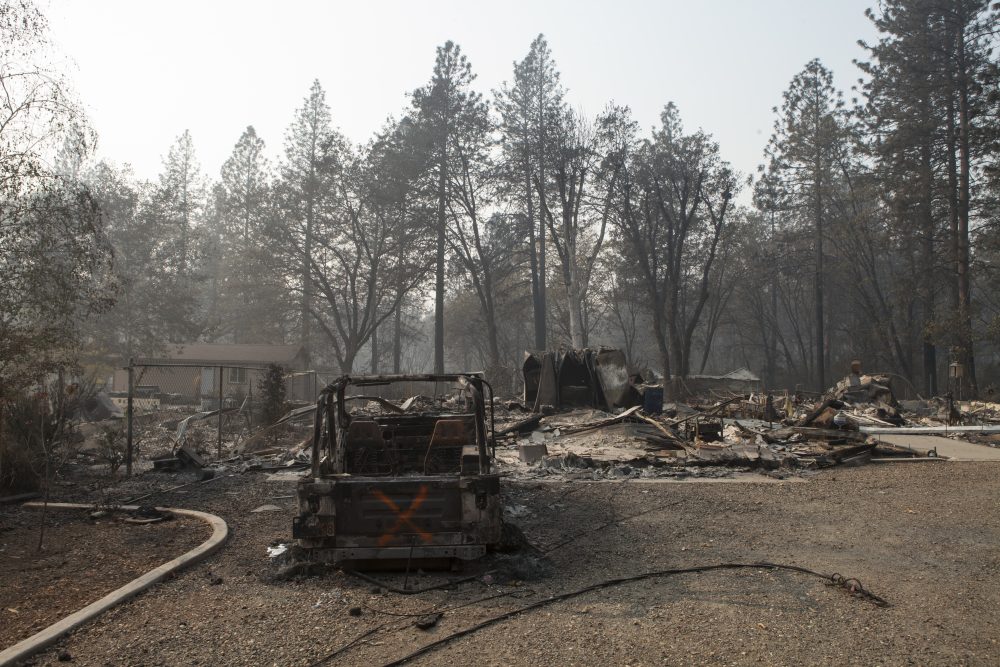 Wildfires
Weather can significantly affect the frequency and severity of wildfires. Prolonged drought can extend prime wildfire season, making blazes more likely. Additionally, high temperatures and low humidity can quickly dry out vegetation which then becomes potential fuel.