On July 25, 2023, Sudan marked 100 days since the latest conflict broke out on April 15, 2023, exacerbating the existing humanitarian crisis.
Since then, nearly 750,000 people have fled the country and refugees and citizens within the country have been forced to relocate, causing massive internal displacement. There have also been thousands of civilian deaths, sexual violence is increasing, and there are critical health and hunger crises and much more. One in two people are dependent upon aid. Those who haven't left are suffering through power outages and lack water and food.
Sudan's complex humanitarian crisis is rooted in decades of internal conflict, political instability, extreme weather events and poor economic conditions that have contributed to widespread food insecurity, malnutrition and a lack of basic services, especially health services. While these issues have resulted in millions of internally displaced Sudanese, Sudan also hosts refugees from South Sudan and Ethiopia. Some of these refugees have left, while others have been forced to relocate internally.
On April 15, fighting broke out between the Sudanese Armed Forces (SAF), led by Gen. Abdel Fattah al-Burhan, and the Rapid Support Forces (RSF) led by Gen. Mohamed Hamdan Dagalo (known as "Hemedti"). Although they united in an October 2021 coup to seize power and have worked together against the pro-democracy movement since then, "Their tenuous alliance ended in mid-April, when they turned their guns on each other, sparking a conflict that threatens to engulf Africa's third largest country."
RSF's origins are rooted in the Janjaweed militia that carried out ethnic cleansing in Darfur. The RSF seems to be hiding in urban areas, so much of the conflict is happening in densely populated areas and is impacting civilians.
There have been 12 ceasefire events of various lengths, ranging from three hours to seven days. The latest was June 27 to June 28 for Eid al-Ahda.
Since April 15, approximately 1 million people have been displaced internally within Sudan, and there has been mixed cross-border movement with neighboring countries, including Egypt, Chad and Ethiopia of almost 1 million more.
As of mid-July, there have been at least 1,000 political violence events and more than 3,900 fatalities according to the Armed Conflict Location & Event Data Project (ACLED). These numbers include military deaths. From June 17 to July 14, the ACLED recorded 880 reported fatalities, more than 500 fatalities in Khartoum alone. There were 320 political violence events of which nearly 80 during that period targeted civilians. The two sides have both started using fighter drones.
According to the Sudanese Health Ministry, there were 1,136 people killed as of July 7. However, numbers collected by activists in Khartoum show a death toll that is much higher than Health Ministry numbers reported for that city (580 versus 234). The lack of medical facilities has hindered accurate tracking, as official sources generally use hospital death data.
(Photo: People fleeing violence in Sudan. Credit: USAID Bureau for Humanitarian Assistance Lead via Twitter)
Located in northeast Africa, Sudan lies at the intersection of the Middle East and Sub-Saharan Africa. It borders the Central African Republic, Chad, Egypt, Eritrea, Ethiopia, Libya and South Sudan. Sudan has faced numerous historic issues that have left a legacy in the country. The issues stem from exploitation after it was colonized by Britain and Egypt in the late 19th century. During this period, Sudanese people were subjected to various forms of exploitation, including forced labor, land confiscation and cultural suppression.
Over the past few decades, Sudan has been plagued by multiple civil wars. The First Sudanese Civil War was from 1955-1972, and about half a million people were killed. Despite a peace agreement in 1972, tensions continued. The Second Sudanese Civil War (and the longest of these conflicts) was fought from 1983 to 2005 between the government and the southern rebels, who were fighting for greater autonomy and control over resources. This conflict lasted for more than 20 years and resulted in the deaths of an estimated two million people. The war also led to the independence of South Sudan in 2011.
In 2003, the Darfur genocide began when government-backed militias targeted non-Arab civilians in the Darfur region. This conflict resulted in the displacement of millions of people and the deaths of hundreds of thousands. While the conflict was technically resolved with a peace deal in 2020, violence in the area continues today.
Colonel Omar al-Bashir, who carried out a military coup in 1989 and appointed himself president in 1993, was ousted by the army in 2019.  From 2019-2021, "a deal to negotiate power-sharing between the transitional government and the civilians who led the protests against Bashir" was in progress. The goal was to help transition Sudan to a democratic government, but this was interrupted by another coup in October 2021.
Since the coup in October 2021, when Sudan's military, led by General al-Burhan (and supported by General Daglo), seized power from the transitional government, there has been significant political instability in the country. Additionally, a socioeconomic crisis has affected nearly a quarter of the population. It is characterized by high inflation rates and currency depreciation, and food insecurity. Intercommunal clashes and violence in some areas of the country, especially in the Darfur and Kordofan regions, also contributed to the high numbers of internal and cross-border displacements. Billions of dollars in international support and debt relief were paused after the 2021 coup, worsening the economic crisis and humanitarian situation in the country.
Even before the latest fighting, the UN Office for the Coordination of Humanitarian Affairs (UNOCHA) said in their Sudan Humanitarian Snapshot released on April 5, "Localized conflict and insecurity continue to displace thousands of people and disrupt lives in parts of Sudan."
Two things are currently needed currently in the Sudan response.
Long-term political process: Ambassador Alexander Rondos, the European Union Special Representative for the Horn of Africa, said that Sudan needs a "long-term political process to bring peace and stability." Will Carter of the Norwegian Refugee Council added, "International and regional bodies must also strongly condemn, at the highest levels, the blatant violations of international humanitarian law that are ongoing. Parties to the conflict need to be put on notice."
Immediate humanitarian needs: Rondos also recognizes that there are immediate humanitarian needs to be addressed. Getting it right in the beginning can help improve recovery. Donors can help by supporting calls to end restrictions on entry in Sudan for both supplies and humanitarian workers. Supply lines need to be secured. There is a need for support both internally within Sudan and within the many countries receiving Sudanese refugees.
During any complex humanitarian emergency (CHE), immediate needs always include shelter; food; WASH; health care; education; protection of at-risk populations and case management. These needs will continue throughout the course of the CHE.
Security and protection
Protection has been an ongoing humanitarian concern in Sudan for decades because of the protracted conflict, displacement and other forms of violence. These conflicts have resulted in widespread human rights violations, including attacks on civilians, sexual and gender-based violence (GBV), and forced displacement. The UN Protection Cluster covers four areas of key concerns: child protection; GBV; housing, land and property; and mine action.
Displacement contributes to and exacerbates protection risks. Displaced populations are particularly vulnerable to violence, exploitation and abuse, and therefore require enhanced protection. In addition to conflict-related protection concerns, Sudan also faces challenges related to human trafficking, smuggling and other forms of organized crime. These issues are particularly acute in refugee and IDP camps, where criminal networks often take advantage of the vulnerable population.
At the end of June 2023, the United Nations reported increasing numbers of reports about domestic violence and GBV. They were also hearing reports of sexual violence and rape of women and girls who have fled Sudan. In an attempt to protect girls from sexual violence, there has been an increase in child marriage. Protection concerns are growing in Sudan because of the newest conflict, particularly for at-risk groups, including children, women, elderly persons and persons with disabilities, as families lose their socioeconomic and community-support structures. Humanitarian actors will work to ensure that vulnerable populations have access to basic services and protection from violence, exploitation, and abuse. This includes providing shelter, food, water and medical care, as well as supporting efforts to prevent and respond to human rights violations.
Seven towns or villages in West Darfur have been almost fully or fully destroyed through mass burning since April. The latest is the town of Sirba. Almost 4,500 homes have been destroyed by the RSF, representing 86% of homes in the town. Hundreds may have been killed, thousands are wandering the desert, trying to find safety in Chad or other places.
As many as 27 towns across all of Darfur have been burned. Many of those targeted by the RSF in West Darfur as part of ethnic cleansing are members of the non-Arab Masalit group. The New Humanitarian states, "Hundreds of thousands of Masalit civilians have fled across the border to eastern Chad and are living in dire conditions."
The security of physical, economic and social resources is also an important concern. There needs to be safe, humanitarian access to certain places in Sudan, with full cooperation of all warring parties. This includes supplies being secured to prevent theft or damage. From a physical standpoint, water-supply plants and power plants must be secured, especially in urban areas. Economically, farmers need support to access fertilizer and other agricultural resources before the planting season. They also need access to water. Dams across the Nile need to be protected both to support Sudan, but also the flow of water into Egypt.
Cash assistance
The Center for Disaster Philanthropy recommends cash both as a donation method and a recovery strategy, where local markets allow. Direct cash assistance can allow families to purchase items and services that address their multiple needs. It gives each family flexibility and choice, ensuring that support is relevant and timely. Cash-based approaches to disaster recovery also give people the freedom to choose how they rebuild their lives and provide a pathway to economic empowerment.
The Center for Disaster Philanthropy has a Global Recovery Fund that provides an opportunity for donors to meet the ongoing and ever-expanding challenges presented by global crises.
Contact CDP
Philanthropic contributions
If you would like to make a donation to the CDP Global Recovery Fund, please contact development. 
(Photo: Homes destroyed by the violence between Sudanese Armed Forces and Rapid Support Forces in Sudan, April 2023. Photo courtesy of Patty McIlreavy.)
Donor recommendations
If you are a donor looking for recommendations on how to help with this crisis, please email Regine A. Webster. 
Philanthropic and government support
As of May 1, donors had funded just 13.9% ($243.7 million) of Sudan's 2023 Humanitarian Response Plan (HRP) goal of $1.75 billion. In late May, the HRP goal was increased to $2.57 billion. As of Aug. 4, a total of $628 million had been funded (just 24.5%). The U.S. government has contributed over half (60.1%) of the funds to date: $377.7 million. The European Commission is second at 11.4% or $71.4 million.
CDP provided a grant in 2022 of $202,488 to the Near East Foundation. The project provided rapid, life-saving support to highly vulnerable conflict- and crisis-impacted people (IDPs, returnees, and vulnerable host populations) in South Sudan and Sudan, helping them to reduce their risk of food insecurity, recover their livelihoods, and build resilience to future shocks and disruptions through improved agricultural production, inclusive value chain development, and access to finance. The project deployed durable early recovery solutions to complex and chronic emergencies in Sudan and South Sudan.
In 2021, CDP provided a $25,000 grant to World Vision to provide support for the well-being of children in the areas devastated by floods and in settings where populations are already vulnerable through WASH emergency interventions, shelter and non-food items, protection of children, and support for health services and mobile clinics.
Grassroots mutual aid organizations have been creating emergency rooms to provide services in communities and are able to work in areas where humanitarian organizations have pulled their staff. These groups stem from the activist networks that have fought against the regime of Omar al-Bashir in 2019. Despite the great work they are doing, they receive little financial support from international donors (most money comes from local or diaspora donations) and are being threatened by both factions in the war. The emergency rooms are supporting hospitals, sheltering displaced people and providing food and water.
More ways to help
As with most disasters and emergencies, cash donations are recommended by disaster experts as they allow for on-the-ground agencies to direct funds to the most significant area of need, support local economic recovery and ensure material donations do not detract from disaster recovery needs.
Donors can help in the following ways:
Provide unrestricted core funding for vetted humanitarian NGO partners that support the HRP. This is an efficient way to ensure the best use of resources in a coordinated manner. Funding the NGOs that have contributed to the HRP ensures that resources are directed to support the plan and use humanitarian partners' best knowledge. Funders can support humanitarian organizations working in Sudan to provide aid, such as food, water, shelter and medical care, to those in need in the immediate future. But, because of the protracted nature of the crisis, funders can also invest in development projects that help build infrastructure, create jobs and promote economic growth in Sudan. These projects can include initiatives to improve agriculture, energy and transportation systems, as well as programs that support entrepreneurship and small businesses. CDP is in contact with a number of organizations with long histories of providing support in the country.
Understand that recovery and resilience-building is possible in protracted and complex crisis settings. Even while focusing on immediate needs, remember that there are early and long-term recovery needs, too. We know that people who have been affected by shocks in complex humanitarian contexts can recover, improve their situation and build their resilience to withstand future shocks without waiting until the crisis is over, which may take years. Recovery is possible, and funding will be needed for recovery and resilience efforts alongside humanitarian funding. Recovery will take a long time, and funding will be needed now and throughout.
Recognize there are places and ways that private philanthropy can help that other donors may not. Private funders can support nimble and innovative solutions that leverage or augment the larger humanitarian system response, either filling gaps or modeling change that, once tested and proven, can be taken to scale within the broader humanitarian response structure. Philanthropy can also provide sustainable funding to national and local organizations that support needed operational costs.
Fund resources
UN IASC Protection Cluster
UN IASC Protection Cluster
The Protection Cluster is one of 11 function-based clusters of the UN Inter-Agency Standing Committee Cluster System. The United Nations High Commissioner for Refugees leads the Cluster.
Complex Humanitarian Emergencies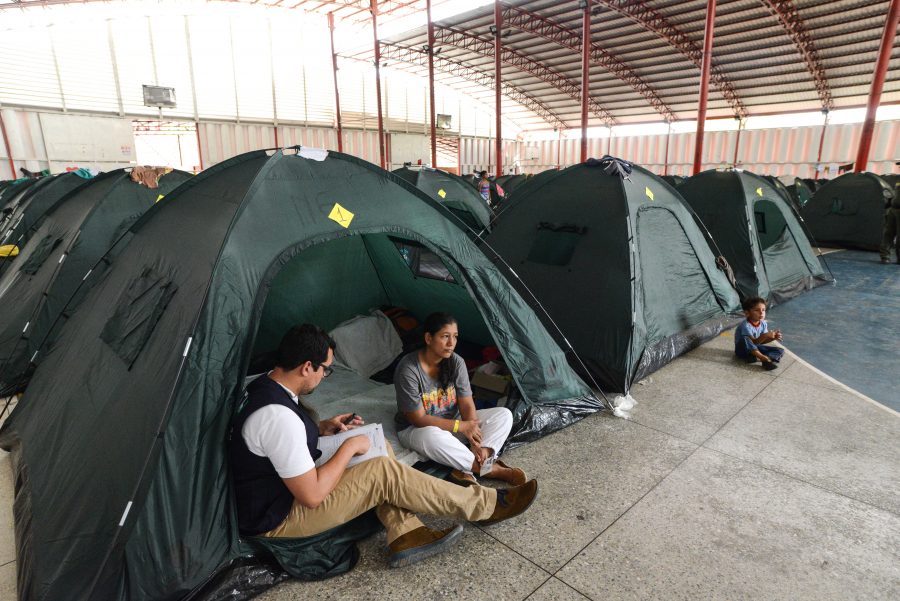 Complex Humanitarian Emergencies
CHEs involve an acute emergency layered over ongoing instability. Multiple scenarios can cause CHEs, like the civil wars in Syria and Yemen, the man-made political crisis in Venezuela, or the public health crisis in Congo.
Emergency and Interim Shelter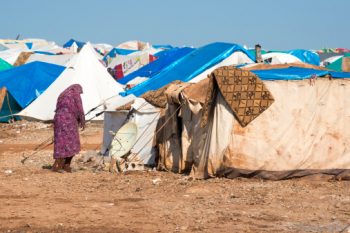 Emergency and Interim Shelter
After a disaster, shelter is more than a place to rest, it is a place of security, access to food, water and medical treatment. A place to start recovering after a disaster.