Overview
In 2017, Yemen was declared the world's largest humanitarian disaster by the United Nations (UN). According to the United Nations Office for the Coordination of Humanitarian Affairs (OCHA), "An estimated 80 percent of the population – 24 million people – require some form of humanitarian or protection assistance, including 14.3 million who are in acute need. Severity of needs is deepening, with the number of people in acute need a staggering 27 per cent higher than last year. Two-thirds of all districts in the country are already pre-famine, and one-third face a convergence of multiple acute vulnerabilities."
For four years, Yemen, the poorest country in the Middle East and North African region, has been the midst of a civil war. Yemen is ranked 178 out of 189 countries on the 2017 UNDP Human Development Index (HDI). It has an HDI score of 0.452 compared to the highest ranked country, Norway, which has an HDI score of 0.944; the United States ranks 13th with an HDI score of 0.924. The average life expectancy in Yemen is 65.2 years, the mean length of education is three years (expected is nine) and the per capita income is $1,239.
The Swedish International Development Agency (Sida) says that, "The plight of Yemen is a triple man-made tragedy (conflict, looming famine, outbreak of cholera) and directly linked to the ongoing conflict." Sida adds, "Prior to the crisis, almost half of the Yemeni population already lived below the poverty line, with a high rate of unemployment and the basic social services on the verge to collapse. Violations of international humanitarian law and human rights law are reportedly widespread, in addition to a long history of food insecurity, malnutrition, and lack of access to water, sanitation and poor healthcare."
Approximately 3.3 million people have been forced to flee their homes due to the ongoing conflict. According to the UN Refugee Agency (UNHCR):
Millions of internally displaced Yemenis live in makeshift shelters in urban and rural areas.
Hundreds of thousands of displaced are living in Hajjah, a district northwest of the capital Sana'a.
Of the refugees that have left Yemen, many flee to Oman, Saudi Arabia, Djibouti, Ethiopia, Somalia and Sudan.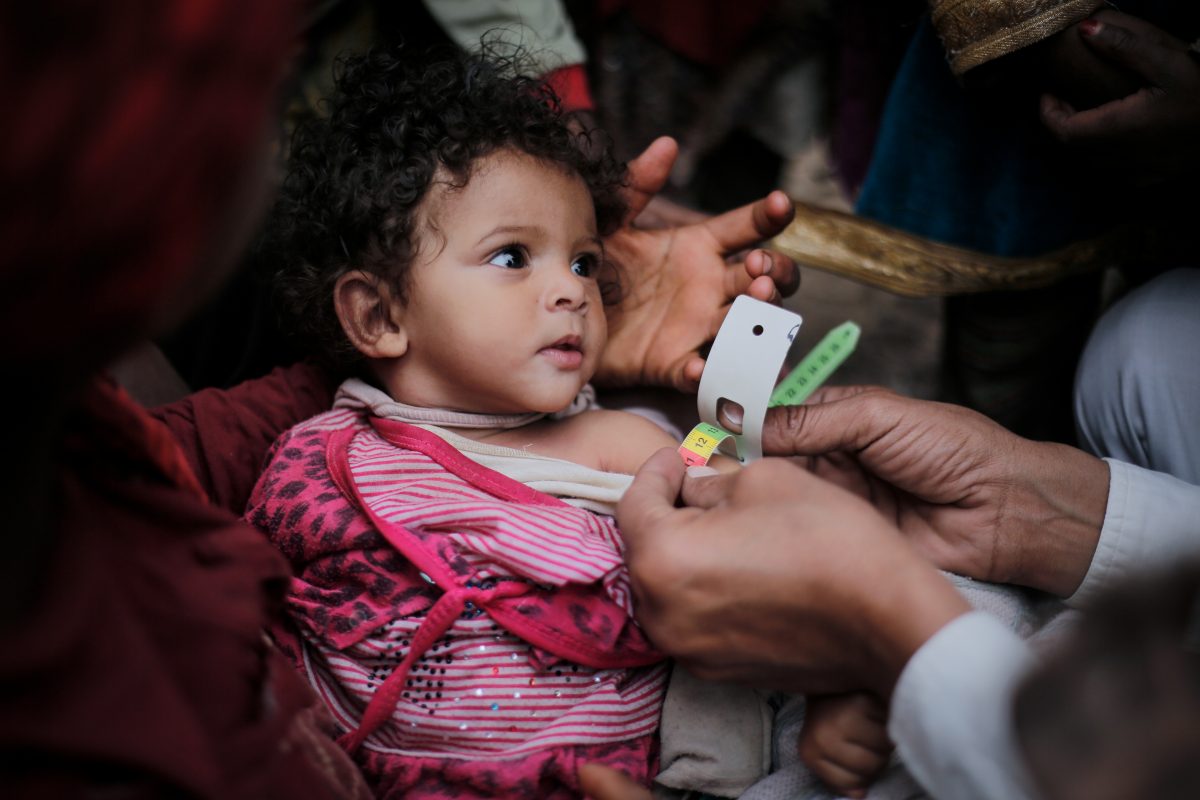 As of June 30, 2019, Ethiopia has taken in 44.8 percent (142,597) of the more than 300,000 Yemenis who have fled the country. Between 2015, when the crisis began, and June 2019, the United States has taken in 50 refugees from Yemen.
As of July 8, 2019, UNOCHA reported that there were 460,000 suspected cases of cholera including 200,000 children (in all of 2018 there were only 380,000 cases total). There were nine times as many cholera deaths compared to last year at 705. While there are 1,200 cholera treatment facilities around the country, their efforts have been hampered by flash flooding, the lack of access to clean water and poor maintenance of waste management systems.
Before 2019, the World Food Programme (WFP) reported that it was reaching seven to eight million people a month. However, since January 2019 this has risen to 10 million monthly, with a goal of increasing to 12 million people monthly as soon as possible. In May 2019, for the first time since 2014, WFP and Islamic Relief were able to reach the war-torn area of Nihm to provide two months food rations, water, hygiene kits and dignity kits. WFP was also able to reach Dhuraimi City in May for the first time in a year with the cooperation of both warring factions.
Yemen is one of the most water-poor countries in the world. It has no rivers and rainfall has been decreasing. It is in danger of soon running out of water. Agriculture consumes much of the water that is available – especially for fruit, vegetables and the narcotic khat. Tawfeeq al-Sharjabi, the Yemeni deputy water and environment minister, says, "for their part, only 55 percent of Yemeni households have access to safe drinking water, and this number shrinks to 35 percent in rural areas."
Yemen is also home to the third largest Somali refugee population in the world, about 250,000 people. This represents nearly 90 percent of Yemen's total refugees and asylum seekers. The crisis in Yemen has caused nearly 5,000 Somali refugees to opt to return home to Somalia over the past two years.
The conflict is destroying the country's infrastructure; schools, roads, bridges, hospitals and homes are hit regularly with bombs, particularly from air raids. The Yemen Data Project reported of the 3,362 air raids that occurred in 2018, "420 hit residential areas…on average, it is estimated that 600 civilian structures are damaged or destroyed every month."
The war is also taking a toll on human lives. A report issued in the fall of 2018 by the Armed Conflict Location and Event Data Project (ACLED) estimated that 56,000 civilians and combatants had died between January 2016 and October 2018. ACLED estimates that the number is growing by about 2,000 per month but does not include those who have died of cholera or malnutrition. UNICEF estimates that a child dies every ten minutes in Yemen of preventable diseases; that is about 50,000 and growing each year.
While numbers from sources vary slightly, the overall picture as outlined in the Worldwide Threat Assessment image below, is clear. The civil war has created a humanitarian crisis almost beyond imagination.
A $2.96 billion international appeal for the Yemen Humanitarian Fund (YHF), which directs funding to nongovernmental organizations (NGOs) and humanitarian partners responding to the crisis, was launched in 2018 by the United Nations and its humanitarian partners. More than $2 billion was pledged at the 2018 International High-Level Pledging Event but more assistance is needed. The main objectives of the fund are to:
"Support life-saving and life-sustaining activities while filling critical funding gaps.
Promote needs-based assistance in accordance with humanitarian principles.
Strengthen coordination and leadership primarily through the function of the UN Humanitarian Coordinator and by leveraging the cluster system.
Improve the relevance and coherence of humanitarian response by strategically funding priorities as identified under the Humanitarian Response Plan (HRP).
Expand the delivery of assistance in hard-to-reach areas by partnering with NGOs."
In 2018, the YHF distributed over US $188 million through 53 partners who implemented 112 humanitarian projects.
Critical Needs
Unrestricted core support to humanitarian partners and UN agencies who support the Yemen Humanitarian Response Plan which is an efficient way to ensure best use of resources in a coordinated manner. Funding through the Yemen Humanitarian Fund ensures that resources are directed to support the Plan and utilizes the best knowledge of NGOs and local officials.
Financial support and supplies for Water, Sanitation and Hygiene (WASH).
Medical care for the treatment of cholera and malnutrition.
Support for food supplements to help address the high levels of malnutrition.
InterAction's NGO Aid Map can help funders find organizations working in Yemen.
Contact
If you are a responding NGO or a donor, please send updates on how you are working in this crisis to tanya.gulliver-garcia@disasterphilanthropy.org.
If you are a donor looking for recommendations on how to help in this crisis, please email regine.webster@disasterphilanthropy.org.
Learn More
Featured image source: © UNICEF/UN057347/Almang