What we're watching: Weekly disaster update, October 2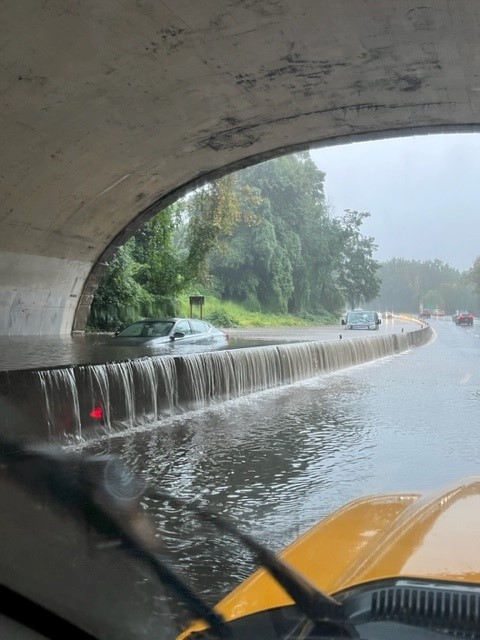 We know all too well that disaster can strike anytime, anywhere in the world. Some disasters make headlines; others do not. Here at the Center for Disaster Philanthropy (CDP), we monitor the status of disasters worldwide and compile a list of the ones we're tracking weekly, along with relevant disaster-related media coverage.
Here's what we're watching for the week of Oct. 2, 2023.
New or Emerging Disasters
Saltwater Intrusion – Southeast Louisiana: Four parishes in Southeast Louisiana – Plaquemines, St. Bernard, Orleans and Jefferson – have received an emergency management declaration from the federal government to help them prepare as a wedge of saltwater makes its way up the Mississippi River. Months of severe drought, heat and low rainfall levels across the Mississippi watershed led to lower-than-usual water levels in the river. This allowed a saltwater wedge from the Gulf of Mexico to travel upstream, with an expected arrival in New Orleans in late October.
Local municipal drinking water systems pull water from the Mississippi River, but the high salt levels cannot be removed through treatment. Residents in Plaquemines are already under water restrictions, as the salt levels are too high for safe human consumption.
Farmers also pull water to irrigate their crops, and with two-thirds of Louisiana facing drought, they are also concerned. Multiple temporary solutions have been discussed, including bottled water, reverse-osmosis systems and using a long pipe or barges to bring freshwater to dilute the salt.
Humanitarian Crisis – Nagorno-Karabakh/Armenia: On Sept. 20, Azerbaijan declared control of an Armenian enclave within its borders. According to the Center for Strategic and International Studies, "Nagorno-Karabakh, a contested mountainous region located in the South Caucasus, has been the epicenter of two large-scale conflicts and intermittent clashes between Armenia and Azerbaijan for well over three decades."
Nagorno-Karabakh has an area slightly larger than Rhode Island and has been under the protection of Russian peacekeepers since a 2020 cease-fire. On Sept. 27, the leaders of Nagorno-Karabakh said the region would officially "cease to exist" on Jan. 1, 2024.
Azerbaijan also opened up and has only provided mild opposition to Karabakh Armenians using the Lachin Corridor, the only road connecting Armenia to Nagorno-Karabakh. On Sept. 25, at least 170 people were killed after a fuel depot exploded as escaping Armenians tried to refuel to prepare for their trip. By Sept. 26, 19,000 people had entered Armenia, as of Sat. Sept 30, that number had grown to 100,417 people (of a population of 120,000 people in Nagorno-Karabakh). Of these, at least 30% are children, according to humanitarian group Save the Children.
UN agencies are creating an Inter-Agency Response Plan. Meanwhile, they and numerous international nongovernmental organizations are providing services as Armenia struggles to cope with the sudden influx of tens of thousands of refugees.
Flooding – New York City: Flash flooding on Sept. 29 left many commuters struggling as transit shut down across several boroughs. A week of steady rain from remnants of Tropical Storm Ophelia was followed by torrential rain overnight Thursday and into Friday morning at a rate of 1-2 inches per hour.
The governor declared a state of emergency for several areas, as 8.5 million people were under a flash flood warning. JFK airport experienced its wettest day on record with 8 inches of rain, and overall, New York City experienced its worst rain since Hurricane Ida in 2021.
Tropical Storm Philippe – Antigua/Barbuda: Tropical Storm Philippe will travel near the Leeward Islands this week, with the most significant impacts likely on Antigua and Barbuda, where 4-6 inches of rain is expected.
Cholera – Sudan: On Sept. 26, the Sudanese Federal Ministry of Health declared a cholera outbreak in the state of Gedaref. It is also suspected in the states of Khartoum and South Kordofan, but it is challenging to test, track and submit samples for verification because of ongoing fighting. In Gedaref, there have been 16 deaths, four confirmed cases and 264 suspected cases of cholera as of Sept. 25.
Previous/Ongoing Disasters
Wildfires – Lahaina, Hawaii: The first families have been allowed back to Lahaina's damaged areas to see their properties. The neighborhoods have been inaccessible since the fires on Aug. 8 due to fire fighting, clean-up and search and recovery efforts. Residents must obtain a re-entry permit and show proof of residency.
Maui County will provide personal protective equipment and counselors as families deal with the emotions of returning. Once areas have been opened to families, the state plans to reopen West Maui to tourism. However, 7,400 people are still displaced in hotels and must be housed to allow space for tourists.
Flooding – South Africa: Days of rain led to flash flooding in South Africa's Eastern and Western Cape provinces in late September. In the town of Botrivier, the Bot River broke its banks, flooding the highway and surrounding areas, making evacuation and rescue challenging. Less than 20 miles from Cape Town, in Mfuleni Township, the Kuils River burst its banks, leading to the evacuation of 2,000 homes.
The Guardian reports, "According to the Cape Town Disaster Risk Management Centre, 12,000 people were affected, but a further 80,000 people were left without electricity, according to the national power utility."
At least 11 people were killed, eight due to electrocution because of illegal power connections in the informal settlements outside Cape Town.
Humanitarian Crisis – Yemen: As the long-lasting crisis continues, 48 organizations – 35 Yemeni and 13 international actors have released a joint statement to draw attention to the crisis. The statement coincides with the first anniversary of the non-renewal of the truce, which expired in October 2022.
Learn more in CDP's Yemen Humanitarian Crisis Profile.
Humanitarian Crisis – Burkina Faso: A new school year has started in Burkina Faso, but 1 million children are unable to attend due to violence and insecurity. However, UNICEF also reports that 3.8 million children are back in school.
Hunger – Democratic Republic of the Congo: Acute food insecurity in the Democratic Republic of the Congo has reached record levels, with more than 25 million people (one-quarter of the population) in need.
Hurricane Ian – Florida: Disaster anniversaries are cause for reflection, not celebration. Last Thursday, Sept. 28, marked one year since Hurricane Ian slammed into Florida's Gulf coast, with winds just 7 miles beneath a Category 5 storm.
Today, CDP shares some interesting readings about the recovery of affected communities.
In addition to the disasters listed above, we actively monitor the following disasters or humanitarian emergencies. For more information, see the relevant disaster profiles, which are updated regularly.
U.S. Midwest Low-Attention Disasters
The Midwest is regularly faced with low-attention disasters that affect people across the region. CDP's Midwest Early Recovery Fund (ERF) effectively funds efforts that catalyze equitable disaster recovery.
This is one of the latest disasters and related news the ERF team is monitoring:
The weekend of Sept. 23-24 saw several inches of rainfall in Duluth, Minnesota, forcing water up from sewers and resulting in flooding. The disaster damaged several roads in St. Louis County.
Complex Humanitarian Emergencies –
Chad
Many places worldwide are experiencing emergencies caused by conflict, climate change, drought, famine, economic challenges and other conditions that combine to create a complex humanitarian emergency (CHE). CDP maintains complete profiles on several CHEs, and what CDP considers Level 1 CHEs are profiled in this weekly blog post and tracked.
On April 15, fighting erupted between the Sudanese Army Forces and the Rapid Support Forces in multiple locations across Sudan, resulting in a humanitarian crisis. Since the crisis in Sudan began, more than 460,000 people have crossed into Chad, and urgent needs are food, water, sanitation and hygiene, shelter, household items, health, and protection.
More than 62,000 of the people who have crossed into Chad are Chadian returnees, and of this figure, 93% are women and children. UN agencies and nongovernmental organizations (NGOs) continue to warn of these people's deteriorating conditions.
On Sept. 10, the NGO Action Against Hunger cautioned that the "influx of people, combined with insufficient funding, has put a massive strain on already-fragile support services."
More than 5.72 million people are food insecure in Chad, of which 2.13 million are severely food insecure, meaning that they are in phases 3 to 5 on the Integrated Phase Classification (IPC) scale. The IPC is a common scale for classifying the severity and magnitude of food insecurity and acute malnutrition. The scale includes five phases, with Phase 1 meaning there is no or minimal acute food insecurity and Phase 5 meaning famine has been reached.
Upcoming webinar
Oct. 12: Disaster case management: Navigating recovery one person at a time
What We're Reading
While fires are a serious issue, this junior school in Japan is also adorable as they model an evacuation drill during a fire alarm.