What we're watching: Weekly disaster update, February 20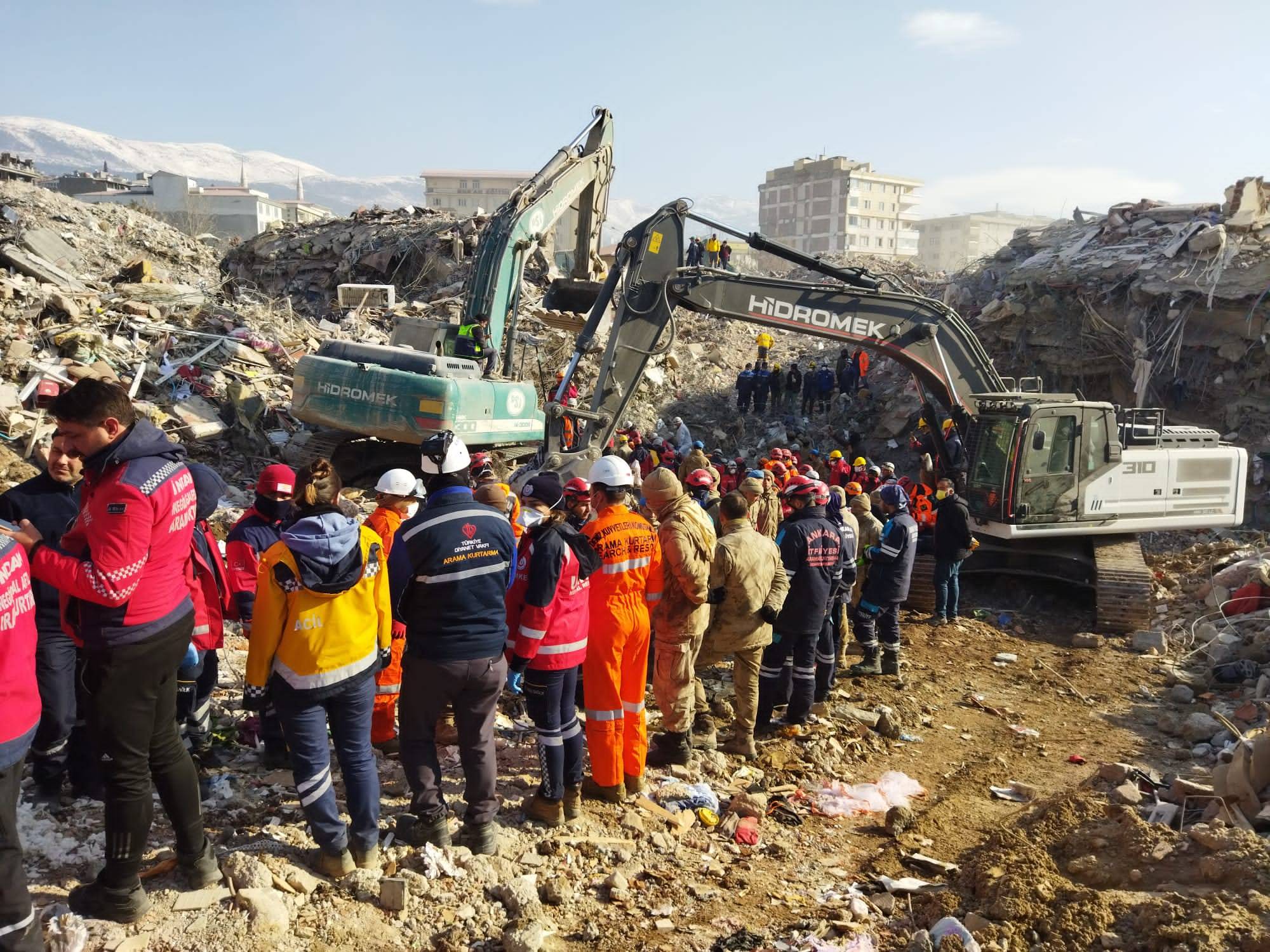 We know all too well that disaster can strike at any time, in any place in the world. Some disasters make headlines; others do not. Here at the Center for Disaster Philanthropy, we keep an eye on the status of disasters worldwide and compile a list of the ones we're tracking weekly, along with relevant disaster-related media coverage.
Here's what we're watching for the week of Feb. 20, 2023.
New or Emerging Disasters
Disease Outbreak – Equatorial Guinea: The Central African country confirmed its first outbreak of the Marburg virus, a highly infectious and deadly disease that is part of the same family as the virus that causes the Ebola virus disease. The deaths have been preliminarily linked to a funeral ceremony in the Kie-Ntem province. More than 200 people were quarantined, and movement was restricted in the province. On Feb. 13, the World Health Organization (WHO) reported nine deaths and 16 suspected cases. WHO said further investigations are ongoing, and the agency is deploying health emergency experts. According to the Centers for Disease Control and Prevention, there is no specific treatment for Marburg virus disease and "supportive hospital therapy should be utilized."
Flooding – South Africa: Heavy rainfall this month has resulted in widespread flooding with seven of the country's nine provinces affected, and Mpumalanga and the Eastern Cape among the worst off. The flooding killed at least seven people, and damage has been reported to infrastructure and agricultural land. One village in Mpumalanga was isolated for more than a week due to damages to footbridges that connect them to markets and schools. Local government officials and non-government organizations eventually reached them. South African President Cyril Ramaphosa declared a national state of disaster to support the response.
Previous/Ongoing Disasters
Earthquake – Turkey and Syria: The scale and devastation from the Feb. 6 earthquakes continue to come into focus two weeks after the disaster. The total figures, which are continually trending upwards, from the loss of life and damage are staggering. At least 47,000 people dead across the two countries, over 5,700 aftershocks as of Feb. 18, and more than 90,000 buildings in Turkey and more than 9,000 in northwest Syria either collapsed or were heavily damaged.
The United Nations (UN) and humanitarian partners launched an earthquake Flash Appeal for Syria covering February to March 2023. The Flash Appeal requests $397.6 million to reach 4.9 million people and is complementary to the 2022-2023 Syria Humanitarian Response Plan (HRP). According to a REACH rapid assessment in northwest Syria, winterization, shelter and multi-purpose cash support were cited as the top priority needs.
In Turkey, the earthquake response is being led by the government of Turkey, coordinated through Disaster and Emergency Management Authority and with the Turkish Red Crescent. The earthquake Flash Appeal for Turkey covers February to April 2023 and seeks $1 billion to provide humanitarian assistance to 5.2 million people. Turkish President Recep Tayyip Erdogan says his country will start building tens of thousands of new homes as early as next month.
For more, see our 2023 Turkey-Syria Earthquake disaster profile.
Complex Humanitarian Emergency – Ukraine: Feb. 24, 2023 will mark one year since Russia's invasion of Ukraine, which has resulted in thousands of civilian deaths and injuries, mass human displacement, and the destruction of livelihoods and critical infrastructure. Click To Tweet
In 2023, 17.6 million people in Ukraine require humanitarian assistance, 45% of whom are women, 23% are children and 15% are people with disabilities. Approximately 40% of Ukraine's population now needs humanitarian assistance and protection. The 2023 Humanitarian Response Plan for Ukraine calls for $3.9 billion to reach 11.1 million people.
On Feb. 14, CDP announced the initial round of funding from the Ukraine Humanitarian Crisis Recovery Fund, which prioritizes medium- and long-term solutions that ensure continued access to basic services and protect and strengthen the resilience of those most affected.
On Feb. 6, UN humanitarian chief Martin Griffiths' told the UN Security Council, "On the eve of this horrific one-year milestone – which comes on top of the previous eight years of conflict – we still have much to do. I call on us all to push forward with renewed vigour to give the people of Ukraine the peace and support they need and deserve."
For more, see our Ukraine Humanitarian Crisis disaster profile.
Chemical Emergency – Ohio: More than two weeks have passed since a train carrying vinyl chloride derailed in the small town of East Palestine, Ohio. The derailment started a fire, prompting chemical detonations to prevent a deadly explosion.
The U.S. Environmental Agency (EPA) has said testing of air quality has not revealed contaminants, and the chemical has not been detected in any down-gradient waterways near the train derailment. However, despite assurances from the EPA, Ohio Governor Mike DeWine's administration and officials from the train company Norfolk Southern, distrust is growing.
Residents complain of a chemical odor and symptoms such as rashes. In response to these concerns, the Ohio Department of Health and the Columbiana County Health Department will open a health clinic for East Palestine residents starting Feb. 21.
The White House said the Federal Emergency Management Agency (FEMA) has been coordinating with the state emergency operations center and other partners. On Feb. 17, FEMA said it was deploying the Regional Incident Management Assistance Team and a senior response official. However, the Biden administration is facing criticism for the response as local leaders and members of Congress demand that more be done.
Farther from the train derailment site, Greater Cincinnati Water Works officials said out of an abundance of caution, "they will be shutting off the Ohio River intake ahead of the anticipated arrival of the last detectable chemical concentration in the river."
Tropical Cyclone – New Zealand: Although Gabrielle was downgraded to a sub-tropical low-pressure system from a Category 2 cyclone, and the weather system did not make landfall, it caused widespread destruction, displaced thousands and destroyed roads. On Feb. 19, the death toll from the storm was at 11, but this figure is expected to grow as more isolated communities are reached.
On Feb. 14, New Zealand's government declared a national state of emergency, only the third in New Zealand's history. Prime Minister Chris Hipkins said the extensive damage had made it clear the country was unprepared for extreme weather events and needed to improve its climate defenses. In the wake of consecutive record-breaking rainfall and flooding events, experts say climate change mitigation and adaptation are required.
In addition to the disasters listed above, we actively monitor the following disasters or humanitarian emergencies. For more information, see the relevant disaster profiles, which are updated regularly.
Complex Humanitarian Emergencies – 
The Sahel Regional Crisis
Many places worldwide are experiencing emergencies caused by conflict, climate change, drought, famine, economic challenges and other conditions that combine to create a complex humanitarian emergency (CHE). CDP maintains complete profiles on several CHEs, and what CDP considers Level 1 CHEs are profiled in this weekly blog post and tracked.
In 2022, more than 30 million Sahelians, primarily women and children, needed humanitarian assistance and protection, an increase of nearly two million from 2021. The UN Office for the Coordination of Humanitarian Affairs says $4.5 billion is required in 2023 to meet the region's humanitarian needs.
The ongoing crisis in the Central Sahel and violence and attacks by armed groups are potentially spilling over toward neighboring coastal countries in the Gulf of Guinea. According to the Africa Center for Strategic Studies, militant Islamist activity in the Sahel and Somalia accounted for 77% of the total reported violent events across Africa in 2022.
Unreliable food availability and loss of livelihoods stem from disruptions in economic and trade activities, hampered by ongoing violent conflict and insecurity. Across the region, the cost of main food staples, such as maize, rice and cowpea, remain above the five-year average. More than 1.5 million people in Chad will be acutely food insecure in the June-September 2023 lean season, an increase of over 700,000 people from the year before.
In Burkina Faso, massive internal displacement remains widespread and humanitarian access is still a significant challenge. Additionally, the functionality of health facilities in the country has diminished. As of Dec. 31, 2022, 197 health facilities remained closed.
According to Norwegian Refugee Council, a humanitarian organization, "Forced displacements and massive school closures have drastically increased the number of children out-of-school in Niger." Chad hosts the largest number of refugees in the region, with 37%. Cameroon is the second largest refugee-hosting country in the region.
In January 2023, non-government organizations called for increased investments and long-lasting solutions to the humanitarian crises in the region.
What We're Reading
One year on, Ukraine exposes the limits of well-funded international aid – The New Humanitarian: In the past year, Ukraine has received pledges of almost $17 billion in bilateral humanitarian aid. However, Ukrainian organizations and volunteer initiatives on the front lines struggle to secure much-needed financial support.
Turkey-Syria Earthquake Hits a Region in Crisis U.S. Donors Have Long Neglected. Will That Change? – The Chronicle of Philanthropy: The U.S. charitable response to the earthquake offers a mixed forecast of the coming giving. "If U.S. donors step in to help the long-term recovery from last week's earthquake in Turkey and Syria, they will invest in a part of the world and a crisis they have long neglected."
In a world of one disaster after another, what is philanthropy's role? – Devex: The Turkey-Syria earthquake is a layered crisis that has become familiar to philanthropic and aid organizations. Devex sat down with CDP Vice President Regine Webster to discuss how the organization is helping donors identify how they can give most effectively when so many crises are competing for their attention.
The quiet might of infrastructure: How philanthropy support organisations can catalyse transformation – Philea: Philanthropists increasingly recognize the complexity of the socio-economic systems around us and seek to leverage our capacities to transform how systems operate. Philanthropy support organizations sit at the intersections of functions and constituencies and, by trying new things, can lead by example and bring new ideas and inspiration.
Census: Disasters displaced more than 3M Americans in 2022 – E&E News: The U.S. Census Bureau's Household Pulse Survey, which reflects data collected from survey responses between Jan. 4 and Jan. 16, shows that the scale of displacement from disasters in the U.S. is greater than previously thought. The figures also reflect higher long-term and permanent displacement rates than other research has shown.
For Older Americans, the Pandemic Is Not Over – The New York Times: "Hospital admissions, which have also been dropping, remain more than five times as high among people over 70 as among those in their 50s. With mask and vaccination mandates mostly ended, testing centers and vaccination clinics closed and the federal public health emergency scheduled to expire in May, older adults are on their own."
World Hippo Day was on February 15 and celebrated the hippopotamus, the third largest land mammal. My mind immediately went to a classic game called Hungry Hungry Hippos, which made me wonder, exactly how hungry are hippos?