What we're watching: Weekly disaster update, February 6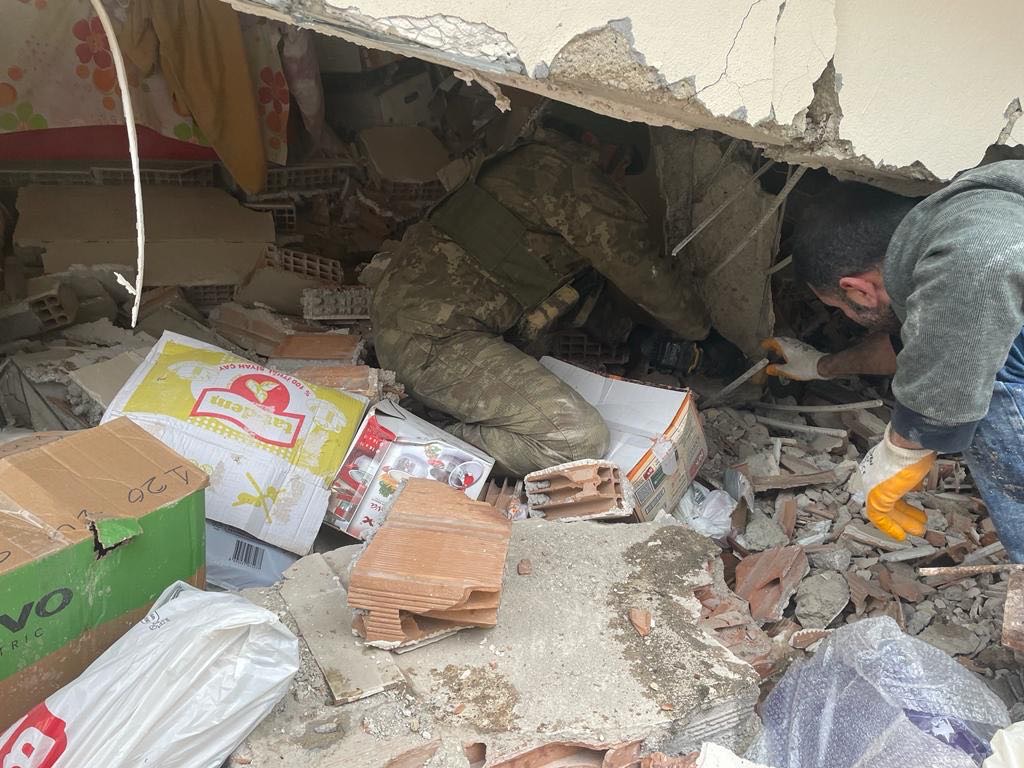 We know all too well that disaster can strike at any time, in any place in the world. Some disasters make headlines; others do not. Here at the Center for Disaster Philanthropy, we keep an eye on the status of disasters worldwide and compile a list of the ones we're tracking weekly, along with relevant disaster-related media coverage.
Here's what we're watching for the week of Feb. 6, 2023.
New or Emerging Disasters
Earthquake – Turkey and Syria: On Feb. 6, a magnitude 7.8 earthquake occurred in southern Turkey near the northern border of Syria. This quake was followed approximately nine hours later by a magnitude 7.5 earthquake located around 59 miles (95 kilometers) to the southwest. At the time of writing on Feb. 6, at least 2,361 people have been killed in Turkey and Syria, however, this figure is expected to rise. The earthquake was the most devastating to hit Turkey in more than 20 years and was as strong as one in 1939, the most powerful recorded in Turkey.
The Turkish president, Recep Tayyip Erdoğan, said on Feb. 6 that 45 countries had already offered help with search and rescue efforts. The Government of Turkey issued a Level 4 alarm, calling for international assistance. Early reports say that nearly 3,000 buildings collapsed across Turkey after the initial quake.
Syria's existing complex humanitarian emergency is among the largest humanitarian crises in the world. One obstacle in assessing the death toll and response efforts in Syria is that the government does not control all of the northwest, the area hardest hit by the earthquake. In northwest Syria, 4.1 million people already depend on humanitarian assistance, the majority of whom are women and children. While countries have offered to support Turkey, getting aid to affected Syrians is likely to be more difficult, considering the country is not controlled by one authority.
Winter Storm – Texas: Two years after a winter storm killed 246 people and left millions of Texans without electricity, cities in Texas once again struggled with a threatening winter storm last week. In Austin, where the storm covered the city in ice and cut power and heat to thousands of residents, officials compared the damage from fallen trees and iced-over power lines to tornadoes. At any given time, 30% of customers in the city of nearly one million were without electricity, prompting criticism for slow response and mixed communication.
On Feb. 3, Austin's newly elected mayor apologized after a week of slow repairs, failed technology and lacking communication with the public. Texas Governor Greg Abbott issued a disaster declaration for Denton, Hays, Henderson, Milam, Smith, Travis and Williamson counties, enabling the state to assist people and communities with property damage. Texas's largest cities were not designed with severe winter weather in mind and historically have not prioritized preparedness. Cities are now debating whether costly infrastructure investments are worth it. Driving conditions across the region were treacherous. Ten deaths associated with the storm in the U.S. south were on icy roads, seven of which occurred in Texas.
Chemical Emergency – Ohio: A train pulling 150-200 cars derailed on Feb. 3 on the east end of East Palestine, Ohio causing a chemical fire that stretched from one-quarter to one-half mile along the tracks. East Palestine is a village of nearly 5,000 people on the border with Pennsylvania. On Feb. 5, Ohio Governor Mike DeWine told residents living within a mile of the train derailment to evacuate because of the possibility that a tanker car could explode. No injuries were reported, and while officials continued monitoring chemicals that reached nearby streams, there was no current risk to the area's drinking water.
Wildfire – Chile: At least 250 fires are burning in Chile, with the scope of the disaster reaching historic levels. The fires in the south and central parts of the country have been helped by a severe heat wave and dry winds. The fire's death toll rose to at least 24, with nearly 1,000 more injured over the weekend. Chile's President Gabriel Boric issued emergency declarations for the largely rural southern regions of Biobio, Nuble and Araucania to speed relief. As of Feb. 5, the fires consumed more than 671,000 acres (270,000 hectares), or an area roughly the size of the U.S. state of Rhode Island. International firefighting assistance is arriving from countries across the continent and Spain. The fires are impacting vineyards in Itata and Bio Bio wine regions, which may affect businesses and livelihoods.
Previous/Ongoing Disasters
Earthquake – Iran: On Jan. 28, a 5.9 magnitude earthquake in the city of Khoy in northwestern Iran killed at least three people and injured hundreds. The quake destroyed 370 houses and caused damage in 70 villages. More than 60 aftershocks were recorded, including two that measured 4.5 on the Richter scale. Due to its location, Iran is no stranger to earthquakes. More than 600 earthquakes were recorded in the country between Dec. 20, 2022, and Jan. 20, 2023.
In addition to the disasters listed above, we are actively monitoring the following disasters or humanitarian emergencies. For more information, see the relevant disaster profiles, which are updated regularly.
Complex Humanitarian Emergencies –
Myanmar
Many places worldwide are experiencing emergencies caused by conflict, climate change, drought, famine, economic challenges and other conditions that combine to create a complex humanitarian emergency (CHE). CDP maintains complete profiles on several CHEs, and what CDP considers Level 1 CHEs are profiled in this weekly blog post and tracked.
Feb. 1, 2023, marked the second anniversary of when Myanmar's military seized power, declaring fraud in the general election won by the National League for Democracy. August 2022 marked five years since the Myanmar military's worst attacks on the Rohingya, a stateless ethnic group. Since the military's takeover, the country has endured ongoing armed conflict, large-scale displacement and increased humanitarian needs.
According to ACLED's Conflict Severity Index, in 2022, Myanmar experienced the third most intense level of violence after Ukraine and Syria. The country's conflict is complex and involves hundreds of non-state armed groups fighting against the military junta and joining other ethnic-based rebel organizations that have been active for decades.
The conflict has had a severe impact on children. Save the Children said in November 2022 that 520,000 children have been forced to flee their homes since February 2021. A report by the Assistance Association for Political Prisoners, said 157 children were killed by Myanmar's military in 2022.
According to Myanmar's 2023 Humanitarian Response Plan (HRP), which lays out the shared vision of how to respond to the assessed and expressed needs of the affected population, one in three, or 17.6 million people, are now in humanitarian need, an increase of one million people since the start of 2021.
The 2023 HRP says the dire situation "requires a focused programme of humanitarian assistance and demands a greater commitment from donors than was seen in 2022."
Despite sharing the same number of people in need, the 2022 Ukraine HRP financial requirements were five times higher than Myanmar's. Last year, only 35% of the response plan for Myanmar was funded, compared to 79% for Ukraine.
In the context of intense violence, mounting conflict deaths and high displacement numbers, getting humanitarian assistance to people in need is difficult. Another challenge is a recent law on the registration of nonprofit organizations, which limits aid agencies' ability to reach affected people.
Some have called for a shift towards providing more flexible support directly to local responders and community-based organizations with expertise and experience operating border-based assistance throughout decades of conflict and civil war.
The Rohingya people have faced decades of systematic discrimination, statelessness and targeted violence in Myanmar's Rakhine State. Violent attacks led hundreds of thousands of Rohingya to flee to Cox's Bazar, Bangladesh, in 2017. The number of Rohingya fleeing Bangladesh by taking dangerous sea journeys to Malaysia has significantly increased.
What We're Reading