What we're watching: Weekly disaster update, March 27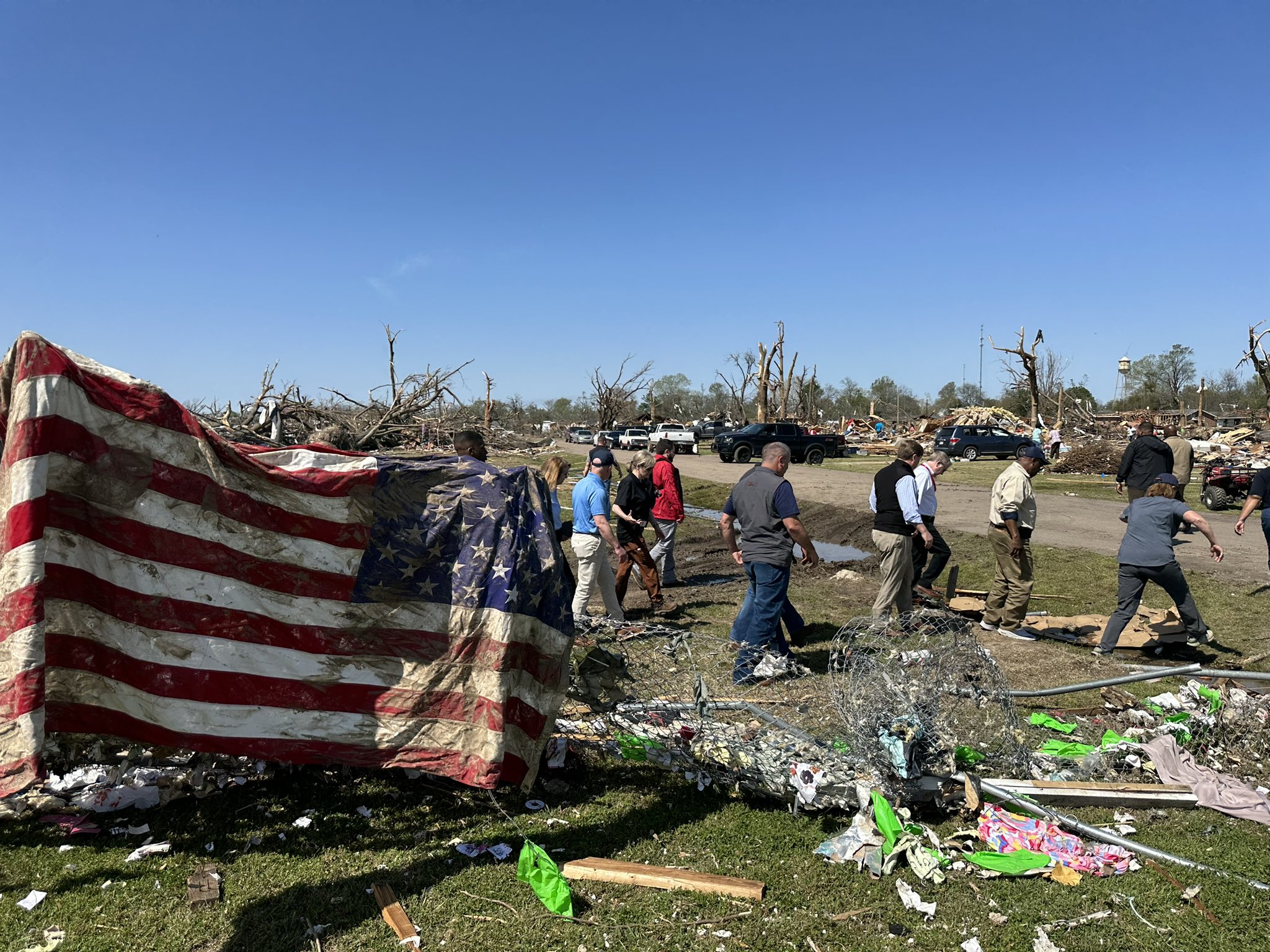 We know all too well that disaster can strike at any time, in any place in the world. Some disasters make headlines; others do not. Here at the Center for Disaster Philanthropy, we keep an eye on the status of disasters worldwide and compile a list of the ones we're tracking weekly, along with relevant disaster-related media coverage.
Here's what we're watching for the week of March 27, 2023.
New or Emerging Disasters
Tornadoes – Mississippi: The deadliest tornadoes so far in 2023 occurred late evening on March 24 in Mississippi. Several tornadoes were confirmed across the state, including a tornado that the National Weather Service (NWS) gave a preliminary rating of EF-4.
According to NWS, an EF-4 tornado has top wind gusts between 166 and 200 miles per hour. The tornadoes killed at least 26 people and injured dozens more. Videos and photos demonstrate the breadth and severity of the tornado's impact, particularly in the town of Rolling Fork in Sharkey County, which was flattened.
While record-setting heat and strong jet stream winds provided the fuel needed for these storms to occur, the historical and systemic marginalization of many populations in the affected areas, such as Black and low-income rural communities, contributed to the level of devastation. On March 26, President Biden approved a major disaster declaration for Mississippi.
On March 30 at 2 p.m. ET, CDP is hosting a webinar to discuss immediate and long-term needs in affected communities and explore how systemic racism and disinvestment will make recovery more difficult.
For more, see our 2023 U.S. Tornadoes disaster profile.
Earthquake – Afghanistan and Pakistan: A 6.5 magnitude earthquake in northeast Afghanistan on March 21 produced tremors that were felt in several major Pakistani cities and as far away as the Indian capital New Delhi. According to the U.S. Geological Survey, the epicenter was 24 miles southeast of the Afghan town of Jurm in the Hindu Kush mountain range.
The earthquake killed at least 19 people, 10 in Afghanistan and nine in Pakistan's Khyber Pakhtunkhwa province. The earthquake damaged buildings and triggered landslides. Fearing aftershocks, many people in the affected regions endured near-freezing temperatures to sleep outside after the quake.
Communities in northwest Pakistan, including Khyber Pakhtunkhwa province, are still reeling from the devastating 2022 floods, and the earthquake will only exacerbate underlying vulnerabilities there. In Afghanistan, the earthquake adds further challenges to a country already experiencing a complex humanitarian emergency.
Wildfire – Spain: On March 27, a significant forest fire continued to rage in Spain's eastern Castellon region, prompting the evacuations of more than 1,500 people. The fire, the country's first of 2023, has burned more than 9,900 acres (4,000 hectares) and spread to the Teruel area of the Aragon region. Historically, Spain's fire season begins in mid-June, but a dry winter across southern Europe has increased fears that 2023 could be a repeat of last year's devastating wildfires. The exceptionally early fires reinforce that traditional disaster "seasons" for natural hazards worldwide require rethinking and new approaches.
Previous/Ongoing Disasters
Disease Outbreak – Equatorial Guinea: In February, Equatorial Guinea confirmed its first outbreak of the Marburg virus, a highly infectious and deadly disease that is part of the same family as the virus that causes the Ebola virus disease. On March 22, the Central African country's Ministry of Health confirmed eight more cases of Marburg, bringing the number of confirmed cases to nine. All of the 20 probable cases are dead, and there are seven deaths among the laboratory-confirmed cases.
The World Health Organization is working with the national authorities to step up emergency response measures and is supporting the health authorities in neighboring Cameroon and Gabon to increase outbreak readiness. Tanzania confirmed its first-ever cases of Marburg after conducting laboratory tests in the country's northwest Kagera region.
Storms – California: At least five people were killed when a bomb cyclone hit California on March 21. "Bomb cyclone" is a term used to describe bombogenesis, a storm (low-pressure area) that undergoes rapid strengthening. Last week's storm brought a destructive combination of tornadoes, wind gusts, heavy rain, flash flooding and mountain snow. The storm knocked out power to more than 250,000 utility customers, with most of those outages in the San Francisco Bay Area. Unfortunately, the state will not receive much respite, with another area of low pressure expected to hit the state with more flooding, damaging winds and heavy snow this week.
For more, see our California Storms disaster profile.
Tropical Cyclone – Vanuatu: Tropical Cyclones Judy and Kevin made landfall over the South Pacific Ocean nation on March 1 and 3, affecting more than 251,000 people. On March 5, Vanuatu's government declared a six-month national emergency after the back-to-back tropical cyclones.
Rapid assessments have been carried out as of March 22; however, analysis is still ongoing. As of March 20, 51 evacuation centers remained active, hosting almost 2,000 people, while over 800 were with host households. Ongoing needs include water, sanitation and hygiene, shelter, health, and protection.
This double cyclone event is extremely rare and may be unprecedented. There are concerns that additional rains could affect the displaced population and delay reconstruction. Access to affected people and communication are challenges, given how dispersed Vanuatu's population is across numerous islands and the remoteness of some communities.
Vanuatu is among the most vulnerable countries in the world to climate change. Vanuatu is leading a coalition of more than 115 countries seeking an Advisory Opinion on Climate Change from the International Court of Justice. The coalition hopes the Advisory Opinion will clarify how existing international laws "can be applied to strengthen action on climate change, protect people and the environment and save the Paris Agreement."
In addition to the disasters listed above, we actively monitor the following disasters or humanitarian emergencies. For more information, see the relevant disaster profiles, which are updated regularly.
U.S. Midwest Low-Attention Disasters
The Midwest is regularly faced with low-attention disasters that affect people across the region. CDP's Midwest Early Recovery Fund (ERF) effectively funds efforts that catalyze equitable disaster recovery.
These are some of the latest disasters and related news the ERF team is monitoring:
Fires burned at least 1,500 acres in Kingman County, Kansas, last week and stretched into other counties. The Riley County Board of Commissioners declared a local disaster emergency.
Some areas of southern Missouri have received three inches of rain since March 23. The heavy rain was part of a severe weather system that tore across the Midwest and South. Two people were killed after their vehicle was swept away in a flash flood.
Complex Humanitarian Emergencies – Nigeria
Many places worldwide are experiencing emergencies caused by conflict, climate change, drought, famine, economic challenges and other conditions that combine to create a complex humanitarian emergency (CHE). CDP maintains complete profiles on several CHEs, and what CDP considers Level 1 CHEs are profiled in this weekly blog post and tracked.
Continued conflict in northeast Nigeria has resulted in one of the world's largest humanitarian crises, with 8.3 million people estimated to need assistance in 2023. Insecurity linked to armed groups, including the terrorist group Boko Haram, has disrupted livelihoods and displaced more than two million people.
Nigeria's security challenges also include communal conflict. Northern Nigeria has suffered from violence involving local farmers and herders for years, resulting in thousands of deaths. Mid-March sectarian attacks in Kaduna, a state in northern Nigeria, left at least 35 people dead. The attacks prompted human rights organizations to call for accountability.
The Famine Early Warning Systems Network said in their February to May 2023 food security outlook that food security outcomes for millions of households are expected to deteriorate in the coming months. Areas worst affected by conflict in the northeast, northwest and northcentral states are expected to experience crisis outcomes as households rely on food purchases amid rising prices and a lower-than-average income.
Nigeria's 2023 Humanitarian Needs Overview identified four population groups that need humanitarian and protection assistance across Nigeria's northeast states, which are among the worst affected by conflict: (i) internally displaced persons (IDPs) living in camps or camp-like-settings; (ii) out-of-camp IDPs living in host communities; (iii) returnees; and (iv) host communities.
What We're Reading
Ever heard of "speedcubing?" If not, you're not alone. A 9-year-old Rubik's cube prodigy from China broke a Guinness World Record.